MRI on Mejia's elbow shows no structural damage
Mets' closer hits disabled list, retroactive to Sunday; Familia to pitch ninth inning
WASHINGTON -- For the second time in as many years, an injury struck the back end of the Mets' bullpen on Opening Day. This time, however, the team seems to have avoided the worst.
An MRI exam taken Tuesday on closer Jenrry Mejia's right elbow revealed inflammation but no structural damage, the club announced. The Mets placed the right-hander on the 15-day DL, retroactive to Sunday, and recalled Erik Goeddel from Triple-A Las Vegas to take his place. Mejia received a cortisone shot in New York, and he'll rest for at least 10 days to ease the inflammation.
In Mejia's absence, manager Terry Collins indicated on Monday that Jeurys Familia will serve as the team's primary closer.
"Whatever situation they put me, I'll just try and do my job," Familia said. "It doesn't matter what inning."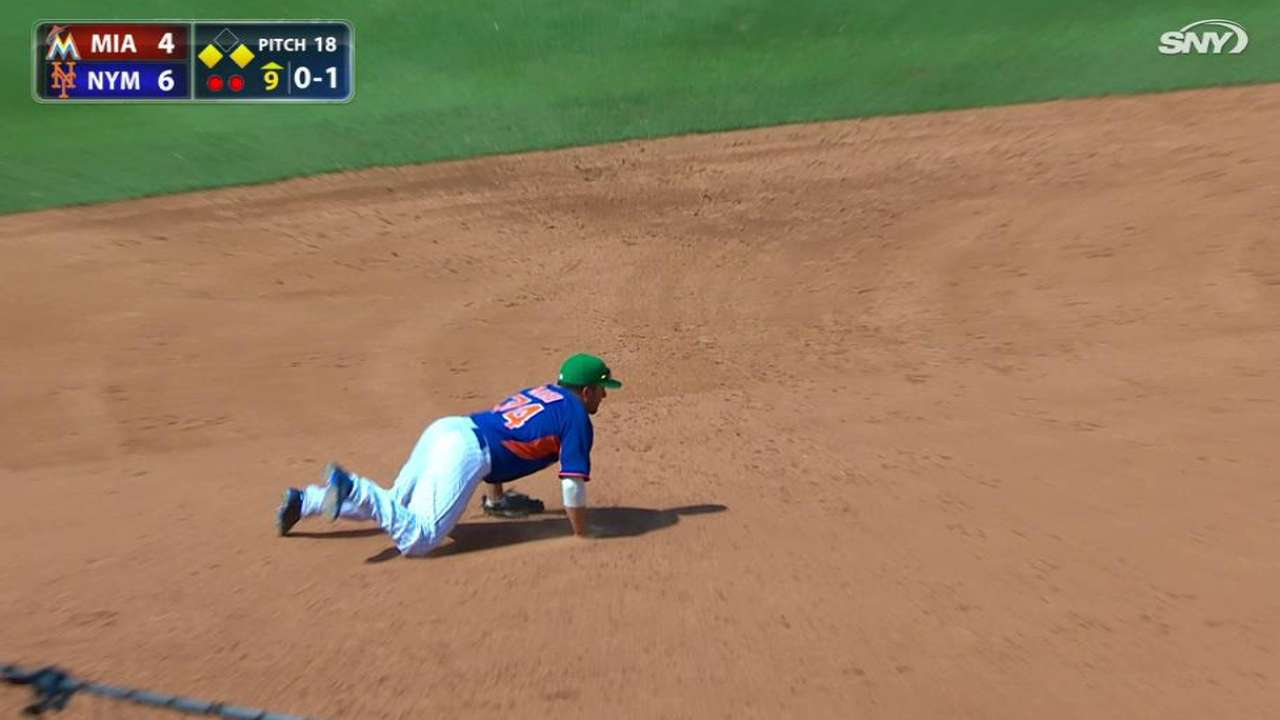 Mejia, 25, first felt discomfort in his elbow while warming up for a save opportunity during Monday's 3-1 Opening Day win over the Nationals.
"He couldn't get it loose," Collins said, noting that the team had no inkling of an injury until Monday. "He's had elbow issues in the past. We had to shut him down."
Those issues include Tommy John surgery in 2011 and an operation to remove bone chips from his elbow two years later. Mejia also strained his rotator cuff early in his career, underwent hernia surgery this past offseason and has endured various other maladies, ranging from a blister on his pitching hand to a bunion on his landing foot.
Mejia's latest issue came one year after Bobby Parnell struggled to loosen on Opening Day, blowing a save and learning the next day that he had a partially torn ulnar collateral ligament in his right elbow. Though the Mets had no reason to assume Mejia's injury was as serious, they flew him to New York City on Tuesday to undergo an MRI and an examination from team orthopedist David Altchek.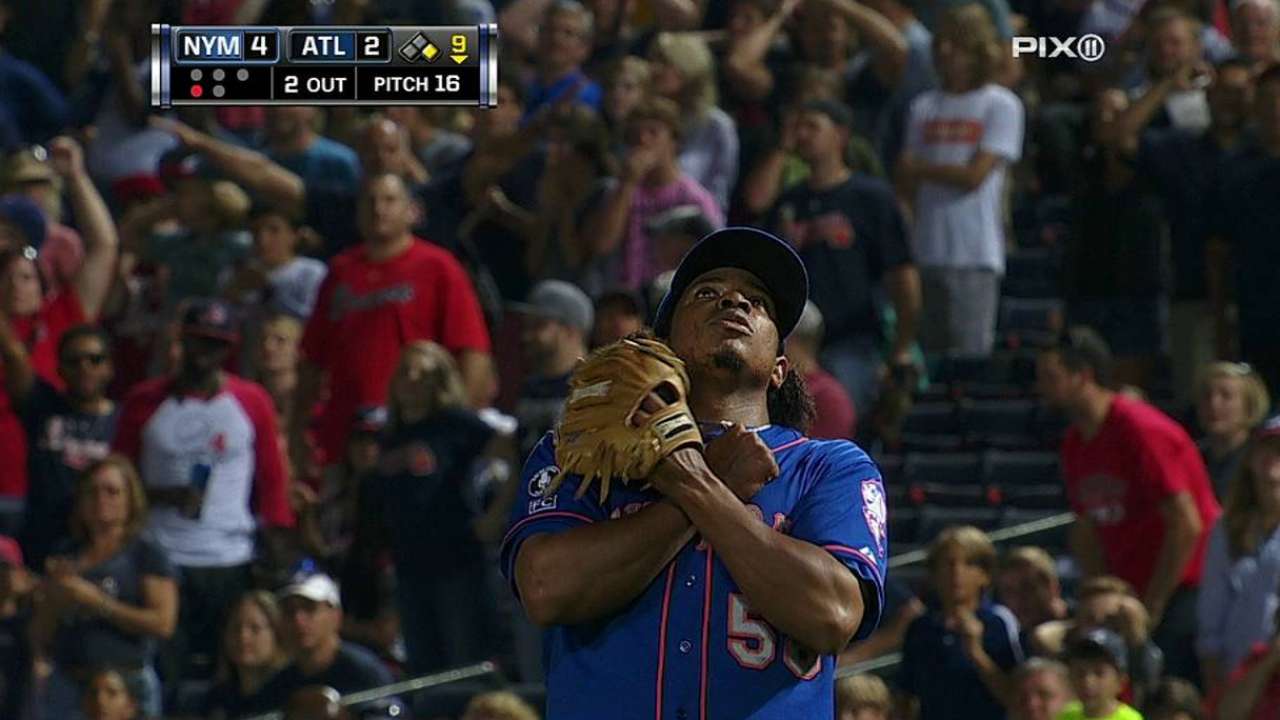 "We're wearing out the MRI machine," general manager Sandy Alderson said, referring to the Spring Training injuries of Mets pitchers Zack Wheeler, Josh Edgin and Vic Black.
With Mejia sidelined, the Mets asked lefty specialist Jerry Blevins to retire the first batter of the ninth, Bryce Harper, before turning to Buddy Carlyle for two outs. Had the Mets known earlier that Mejia would be unable to pitch, they would have given the ninth inning to Familia. But Familia was already out of the game, forcing the Mets to ask the 37-year-old Carlyle to record his first career save.
"That's why we're down there, to be prepared," Carlyle said. "I know [Collins] has confidence in all of us down there to get outs."
Familia, 25, owns six career saves, five of which came last summer. He should slot in as the Mets' primary closer until either Mejia or Parnell return from the DL, with Carlos Torres and Rafael Montero assuming more prominent late-inning roles.
Goeddel, 26, was one of the last cuts from Mets camp. He appeared in six games for the team last summer, posting a 2.70 ERA.
Anthony DiComo is a reporter for MLB.com. Follow him on Twitter @AnthonyDiComo. This story was not subject to the approval of Major League Baseball or its clubs.