Hughes can't match last year's efforts against Tigers
Minnesota righty dominated Detroit in '14, but allows pair of early HRs in Opening Day loss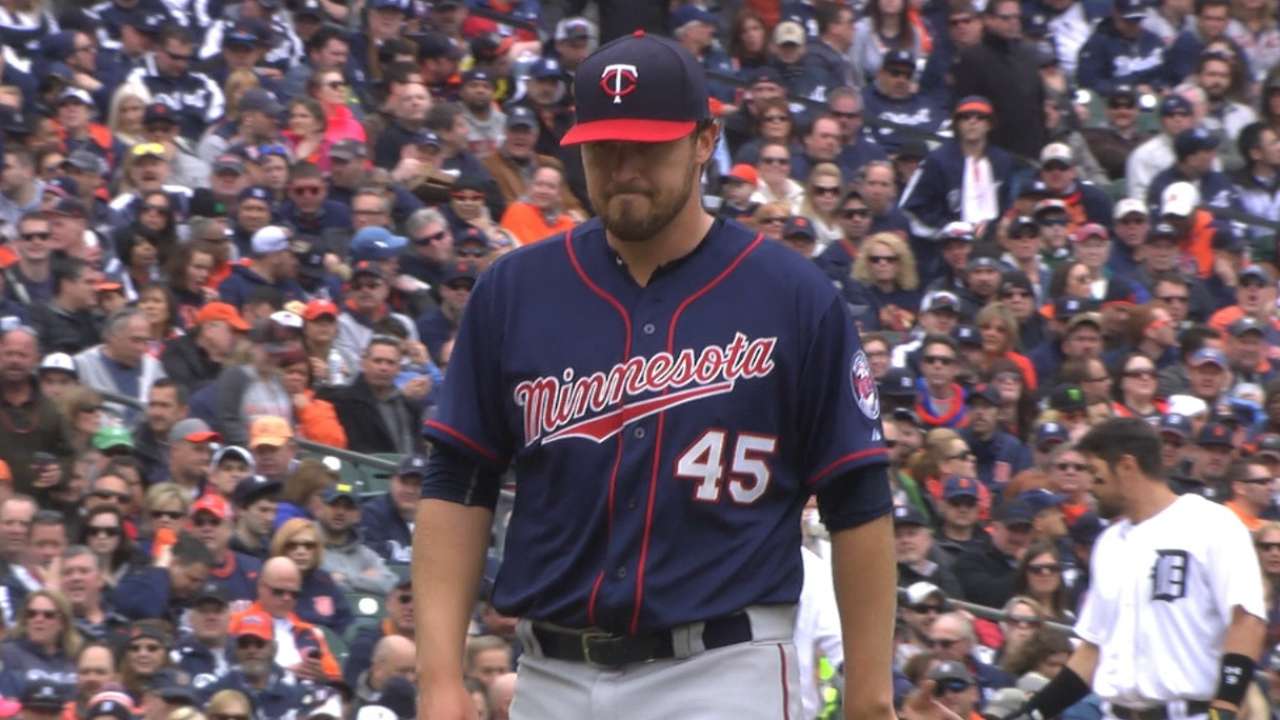 DETROIT -- Based on last year, Phil Hughes and the Twins had recent history on their side in their Opening Day matchup against the Tigers on Monday, but ultimately it didn't come to fruition in a 4-0 loss at Comerica Park.
The Twins were a thorn in Detroit's side in 2014, going 10-9 while averaging 6.3 runs per game in those contests. And Hughes was dominant in his two starts against the Tigers last year, holding them to just one earned run over 14 innings for a 0.64 ERA.
But it wasn't the case Monday, as Hughes was hurt by a pair of second-inning homers from J.D. Martinez and Alex Avila, while the Twins were shut out by the Tigers to mark the first time they'd been held scoreless on Opening Day since 2000. It also marked the seventh straight defeat for the Twins on Opening Day.
Hughes was mostly solid outside of the two homers that brought home three runs in the second, but it wasn't enough with lefty David Price throwing 8 2/3 scoreless innings for the Tigers.
"I'd like to have two pitches back in particular -- I threw two cutters right down the middle to Martinez and Avila and those ones didn't come back," Hughes said. "I felt like I had a hard time getting loose in the bullpen, so I didn't have confidence in my fastball early. But after the second, I started to use my fastball and I felt pretty good with it, but by then it was three runs and Price was throwing pretty well on the other side."
Hughes ended up going six innings, allowing four runs on eight hits and a walk with six strikeouts. He gave up more than one homer in just three of his 32 starts last year, which is why he came away frustrated from the pair of opposite-field shots.
"It was three runs that were really on mental mistakes more than anything," Hughes said. "It's a tough way to go. … The frustrating part is I started to feel better as I went along, but sometimes it's just too late."
Paul Molitor, serving in his first official game as Twins manager, said he was mostly pleased with Hughes' outing, and noted there wasn't much the offense could do with the way Price pitched.
"He was good," Molitor said of Hughes. "Obviously, he had the three-run second there and they missed a couple cutters there and they made him pay. Those are tough. But overall, he was aggressive and he threw strikes. He ended up walking one, which is kind of a surprise. But you've got to be pleased. He gave us a chance, but we just couldn't manufacture any runs."
Rhett Bollinger is a reporter for MLB.com. Read his blog, Bollinger Beat, and follow him on Twitter @RhettBollinger. This story was not subject to the approval of Major League Baseball or its clubs.