Seconded: Biggio, Altuve hook up for Opening Day first pitch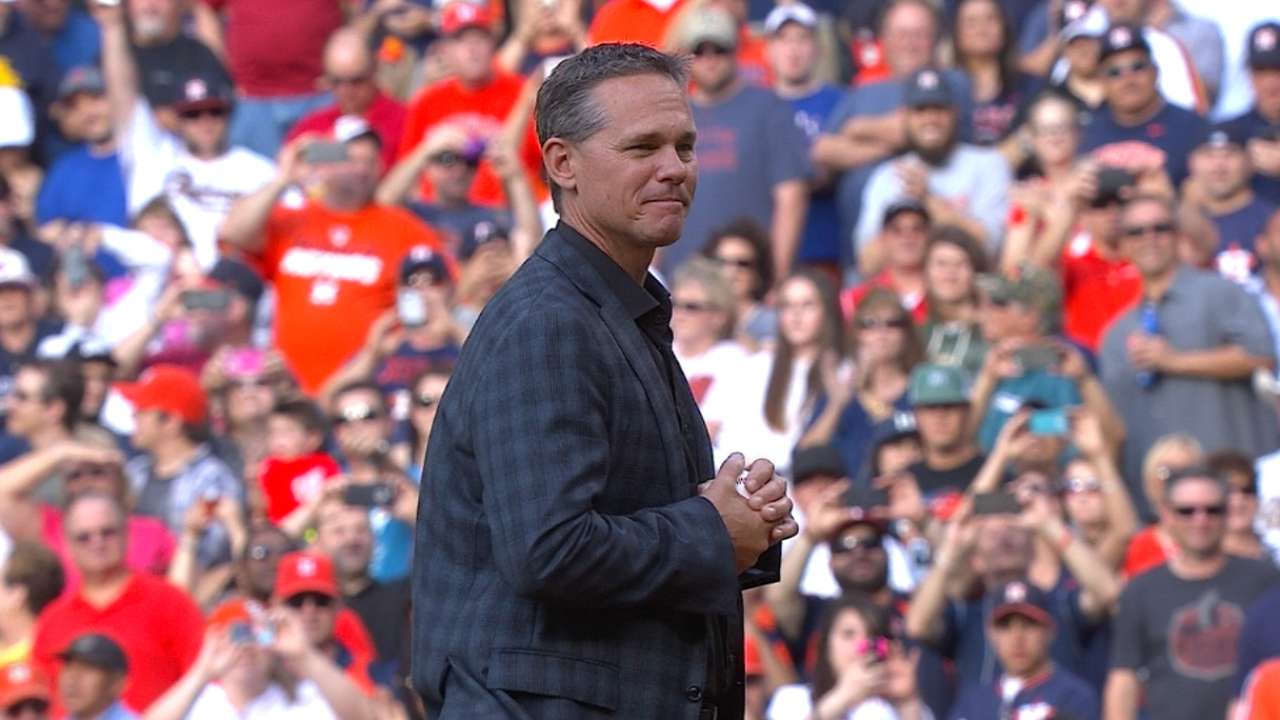 HOUSTON -- In the 53-year history of the Houston Colt .45s/Astros, exactly two players have surpassed 200 hits in a single season. Both were on hand at the Astros' Opening Day ceremonies on Monday, one as a returning legend, the other as the Astros' starting second baseman for the opening game against the Indians at Minute Maid Park.
Craig Biggio and Jose Altuve have plenty in common, beyond the obvious fact that they fit the same mold of the scrappy, relentless, smaller-in-stature second baseman. They're indisputably two of the most popular players in franchise history -- one who has a legacy that has already been cemented in history, and one who is still writing his story.
It was only fitting the two appeared together on the field in the minutes leading up to the official start of the Astros season.
"As a young player, I remember catching President Bush one time," Biggio said. "I thought, 'Man, this is so cool, catching the President.' Opening Day is a pretty cool deal. As far as Jose's concerned, I'm a fan. Hopefully we'll have some fun with it. I'm happy to throw out the first pitch, and I'm happy to have him a part of it."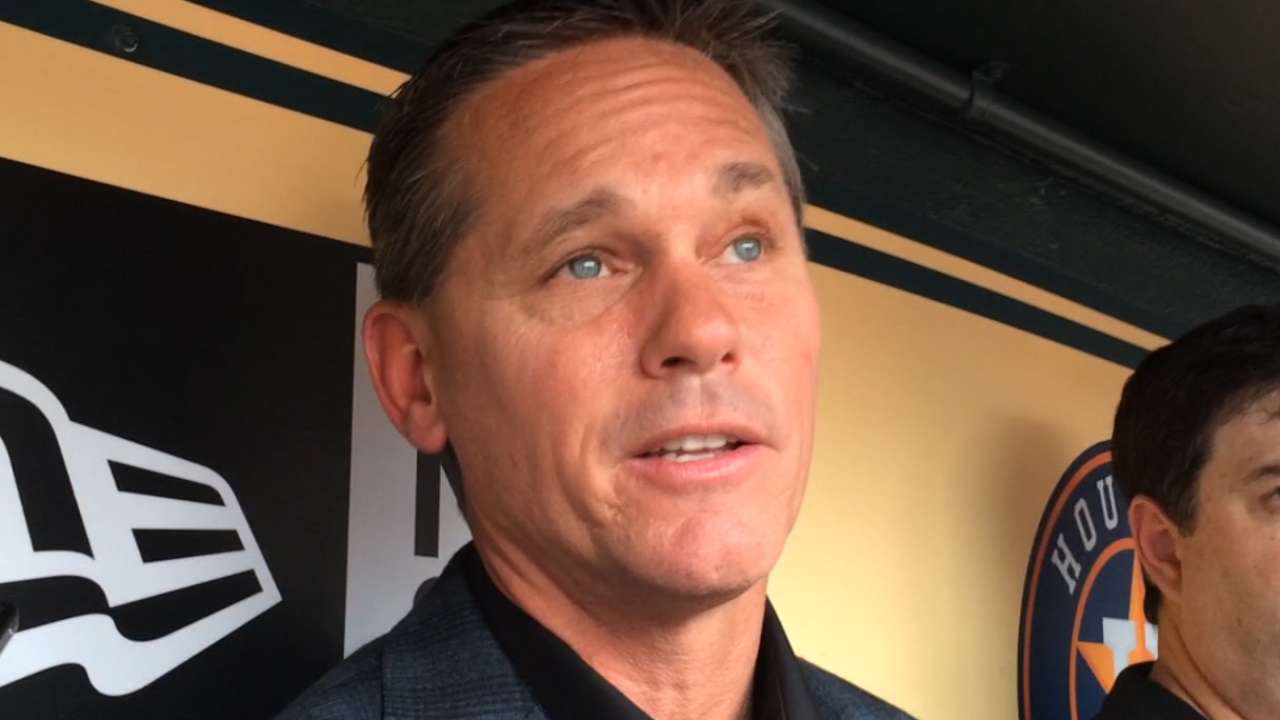 Ceremonial-first-pitch catching duties, on a typical game day, are usually left to rookies or reserves not playing that day. But Opening Day is special, as Altuve noted prior to his catching the first pitch of a soon-to-be Hall of Famer.
"That's an honor for me," Altuve said. "They're going to honor him for the Hall of Fame, and getting to catch him is like a dream come true."
Biggio will be saluted several days throughout the season in Houston, before and after his official induction into the National Baseball Hall of Fame in Cooperstown, N.Y., on July 26. The only Astro to reach the 3,000-hit plateau, and one of the few Hall of Famers who played his entire career with one team, Biggio, now a special assistant to general manager Jeff Luhnow, has been a regular and welcome presence at Minute Maid Park since he retired in 2007.
Altuve, on the other hand, is just now getting started. Sure, he's considered a veteran presence in Houston, despite being just 24 years old. But with three full Major League seasons under his belt (and half of the 2011 campaign), he's already accomplished more than most players would over a longer span of time. Most notably, he has won a batting title, hitting .341 last season and compiling 225 hits to surpass Biggio's record of 210 in 1998.
Altuve, who fittingly won an American League Silver Slugger Award for his 2014 effort, became only the second player in history to compile 225 hits, 47 doubles and 56 stolen bases in a single season. The other? Ty Cobb, who reached those numbers 104 years ago, in 1911.
It's no wonder that Altuve was showered with gifts during Monday's pregame ceremony.
Astros owner Jim Crane presented Altuve with the Silver Slugger Award, as well as the Silver Bat Award that is given to the AL batting champion.
Sports artist Opie Otterstad then unveiled a large painting highlighting the best of Altuve in 2014.
Altuve was then presented with a one-of-a-kind custom-designed 14-carat gold diamond encrusted ring, engraved with "MLB Batting Champion," with the Astros' logo in the middle.
And finally, Altuve was presented keys to a black Lexus GX 460.
After a brief introductory hello from retired radio announcer Milo Hamilton, television play-by-play announcer Bill Brown introduced players and personnel from both teams. Astros mascot Orbit made a fancy, Orbit-like entrance, running in from right field carrying an Astros flag that was shooting off sparklers.
Astros players received the orange-carpet treatment -- placed strategically near the dugout -- as they trotted onto the field during the intros. The national anthem was performed by Houston native and country music legend Clay Walker, and a gigantic American flag was unfurled in the outfield.
Following the Biggio-Altuve first pitch, the pregame ceremony concluded with a flyover by the Houston wing of the Commemorative Air Force.
Alyson Footer is a national correspondent for MLB.com. Follow her on Twitter @alysonfooter. This story was not subject to the approval of Major League Baseball or its clubs.