Hutchison, Martin partner up to keep Yanks guessing
Blue Jays starter's command allows esteemed catcher to implement winning strategy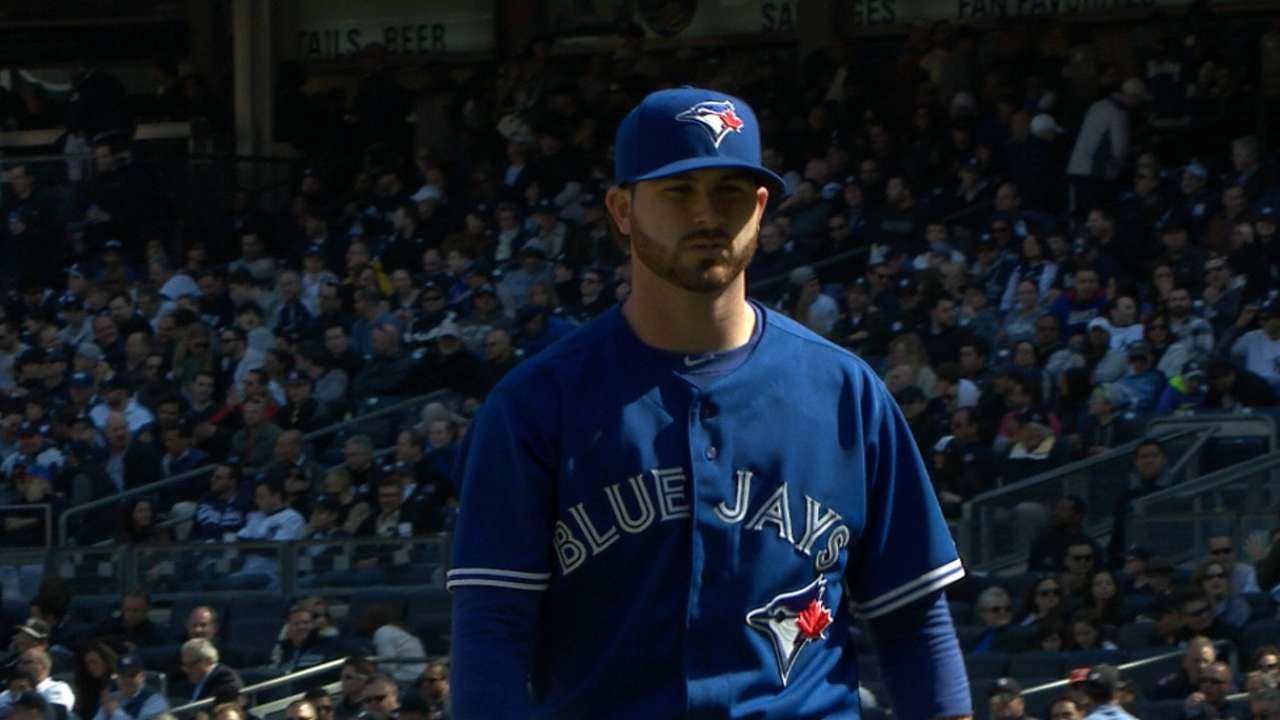 NEW YORK -- Drew Hutchison had a strong 2014 campaign, but if there was an area for major improvement, it could have been found in his numbers against left-handed hitters.
The Blue Jays made lefties a point of emphasis for Hutchison this spring, and so far the early returns are encouraging. The youngest Opening Day starter in Blue Jays history, the 24-year-old Hutchison allowed one run over six strong innings against the Yankees in Monday afternoon's 6-1 victory, which included limiting lefties to 2-for-20 at the plate.
These numbers follow a season in which Hutchison allowed left-handers to hit .264 with an .817 OPS compared to a .223 average and .605 OPS against righties.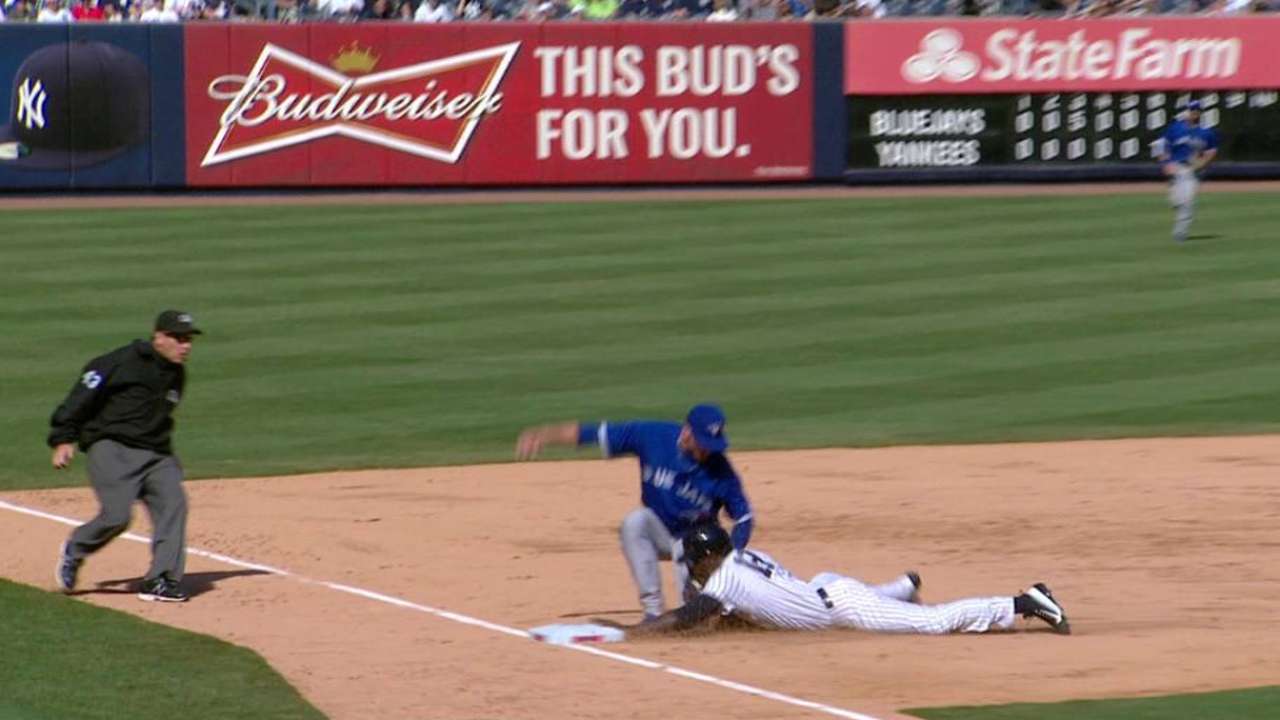 "He worked on his changeup in Spring Training, I thought he was running a lot of balls inside, he was using both sides of the plate," Blue Jays manager John Gibbons said. "Even when he was behind in the count, [Russell Martin] had him pitching.
"If he fell behind, it wasn't just locking in, here comes a fastball, that kind of thing. He really made him work, and that's key, but for a first-time Opening Day start at Yankee Stadium, he rose to the occasion."
Gibbons went out of his way several times on Monday afternoon to talk about the impact Martin had behind the plate. That's where Martin's true value shines through -- his ability to steal a couple of strikes by framing a borderline pitch and also by guiding his younger starters through a game.
Martin said a point of emphasis was made on Monday afternoon to throw unpredictable pitches in predictable counts. When Hutchison was behind in the count, they would turn to his offspeed stuff. When Hutchison was ahead in the count, they'd pitch off the fastball.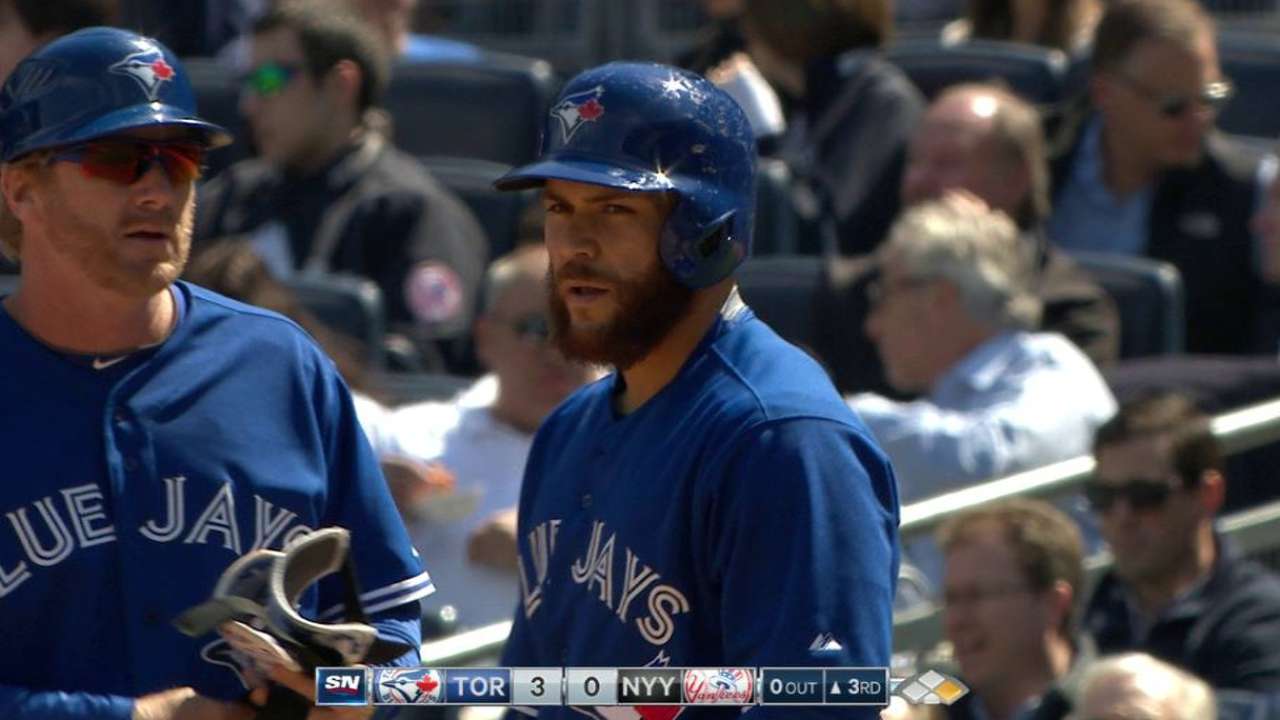 That type of strategy can only work if command isn't an issue, and that's where credit goes to Hutchison. The two formed a strong unit on Opening Day, but it was Hutchison who allowed that advanced game-calling to take place with his performance early in the game.
"We did a good job establishing the fastball," Martin said. "I felt like we got the hitters to honor that, and once we had them honoring the fastballs in, we started mixing in a little bit more, got some early swings.
"When you're pounding the strike zone, you're making the guy swing early in the count. That induces contact, and he did a good job of just mixing in everything. Just the constant mix of pitches, being not predictable."
Gregor Chisholm is a reporter for MLB.com. Read his blog, North of the Border, and follow him on Twitter @gregorMLB. This story was not subject to the approval of Major League Baseball or its clubs.