Cora's first pitch highlights Opening Day ceremonies
Make-A-Wish recipient runs bases; Mariners honor Stork, Kearns and Sanchez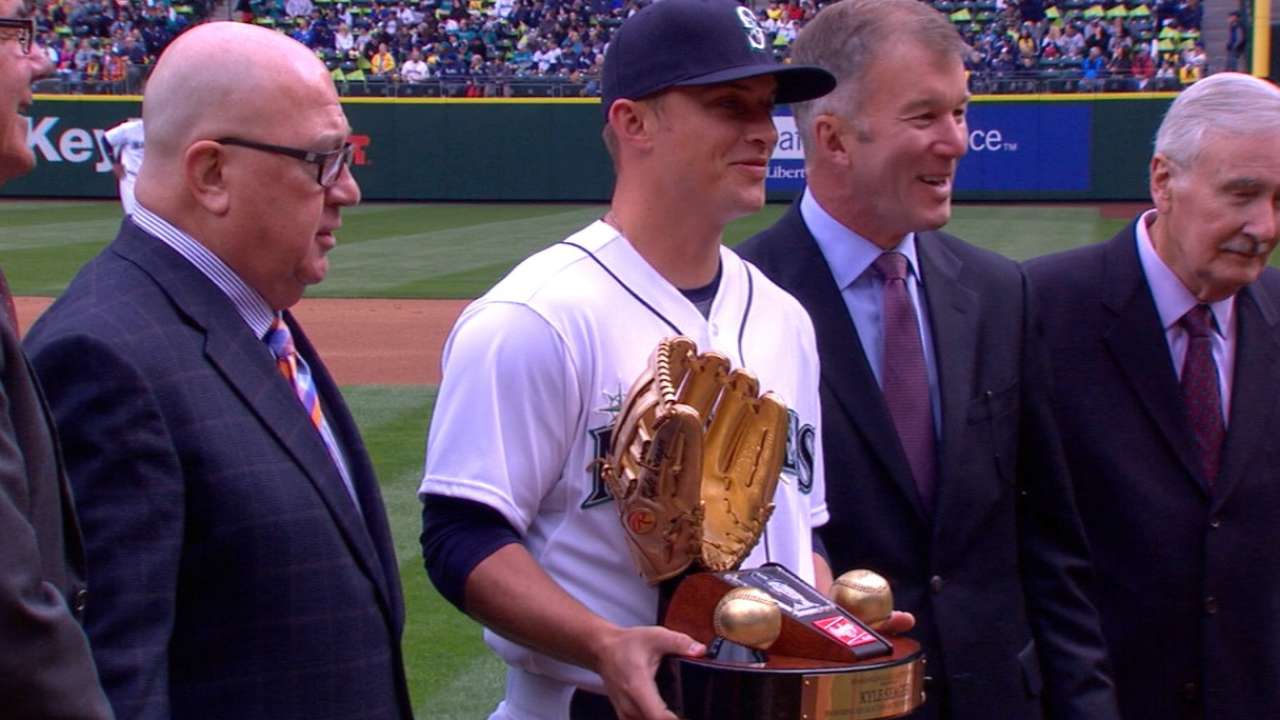 SEATTLE -- Joey Cora, one of the iconic figures of the Mariners' breakthrough season in 1995, returned to Safeco Field on Monday to throw out the ceremonial first pitch before the Opening Day game against the Angels. But the former second baseman wanted to look ahead, not back, as he helped begin a season of high hopes in Seattle.
"I really appreciate that they invited me to this game, for this team, which has a chance to win the World Series," Cora said before joining the opening ceremonies in front of a sold-out crowd at Safeco. "And hopefully they do. It's not about remembering '95, which was great. It's about this team now.
"They've got a chance. They've done an incredible job to build to this point where they have a chance. That's great. That's what it should be all about."
Cora, who played for the Mariners from 1995-98, captured the hearts of Northwest fans when he was caught on camera with tears running down his face after the team was eliminated by the Indians in the American League Championship Series in '95.
And, yeah, he well remembers that moment.
"I was exhausted," Cora said. "It was a six-week ride where we couldn't lose a game. Playing every day, hard, tight games. Sometimes, it seemed like it wasn't going to happen. It takes a toll physically and mentally. And the end, when it was over, you just let it go.
"That's what happened. It was over. The ride was over. It's like when you go to the fair and you pay for your ride and when it's over, now what? We didn't know. We didn't know about the ballpark. We didn't even know if the team was going to come back to Seattle at that time. Now look at this. As long as you've got the ballpark, you've got the team now. A good team, with a chance to win."
Monday's ceremonies also included the ceremonial running of the bases by Make-A-Wish recipient Jake Catterall, a 12-year-old from Tacoma who plays Little League baseball even while dealing with intractable epilepsy, a life-threatening condition. Catterall was greeted at home plate by Robinson Cano, Dustin Ackley and Kyle Seager, who moments earlier had received his 2014 American League Gold Glove Award in a special presentation.
The team also held a moment of silence in memory of Suzanne Stork, the wife of Mariners minority owner Carl Stork; longtime Mariners scout Bill Kearns and pitching prospect Victor Sanchez, who all passed away in the past few months.
Greg Johns is a reporter for MLB.com. Follow him on Twitter @GregJohnsMLB as well as his Mariners Musings blog. This story was not subject to the approval of Major League Baseball or its clubs.