MLB.com Columnist
Richard Justice
Hosting '18 ASG shows how far Nationals have come
Honor symbolic of franchise's rebirth, Washington's stunning transformation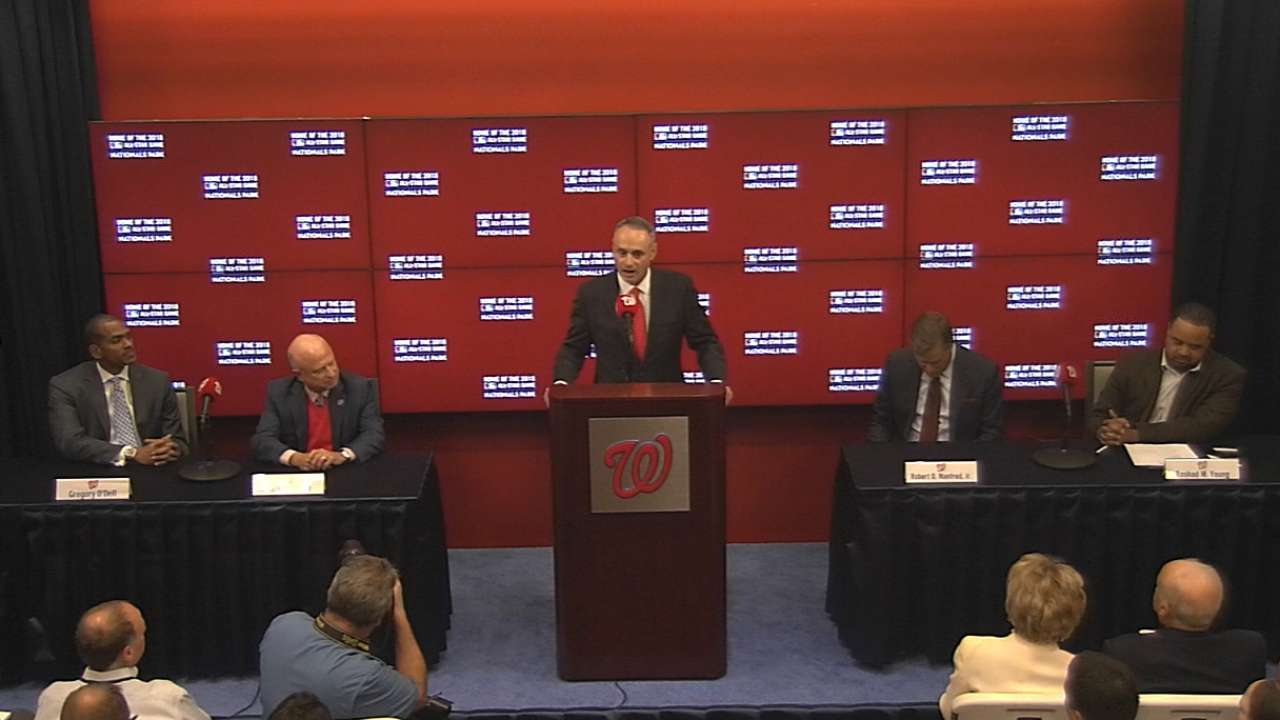 WASHINGTON -- The 2018 All-Star Game being awarded to the nation's capital symbolizes the hopes of thousands of people who worked tirelessly and dreamed endlessly. Perhaps that was the larger message on this sunny Opening Day.
For the Washington Nationals, it arrives amid great expectations. They surely are one of the three or four best baseball teams this season -- a team that has been expertly constructed and smartly managed, one with big stars and big personalities like Bryce Harper and Max Scherzer.
But the All-Star Game that Commissioner Rob Manfred officially announced on Monday afternoon is about way more than that.
First, it's a celebration of a sport that's now perhaps more popular than it has ever been, fueled by a mixture of traditional passions, new technologies and historic competitive balance.
The All-Star Game is a week-long party for baseball while also making a lasting imprint on the community. Baseball left behind more than $8 million in what Manfred called "legacy gifts" with an array of projects in Minneapolis last summer. And there are the three days of events at the ballpark -- the Futures Game on Sunday and the Home Run Derby on Monday that will lead up to the 89th All-Star Game itself on Tuesday night.
This event is especially appropriate for the Nationals. It will symbolize the rebirth of a franchise, for sure. It will also be about the continuing transformation of one of the world's great cities.
Baseball's new generation of parks have contributed to development in places like Baltimore, Houston, San Francisco and a long list of other cities. But in no place has the impact been more stark than this area of southeast Washington.
Nationals Park sits a mile south of the United States Capitol building, the cornerstone of a section of the city that was once sad and dangerous. If you knew this area then, you'd barely recognize it now.
Besides that, baseball is a comfortable fit in Washington. It has been that way since the Nats arrived from Montreal in 2005. There was a street-fair atmosphere on the streets around Nationals Park on Monday morning, with splashes music and laughter.
But Washington has always been a great baseball city. People cared deeply about the sport, they just needed a franchise that gave them a reason to be optimistic. In the 32 years (1972-2004) Washington didn't have baseball, Washingtonians followed the sport, either through the nearby the Orioles or by rooting for other teams. To the people who live and work here and love the place, it's a great sports city.
And this All-Star Game will reinforce that love. Nationals principal owner Mark Lerner joked Monday that his family began lobbying for the All-Star Game without "about 10 minutes" of buying the Nats in 2006, a year after the franchise relocated from Montreal.
"It's a great day," Lerner said. "From that moment, we continued to make the case for why Washington, D.C., would make an excellent host. It's something we've wanted from day one."
Manfred understands. He was a Washington resident for almost 15 years and has seen firsthand the impact the Lerners have had in building a tremendous baseball team and in transforming a section of the city.
"I remember what this area was like before this ballpark was here," Manfred said. "The impact on this community is the first thing that comes to my mind. The Lerners have just done a great job with this franchise."
That's a large part of what the All-Star Game is about. It's a chance to show off a game and its brightest stars, but it's also a chance for a city to put its best foot forward. That'll be the case in Cincinnati later this summer and in San Diego and Miami in '16 and '17.
And it'll certainly be the case in Washington in 2018. The Nationals hope for a few more celebrations between and now and then, which would make their Midsummer Classic even better.
"We believe the All-Star Game is the best sporting event of the summer," Manfred said on Monday.
Indeed.
In so many ways.
Richard Justice is a columnist for MLB.com. Read his blog, Justice4U. This story was not subject to the approval of Major League Baseball or its clubs.