Brewers pay tribute to Joe Attanasio with anthem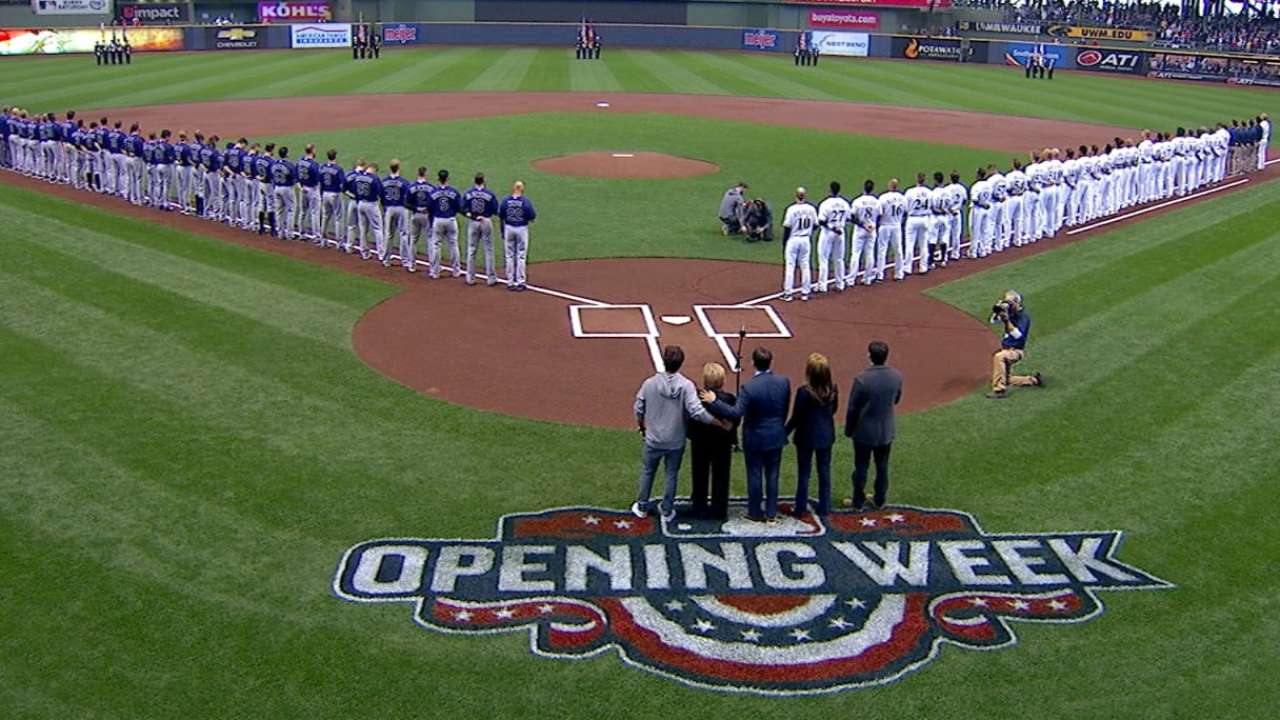 MILWAUKEE -- Joe Attanasio's voice rang through Miller Park one final time Monday, providing an emotional end to a decade-long tradition while signaling that baseball marches on.
Attanasio, the late father of Brewers owner Mark Attanasio, had sung the national anthem on Opening Day every year since 2005, the year his son took over the team from the Selig family. Joe Attanasio passed away in January at 89, so the Brewers played his 2014 rendition on Monday in tribute.
"I'm looking forward to hearing it one last time," Mark Attanasio said.
With players from the Rockies and Brewers along the foul lines, Attanasio stood near home plate with his mother, Connie, wife, Debbie, and his two sons while fans honored Joe with a moment of silence. When the video of Joe Attanasio's singing began, Mark Attanasio wrapped his left arm around his mother.
Like many members of the Brewers' front office, Mark Attanasio and his family wore pins with "JOE" written in capital letters. A similar logo was painted on the dirt behind home plate.
"It's mixed emotions," Attanasio said. "I've got my 'Joe' pin here. I'm sure it's going to be emotional going on the field for the national anthem. … But he got to share this with me for 10 years, and that was a real blessing for me and my family. Had he lived to 79, which is still a ripe old age, he would have not known any of this. I'm trying to focus on the blessing of that and all the good times we shared, rather than the pain of not having him here today.
"My dad loved baseball and really grew to love the Brewers and the community here. I wanted to do something that would honor him, but would represent his emotion and be a positive thing. He was a man who liked to have a good time, and he would want us all to have a good time today. "
After posing for a family photo, Mark Attanasio remained on the field to catch the season's ceremonial first pitch, delivered by Commissioner Emeritus Allan H. "Bud" Selig.
Later, Selig wore a "JOE" button on his blazer.
"Standing down on the field, that was really emotional," Selig said. "It's a wonderful tribute. Great in this day and age to see a family that close."
Adam McCalvy is a reporter for MLB.com. Follow him on Twitter at @AdamMcCalvy. This story was not subject to the approval of Major League Baseball or its clubs.