Price, Tigers blank Twins in Molitor's managerial debut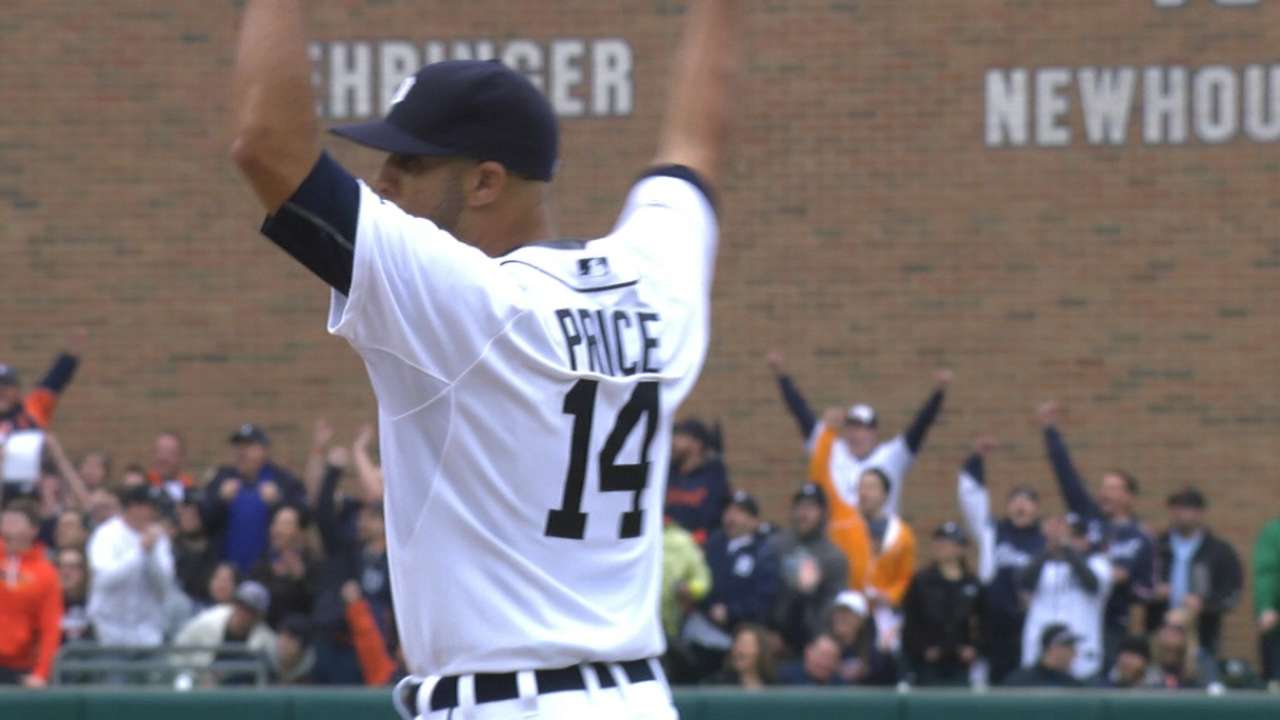 DETROIT -- David Price heard from teammates that Opening Day was like a holiday in Detroit. His 8 2/3 scoreless innings, helped by some heroics from his Tigers teammates, turned Monday afternoon's season opener at Comerica Park into an event in a 4-0 win over the Twins in Paul Molitor's managerial debut.
Price, the first Tiger other than Justin Verlander to start on Opening Day since 2007, nearly became the first Tiger to toss an Opening Day shutout since Mickey Lolich in 1970. He retired Minnesota's first 13 batters, helped by highlight catches from Yoenis Cespedes and Ian Kinsler.
But Price also frequently fooled a lineup of Twins hitters that dogged Tigers pitching most of last season. Three of his five strikeouts were on fastballs that were called third strikes, one to Twins All-Star Joe Mauer, another to former teammate Torii Hunter.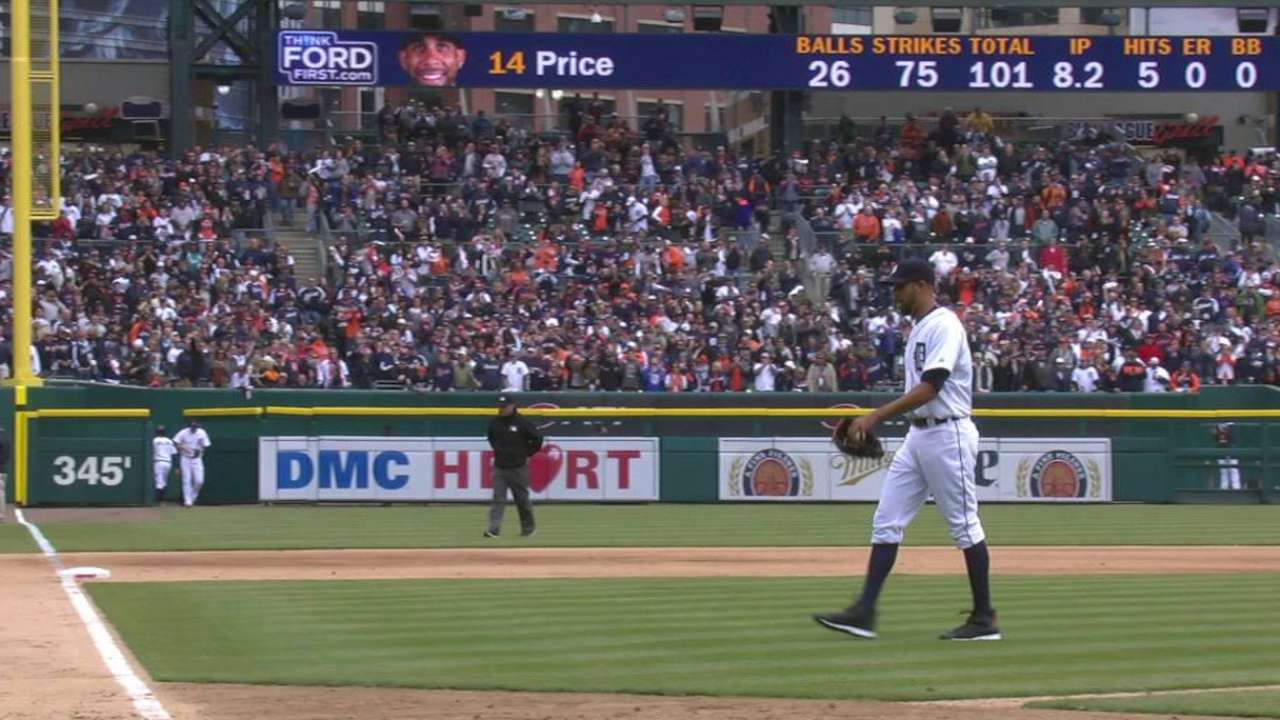 "It's huge," Price said. "It's always big to go out there and put up zeros and pitch late into the game. To be able to do it on Opening Day, that definitely makes it a little bit more special. I felt good. That was just a great team win. The offense gave me runs early. That just makes my job a lot easier."
On the flip side, the Tigers scored more runs in the third off Phil Hughes (three) than they put up in 14 innings against him last season (two), thanks to J.D. Martinez's solo homer and Alex Avila's two-run shot.
Mauer broke up Price's complete-game hopes with an infield single up the middle after Brian Dozier's liner to left-center extended the game. Joe Nathan picked up the save with a checked-swing strikeout of Hunter, who chased a slider just enough to draw the call from plate umpire Joe West.
The shutout was the first by the Tigers on Opening Day since Jason Johnson and three relievers combined for a 7-0 blanking of the Roy Halladay-backed Blue Jays in Toronto on April 5, 2004. More »
MOMENTS THAT MATTERED
J.D. just delivers in April: The first home run of the Major League season came from a slugger who wasn't in the big leagues last Opening Day. However, Martinez knows how to get off to a hot start, having punched his ticket to Detroit with 10 home runs last April for Triple-A Toledo. His season-opening shot in the second was an opposite-field loft to right-center.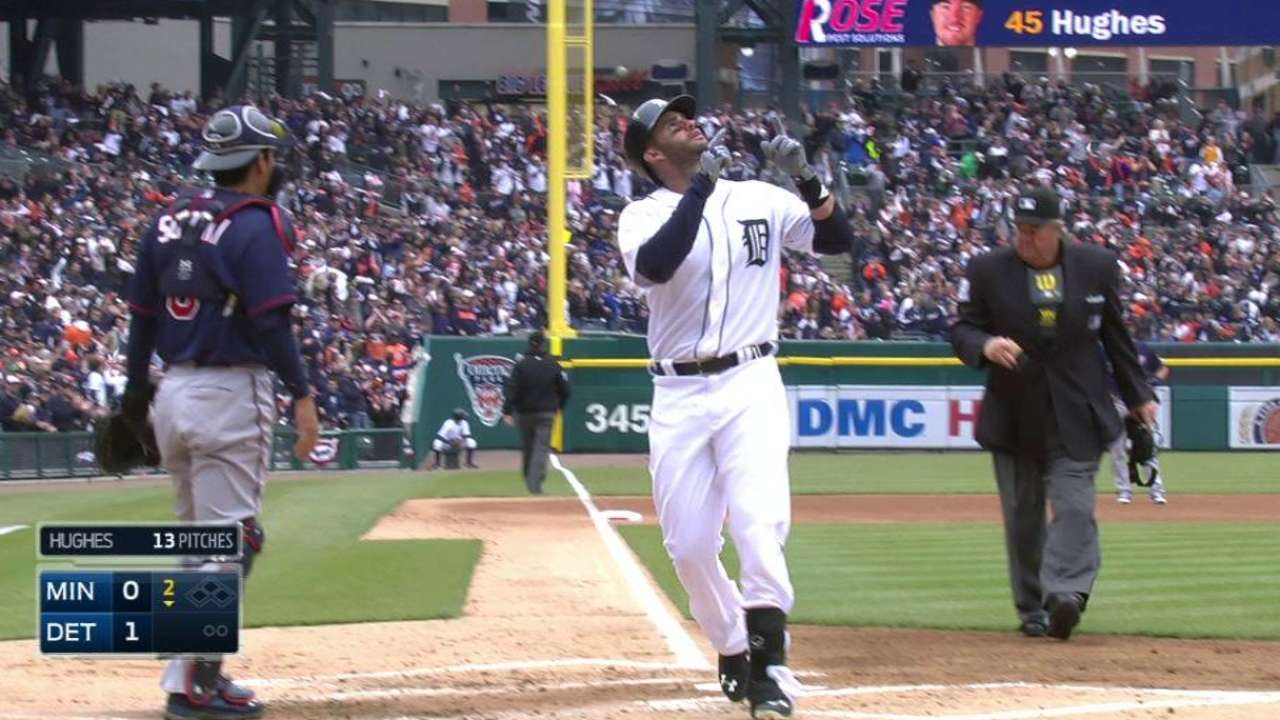 "He's right there, with Miggy, in terms of being able to drive the ball to right-center," Tigers manager Brad Ausmus said. "He might be a tick behind Miggy, but he's got tremendous power."
Hughes has trouble with the long ball: Hughes gave up more than one homer in just three of his 32 starts last year, but served up homers to Martinez and Avila in the second inning. Martinez's homer came on a 1-0 fastball, while Avila's came on a 2-2 cutter. Hughes settled down from there, but the three runs off the two blasts were enough for the Tigers.
"I'd like to have two pitches back in particular -- I threw two cutters right down the middle to Martinez and Avila and those ones didn't come back," Hughes said. More »
Five-tool debut for Cespedes: Cespedes marked his Detroit debut without a home run, but he took one away from Kurt Suzuki, making a leaping catch at the left-field fence with one out in the third. Cespedes also showed off his power and speed combination with a triple off the wall in the deepest part of left-center, along with a double and two runs scored. More »
Minnesota's offense falls flat: The Twins averaged more than six runs per game in their 19 games against the Tigers last year, but couldn't replicate that against Price. They didn't get a hit until Kennys Vargas singled with one out in the fifth and didn't get a runner in scoring position until the sixth. It marked the first time since 2000 that the Twins were shut out on Opening Day, and was also their seventh straight loss in season openers.
"David Price was awesome," Hunter said. "One of the best lefties in the game, in and out, hard, soft, he had us off balance. He had control of the game. We couldn't do much with the pitches he was making."
Late rally ends for Twins on controversial call: The Twins had two on and two out in the ninth against closer Nathan with Hunter at the plate with a chance to make it a game after Price departed. Hunter checked his swing on a 1-2 slider from Nathan, but West ruled Hunter went around on his check swing to end the game despite not asking for help from first-base umpire Kerwin Danley. Hunter argued with West about the call and voiced his frustrations after the game.
"I have no idea why he didn't check," Hunter said. "He just walked off, so obviously he knew he was wrong."
West told a pool reporter, "I thought he swung, so I said he swung. They're all great players, and any time you get called out at the end of the game on something like that, they're going to be upset, so I understand that." More »
QUOTABLE
"Opening Day's a holiday. At least it's been that way in my family for as long as I remember. It's a great feeling. There's a buzz that's not like any other game. I'd say the closest thing is the playoffs. It's actually a good time, especially since games matter now. They count for real, and that's always good to have that feeling, that winning feeling. We were talking about that yesterday: I can't wait to get that winning feeling. You win in Lakeland, but it don't mean anything. We have 161 more to go." -- Avila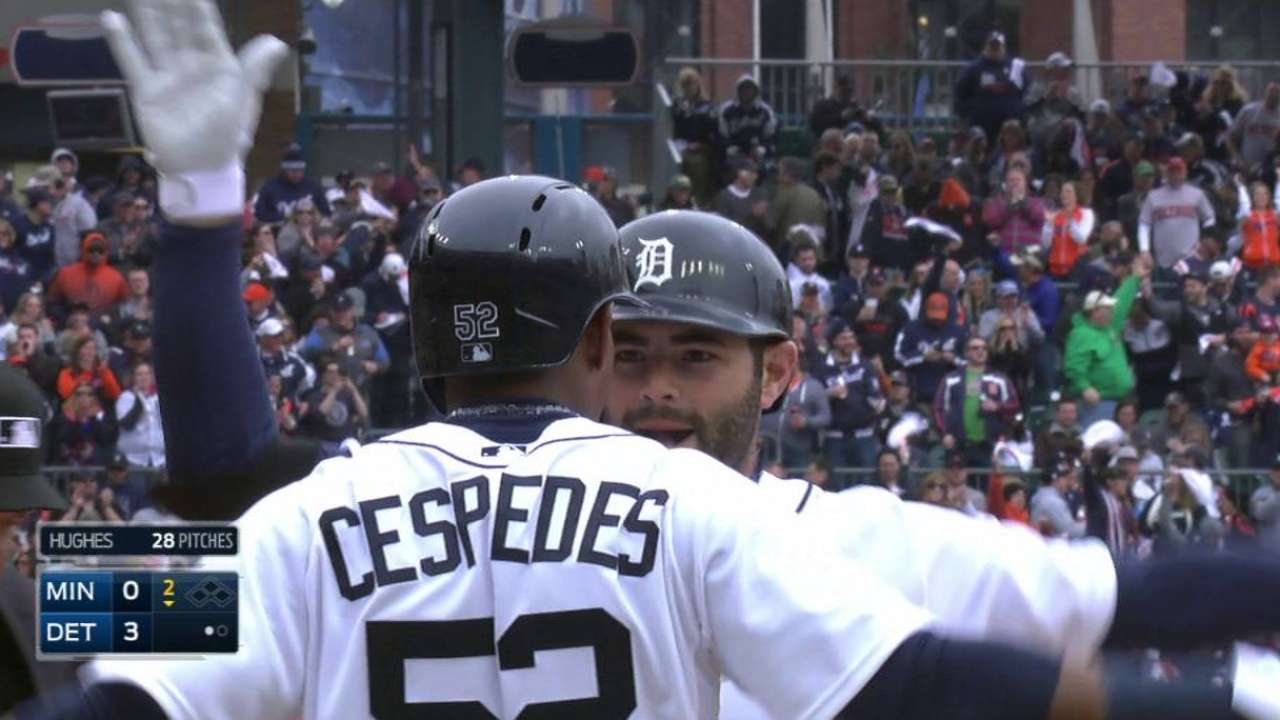 "The atmosphere was great. They called my name, people cheered. You had some jeers in there, but that's all right. I'm with the Twins. You don't expect to get all cheers." -- Hunter, on Opening Day
SOUND SMART WITH YOUR FRIENDS
Avila's opposite-field home run in the second was his first home run to left field since Sept. 15, 2013. He became more a pull hitter last year, but has gotten back to using the whole field, the style of hitting that helped get him to the big leagues quickly in 2009.
WHAT'S NEXT
Twins: Right-hander Ricky Nolasco is set to take the mound against the Tigers on Wednesday at 12:08 p.m. CT in a game that was originally scheduled to be started by Ervin Santana. But Santana was suspended 80 games for the use of a performance-enhancing substance and won't return until early July. Nolasco is looking to rebound after posting a 5.38 ERA in his first year with Minnesota.
Tigers: The Tigers and Twins get Tuesday day off before the second game of a three-game set, a 1:08 p.m. ET start Wednesday at Comerica Park. What was once in line to be a showdown between Verlander and Santana is now a matchup of former teammates Anibal Sanchez and Nolasco.
Jason Beck is a reporter for MLB.com. Read Beck's Blog and follow him on Twitter @beckjason. Rhett Bollinger is a reporter for MLB.com. Read his blog, Bollinger Beat, and follow him on Twitter @RhettBollinger. This story was not subject to the approval of Major League Baseball or its clubs.