Sale set to debut Sunday after latest rehab outing
Throws 5 innings, 72 pitches in Minors game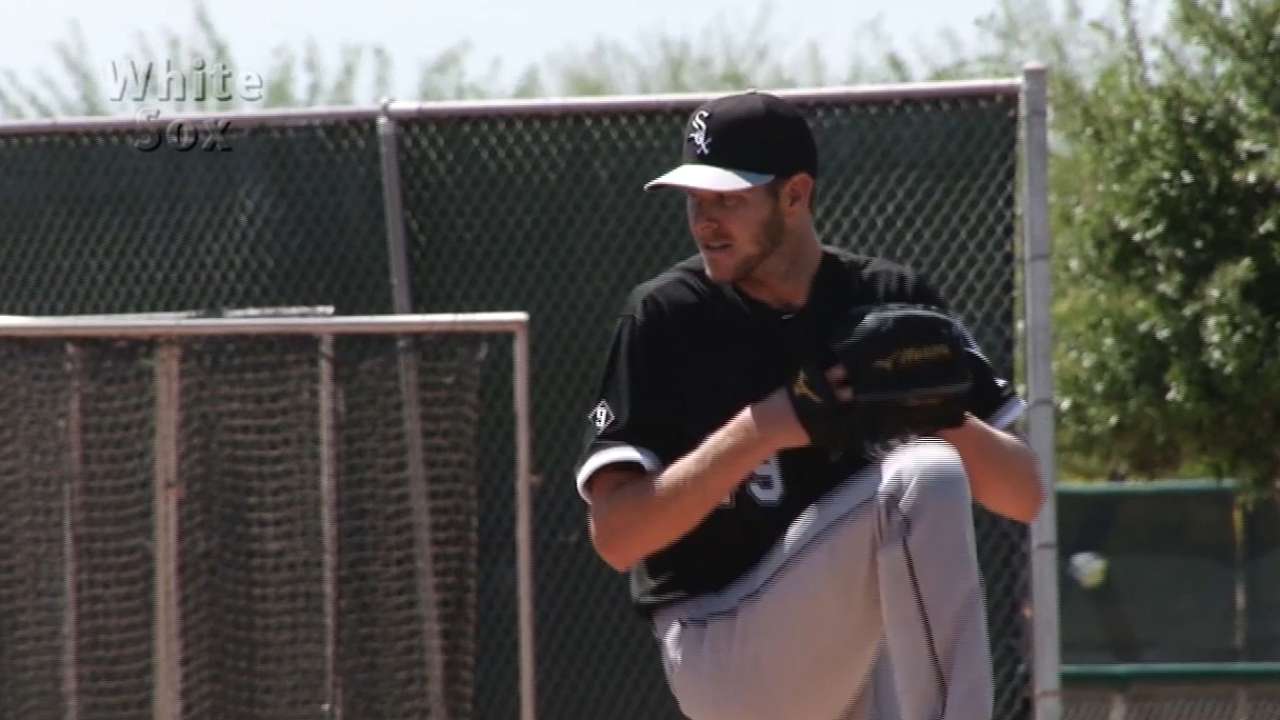 KANSAS CITY -- The final step for Chris Sale's return to the Major Leagues appears to have been taken Monday in Arizona by the southpaw, who worked five innings and threw 72 pitches during a Minor League game at Camelback Ranch. According to White Sox pitching coach Don Cooper, Sale will join the team in Kansas City on Tuesday and throw a side session Friday in Chicago.
Unless he experiences an unforeseen setback, Sale will make his 2015 debut against the Twins on Sunday at U.S. Cellular Field. That date works out to just one start missed because of the avulsion fracture sustained by Sale in a home accident on Feb. 27, which should allow general manager Rick Hahn to exhale a bit.
"We are in a lot better position than we were that morning," said Hahn, speaking to the media in the White Sox dugout at Kauffman Stadium, prior to the season opener. "But I'm not quite ready to exhale just yet until I see him back in between the lines.
"We are certainly getting a lot closer and Chris worked hard, [White Sox head athletic trainer] Hermie [Schneider] worked hard. It's good to have him on the precipice of returning this quickly."
Sale struck out seven, walked two and allowed one run on three hits on Monday. Over his two Minor League starts in Arizona, Sale fanned 20, and he appears ready to pick up where he left off from his third straight All-Star season in 2014 that included a third-place finish in the American League Cy Young voting.
Hahn confirmed that Sunday remains Sale's targeted return, although Sale would be eligible to come off the disabled list and pitch Saturday.
"We'll see how the weather cooperates here over the next couple of days and then make a determination once we get a full report on Sale's health and where he's at," Hahn said. "In terms of the target date of having him back this weekend, this was the last hurdle. Based on everything I heard so far, it sounds like everything went well."
Jake Petricka, who also started the 2015 season on the disabled list, is coming along well, per Hahn, in working through his right-forearm soreness. He played long toss Sunday and will have a side session Tuesday.
"I don't think he's going to be able to be activated on Saturday when his 15 days will be up," Hahn said. "I'm optimistic it will be some point in the not-too-distant future after that, hopefully on the road trip."
Scott Merkin is a reporter for MLB.com. Read his blog, Merk's Works, and follow him on Twitter @scottmerkin. This story was not subject to the approval of Major League Baseball or its clubs.