Attanasio: Discussions ongoing for Melvin extension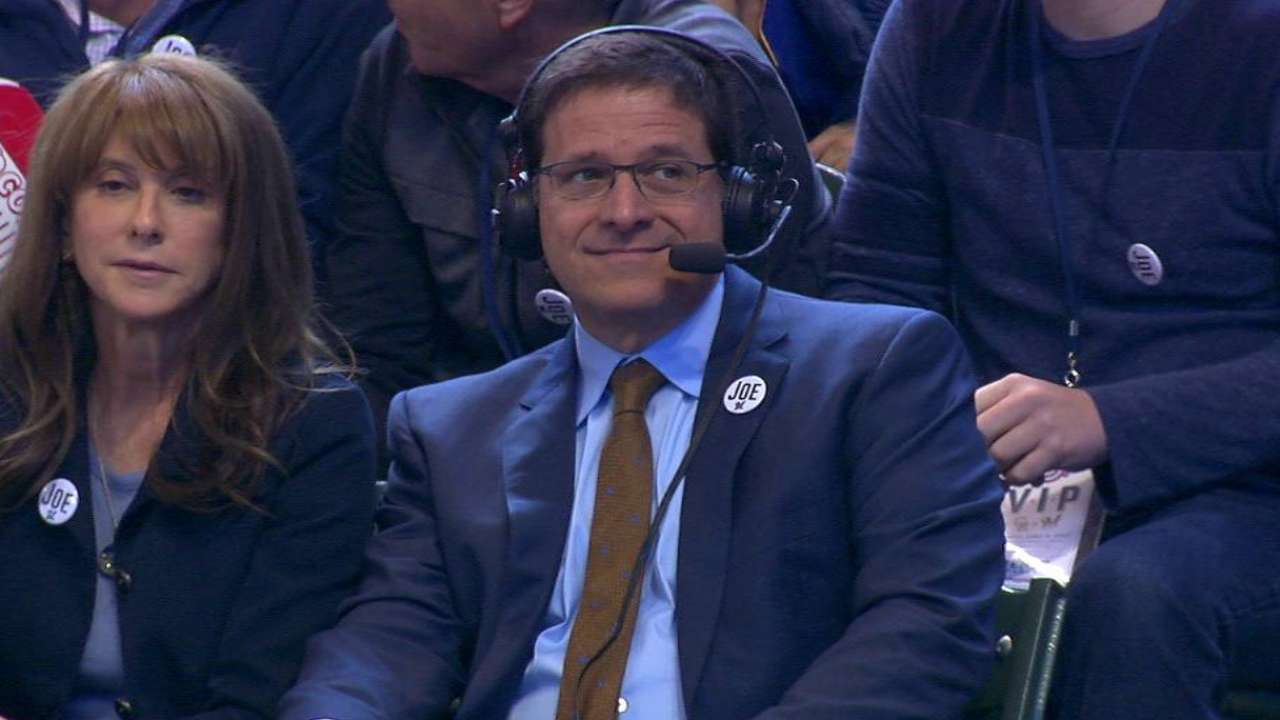 MILWAUKEE -- Brewers owner Mark Attanasio said discussions would continue toward an extension for veteran general manager Doug Melvin, suggesting that the only hurdle was settling how many more years Melvin wants the job.
"He needs to think about how long he wants to do this, because at some point, we do need to have some kind of succession plan," Attanasio said. "We can't have a succession plan until we put some stakes in the ground with Doug.
"At the same time, Doug has been a GM for [17 seasons, including his Rangers tenure]. That's [17] seasons of no Memorial Day, no Fourth of July barbecues, no Labor Day. You see how things go -- yesterday, a big trade between the Padres and Braves [on Easter]. Really, no downtime. When you're a general manager in Major League Baseball in a $9 billion industry, there is no downtime."
Melvin, who will turn 63 in August, has consistently downplayed the relevance of his contractual status but says he still enjoys the job. He did eliminate one potential distraction on March 19, exercising manager Ron Roenicke's club option for 2016.
The Brewers hired Melvin in September 2002, and Attanasio retained him after assuming ownership of the team before the 2005 season. Under Melvin, the Brewers snapped a streak of 12 consecutive losing seasons and have made the franchise's only two postseason appearances since 1982.
The team has missed the playoffs in each of the past three seasons, including a 2014 campaign in which Milwaukee held first place in the National League Central for 150 days. Attanasio made it clear before the end of last season that Melvin would return for at least one more year.
Asked whether it bothered him to reach Opening Day without his GM under contract beyond this season, Attanasio said, "I think the better question is if it bothers Doug, but he has told me it doesn't. We have been in discussions on and off. A lot of it depends on what Doug wants to do, which he is working through."
Unlike some players, there was no Opening Day deadline for discussions between Attanasio and Melvin.
"I'm fine right now," Melvin said. "We continually talk, but I'm not worried about it. It was important to get a deal done for Ron. We didn't really talk about [Melvin's own contract] that much. We talked about the team more and where we're at as far as some of the player decisions we have to make."
"He and I have a very good relationship, at least from my perspective," Attanasio said. "That relationship has been 10, 11 years now, so I'm very comfortable discussing things with him at a natural pace, which we have been doing."
Adam McCalvy is a reporter for MLB.com. Follow him on Twitter at @AdamMcCalvy. This story was not subject to the approval of Major League Baseball or its clubs.