Simmons' rise to Cardinals was well anticipated
Catcher lived up to potential in 13 seasons with team en route to club HOF nom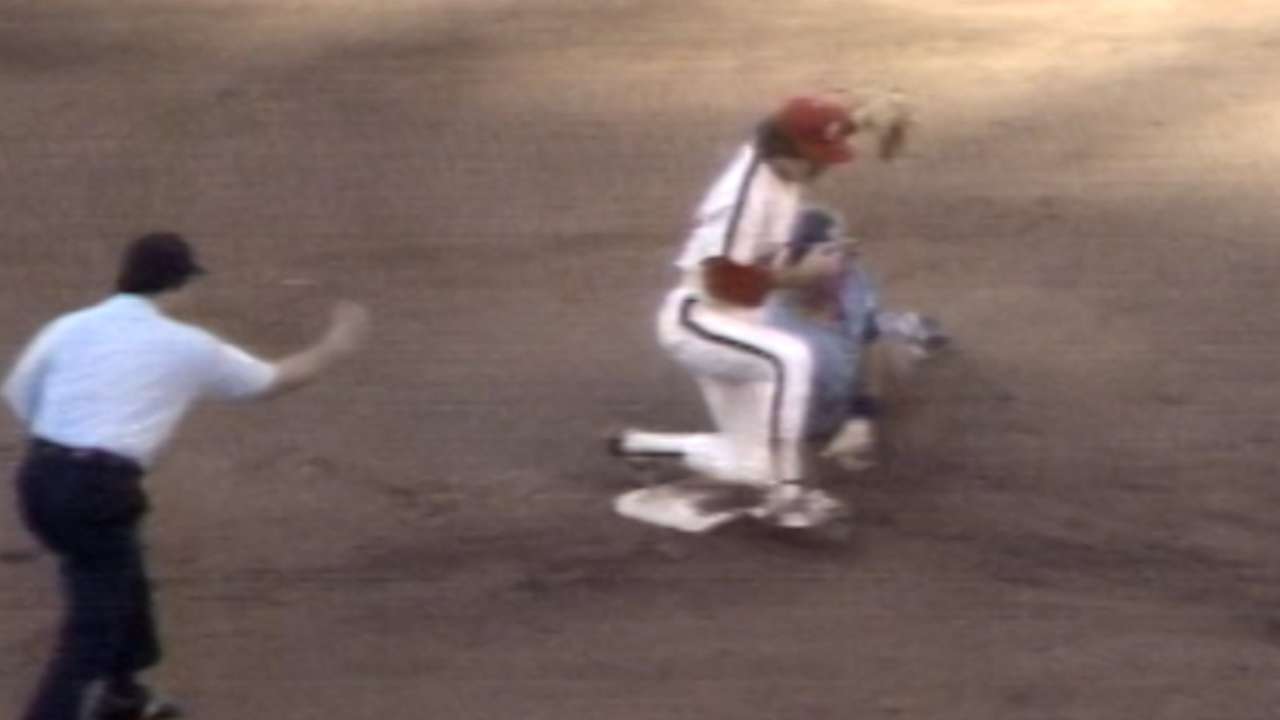 This is the sixth in a series of stories profiling the eight modern candidates on the Cardinals' 2015 Hall of Fame ballot.
Tim McCarver knew what was coming. As McCarver's first stint with the Cardinals was winding down, his teammates -- pitcher Bob Gibson among the worst offenders -- made sure he was well aware of a young catcher making noise in the club's Minor League ranks.
"On that Cardinals team, we had a bunch of guys who would not allow you to rest one minute," said McCarver, a Cards catcher from 1959-69. "They would put articles about Ted Simmons in my locker all the time about him in the Minor Leagues, about him doing well."
Even without the playful reminders from his teammates, McCarver couldn't help but notice Simmons' potential.
"I was fully aware that Ted Simmons was not only capable, but in many ways, much more capable than me because of the way he swung the bat," McCarver said. "I knew that there was only one place for him to go in the Major Leagues, and that was up."
And as he predicted, McCarver was out as the Cardinals' catcher after 1969. Simmons would go on to become one of the best hitting catchers in Cards history, and he has earned a nomination for the Cardinals Hall of Fame gallery, now in its second year of existence.
From now until April 20, fans can go to cardinals.com/HOF to vote for up to two of the eight modern candidates -- Simmons, Joe Torre, Steve Carlton, Edgar Renteria, Bob Forsch, Keith Hernandez, Mark McGwire or Matt Morris. The two leading vote-getters will be enshrined during an Aug. 15 ceremony at Ballpark Village.
Simmons played 1,564 games with the Cards from 1968-80. He platooned with Torre in 1970 before taking over full-time catching duties when the club moved Torre to third base in '71.
Simmons was selected to six All-Star teams over his 13 seasons in St. Louis. He set the National League record for most hits by a catcher, with 188 in 1975.
With his long hair and his fiery persona, Simmons could best be described as "different," Torre said with a chuckle.
"He was such a pure hitter, that's the one thing I admire," Torre said. "He was a little crude behind the plate, but he was such an aggressive, confident individual that you couldn't do anything but just admire his dedication.
"You would have to go a long way to be as good as Timmy [McCarver], as far as calling a game from the plate. I think Teddy learned that as he went along, but he was a leader. He'd kick the pitcher on the rear end or pat him on back. He sort of had a sense of what that particular guy needed, but he was a bulldog. He just thrived on the competition."
Chad Thornburg is a reporter for MLB.com. This story was not subject to the approval of Major League Baseball or its clubs.