Arenado ready to take next step in evolution
Hawkins recalls first Opening Day with legend Puckett; Betancourt not thinking retirement
MILWAUKEE -- Rockies third baseman Nolan Arenado has as many Rawlings Gold Glove Awards (two) as he has seasons in the Majors. That said, stardom and its trappings -- such as All-Star Game invitations and recognition beyond the fans who watch highlight reels -- is in front of him.
Arenado, who turns 24 on April 16, is ready for it, and believes he's level-headed enough to handle the spotlight. Rather than spend time enjoying the big league life off the field, Arenado has continued to live at home with his parents in the offseason and devotes his energy to preparation.
"What's important to me is playing hard, being a good teammate," Arenado said. "I don't think it's hard to stay the same person. I don't think I've changed a bit. I'm excited and have a lot of energy.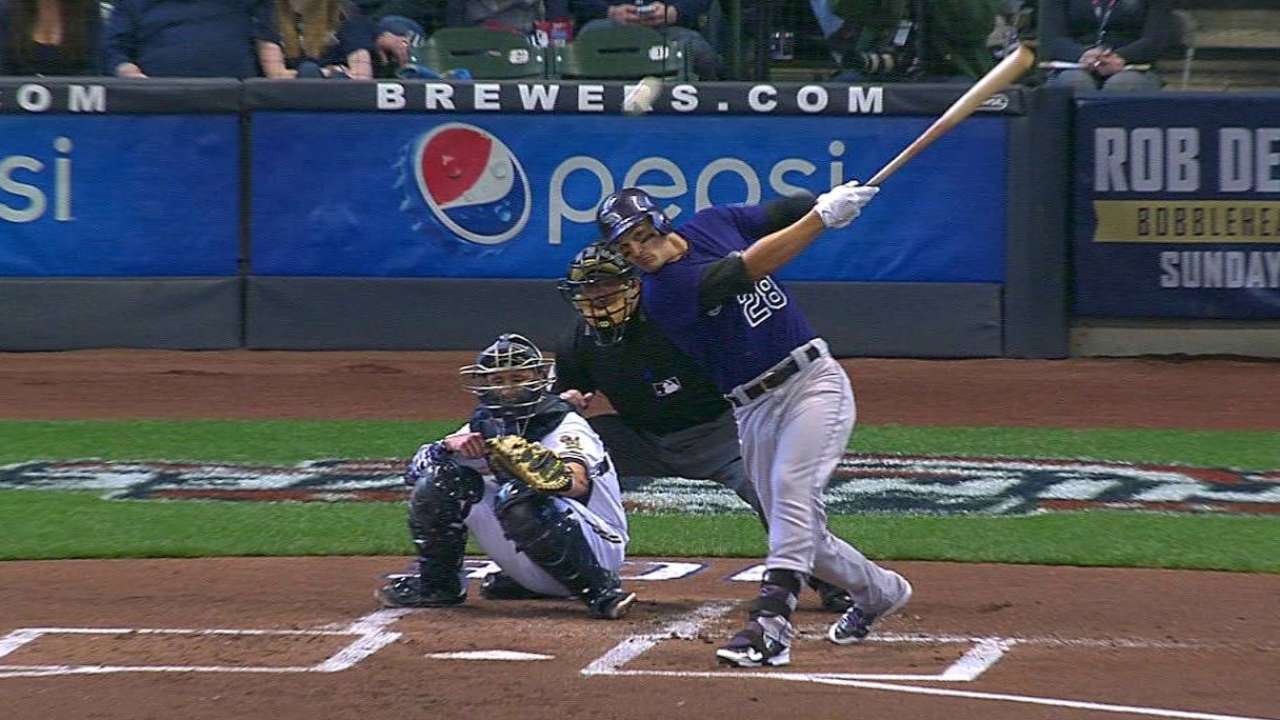 "I think I've matured and can stay calm in certain situations. I'm getting better at slowing the game down. I'm not great at it, but that's getting better."
Arenado didn't waste any time finding his stroke in Monday's opener vs. the Brewers, hitting an RBI double in the first inning before connecting on a two-run homer in the third.
Last season, despite missing 37 games in May and June with a broken left middle finger and missing time at season's end with pneumonia, Arenado hit .287 -- 20 points better than his rookie year -- and followed that up with five homers in Spring Training this year.
Rockies manager Walt Weiss said Arenado is ready for stardom.
"He's got the perfect personality," Weiss said. "He is tough on himself at times, but that's what drives him. That's why he's great. I see him being a big-time player in this league."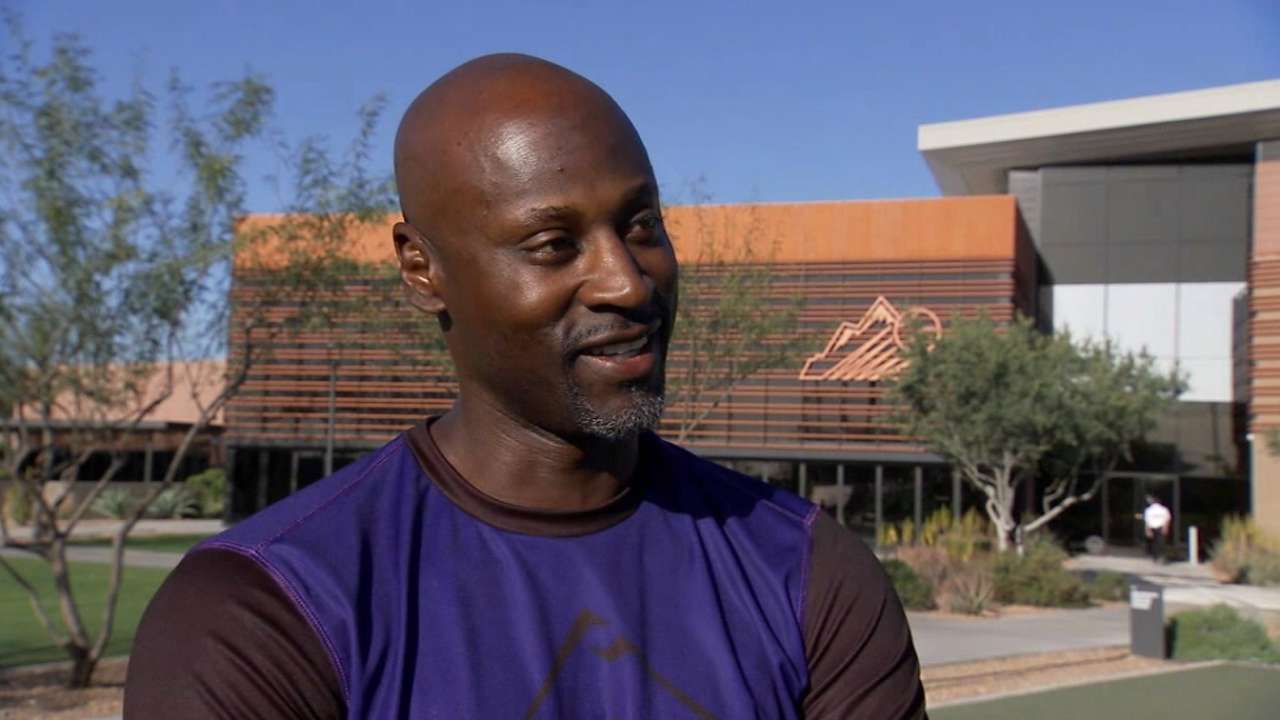 • Rockies reliever LaTroy Hawkins, who at 42 is the game's oldest active player, heard his name called Monday and stepped to the foul line on Opening Day for the 20th time in 21 big league seasons and 18th straight year. He'll always remember his first.
They did the intros by jersey number when Hawkins first broke in with the Twins, so he found himself beside the team's greatest No. 34 -- Hall of Fame outfielder Kirby Puckett. He repeats Puckett's words.
"I say it all the time: 'It never gets old,'" Hawkins said Monday. "He was the first person I heard say that on my first Opening Day -- 'Hey, 'Hawk,' it never gets old. This is what it's all about.'"
On the other end of the experience scale, players enjoying Opening Day for the first time are pitchers Brooks Brown, Christian Bergman, Eddie Butler, Christian Friedrich, Jordan Lyles and Tyler Matzek, and reserve infielder Rafael Ynoa. Lyles, who starts Tuesday's second game with the Brewers, pitched the season's third game last year but was not active until then.
• Hawkins has announced this is his final season. But reliever Rafael Betancourt, who turns 40 on April 29, has made no such announcement. When his right elbow ligament snapped on Aug. 22, 2013, and he decided he would come back from the required Tommy John surgery, he decided he wouldn't put an expiration date on his career.
"Before, I was always thinking about how many more years I would keep playing," Betancourt said. "But with what I went through last year, with all the rehab, I said, 'I'm just going to come here and just keep going. If I feel that's enough, that's enough.' I'm trying to go day by day and enjoy it."
Betancourt has reached his pre-injury fastball velocity and displayed a changeup that he honed while pitching in Minor League rehab last year, when he was afraid to throw breaking balls. He still has a good slider. Betancourt will pitch in middle relief in the beginning of the season.
Thomas Harding is a reporter for MLB.com. Read his blog, Hardball in the Rockies, follow him on Twitter @harding_at_mlb, and like his Facebook page, Thomas Harding and Friends at www.Rockies.com This story was not subject to the approval of Major League Baseball or its clubs.