Shifting philosophy: Rox dedicated to new defense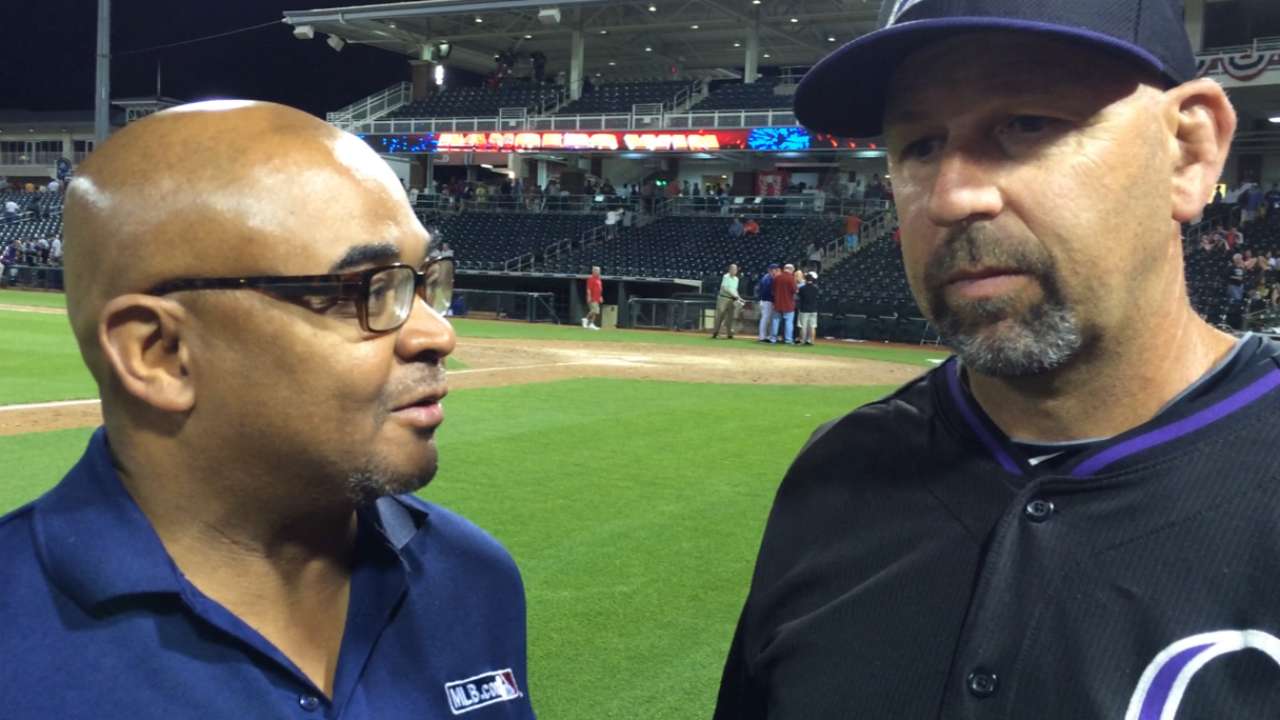 MILWAUKEE -- The Rockies are determined to find out if an infield that includes three Gold Glove Award winners and another finalist can be even better by employing increasingly popular extreme shifts based on hitters' tendencies.
The Rockies tested the shifts late in Spring Training. Some worked, like shortstop Troy Tulowitzki positioned far toward third base and snaring the Rangers Tommy Field's liner. Others didn't. In the final game, the Mariners' Robinson Cano doubled to left against a right-shifted infield, and Nelson Cruz ended up with a single when DJ LeMahieu backhanded a grounder on the shortstop side, but his momentum prevented a throw.
But the shift is here to stay.
The Rockies' in-house tracking of hitters has produced color-coded reports that are given to manager Walt Weiss, catching/defensive positioning coach Rene Lachemann, third-base/infield coach Stu Cole and first-base/outfield coach Eric Young. Weiss is the final authority.
Cole, who positions the infield, said some data is surprising, such as, "You see a lot of small guys hit a lot of pull ground balls, like big-time power pull hitters."
Also, the Rockies plugged pitch and location data into the system to check a popular wisdom -- that is that the shift requires pinpoint control from pitchers to force hitters to knock the ball into clusters of fielders.
"It doesn't matter the pitch, it doesn't matter the count or the situation -- over a large period of time, guys are going to be who they are," Cole said.
But it's hard to argue with success. Tulowitzki has positioned himself and fellow infielders using his encyclopedic knowledge of hitters and video studies of hitters' swings, and trusts his feel above all. Same with LeMahieu, whose reading of swings and Rockies pitchers was one of the traits that helped him win his first Gold Glove last year. Third baseman Nolan Arenado followed Tulowitzki's positioning lead, developed his own priorities and wound up with Gold Gloves his first two years in the Majors.
Now they are being asked to trust computerized data. It's not as simple as it sounds.
"There's so much information nowadays, you can overload yourself with it," Tulowitzki said. "There's no doubt all the teams have the information on the majority of the balls. But at the same time, you can't take away the instincts you have."
LeMahieu admitted that feeling inhibited is "the first thing that comes to mind for me when we're doing shifts. But we'll just have to see how it plays out."
Two adjustments have been made:
• Don't expect to see shifts all game long like in some Cactus League affairs. But, Weiss said, "if the information is convincing enough, we're not afraid to do it."
• During Sunday's workout at Miller Park, infielders took extra ground balls in unfamiliar areas.
Where Tulowitzki and Arenado align when the shift calls for an extra man on the second-base side bears watching. Neither enjoys moving to the right side. Who crosses the field will depend on the situation and will be planned with coaches' input.
And guess what? Sometimes it won't work. But the Rockies have committed.
"Someone's going to hit a ball where somebody's not standing," Weiss said. "But that happens when you play straight up."
Thomas Harding is a reporter for MLB.com. Read his blog, Hardball in the Rockies, follow him on Twitter @harding_at_mlb, and like his Facebook page, Thomas Harding and Friends at www.Rockies.com This story was not subject to the approval of Major League Baseball or its clubs.