MLB.com Columnist
Paul Hagen
Red Sox get best of Hamels right out of gate
Boston opens strong after offseason trade rumors involving Phillies ace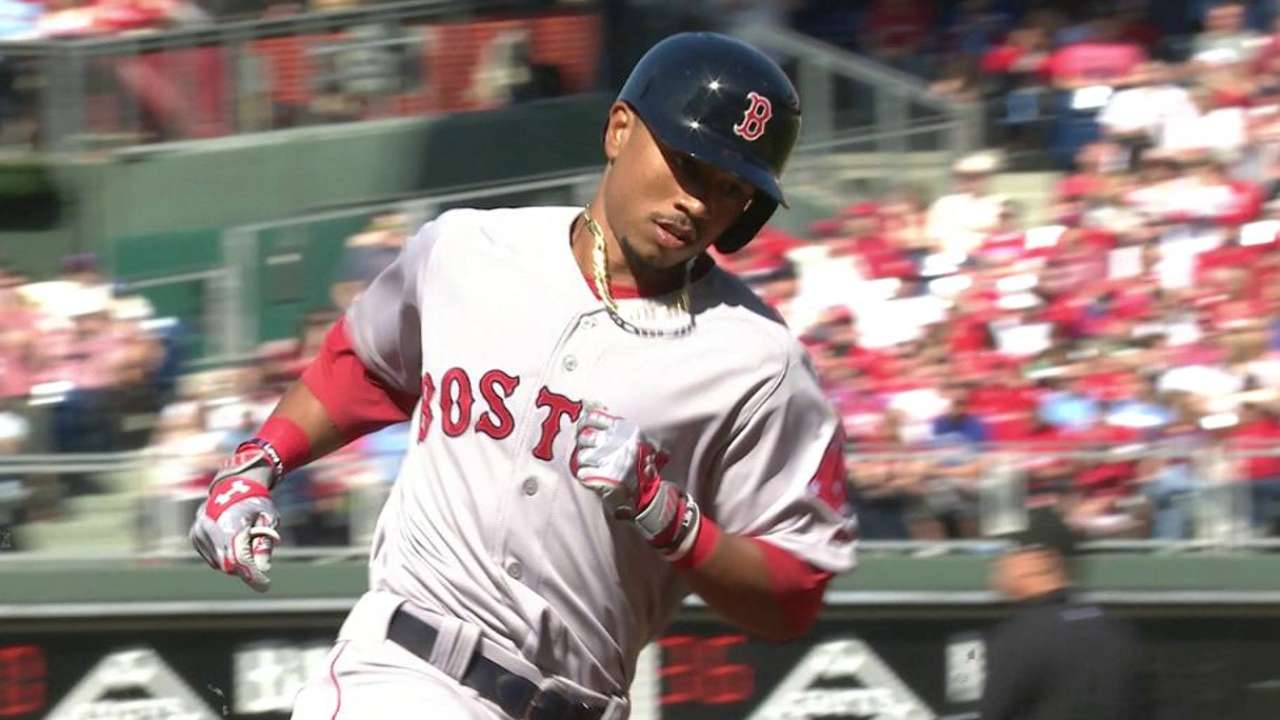 PHILADELPHIA -- There were reasons, plenty of good and solid reasons, for the Red Sox to consider backing up the truck and unloading whatever it took -- prospects, cash, season tickets to the Monster Seats and a year's supply of Fenway Franks -- to get the Phillies to give up star left-hander Cole Hamels before this season started.
Boston needed an ace at the top of its rotation, it was said. Mookie Betts and Blake Swihart, for all their dazzling promise, hadn't proven anything at the big league level, it was said. After spending large to sign Hanley Ramirez and Pablo Sandoval and Rusney Castillo and almost totally rebuilding the rotation, it was silly not to do whatever it took to add the final pitching piece to the puzzle, it was said.
Then fate, and the schedule-maker, conveniently arranged for the Red Sox to open the season on Monday at Citizens Bank Park. And while no real conclusions can be drawn from the first of 162 games, at least in the opener, general manager Ben Cherington's decision to resist whatever temptation he may have felt to add Hamels couldn't have worked out better.
Not because the Red Sox won, 8-0. And not even because Hamels lasted just five innings while giving up four solo homers to take the loss.
It's because the way Boston won put a plus sign alongside just about every broad judgment that was made this winter and spring.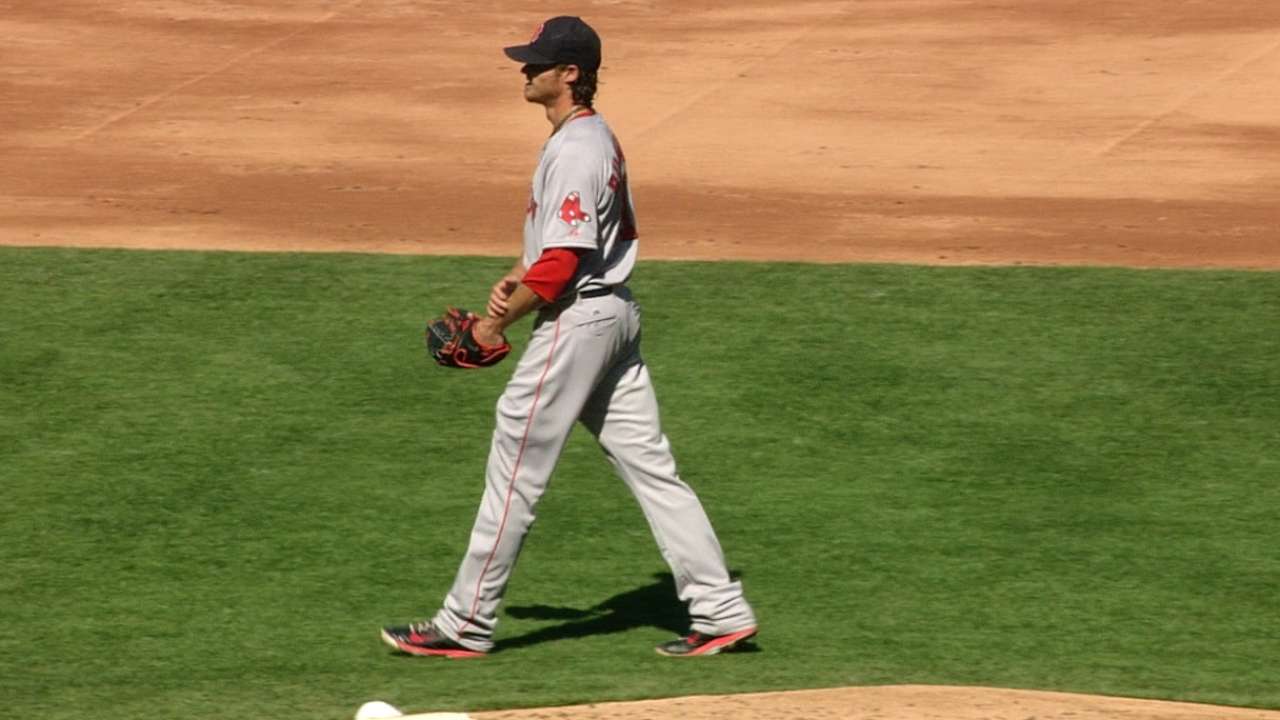 As long as Hamels remains healthy, he will pitch much better than he did on this sun-splashed Monday when the first pitch temperature was an unseasonable 71 degrees. He's too good not to. But on this day Buchholz, deemed unproven as an ace, pitched as if he were born in that role.
Granted, the rebuilding Phillies are expected to struggle offensively this season after trading Jimmy Rollins and Marlon Byrd. That takes nothing away from how dominant the 30-year-old Buchholz, making his first career Opening Day start, was while pitching seven shutout innings. He struck out nine. He allowed just three singles and a walk. Only twice did the Phillies get a runner past first.
Said second baseman Dustin Pedroia, who hit two of the homers off Hamels: "[Buchholz] was great. He was commanding all his pitches, throwing them wherever he wanted. He was awesome."
Buchholz insisted that all the white noise about not having a legit No. 1 top-of-the-rotation starter, all the Hamels speculation, never fazed him.
"This is how I planned it in my head," he said. "I've said it multiple times this year. Everybody's opinion outside of this clubhouse is a lot different than the opinion we have about ourselves as far as the starting staff. And you're going to see another good one [Wednesday when Rick Porcello starts]."
Check.
Prospects remain suspects until they demonstrate that they can compete in the big stadium against the best players in the world. Betts went 2-for-4 with a homer off Hamels, a walk and two runs scored out of the leadoff spot.
"Just another game," Betts said with a smile, adding that he was well aware of how his make and the Phillies starter had been connected by speculation even into Spring Training. "All that kind of went out the window during the game. When you bring it up, yes, it's kind of funny. But we're on two different teams so there's nothing to think about now. I didn't think about it, but it's funny now."
Check.
Ramirez, representing the Free Agent Acquisition department of the clubhouse, made an impact as well. He homered off Hamels in the fifth and broke the game open with a grand slam against Jake Diekman in the top of the ninth.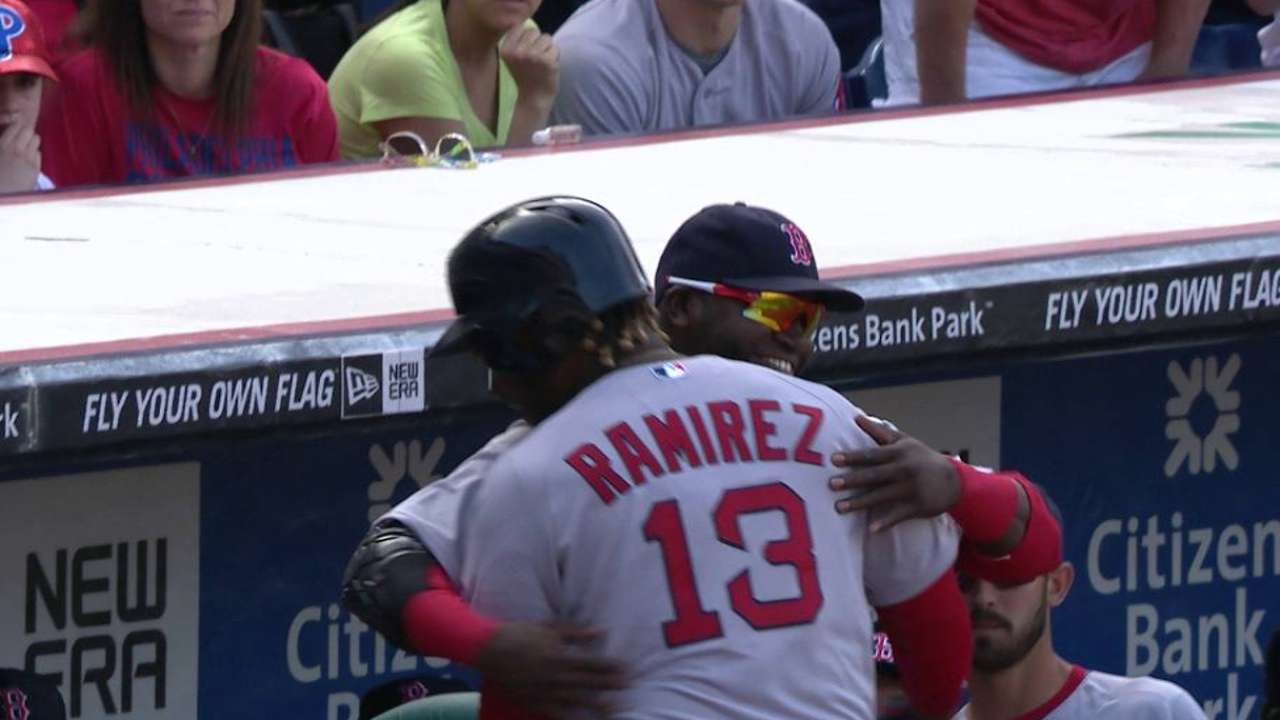 Check.
And Pedroia demonstrated that he's healthy again and prepared to contribute power production to a lineup that lacked pop in 2014. Which is just as significant as any of the other positive developments that took place in the opener. Again, though, he declined to attach added significance to his big day.
"I grinded a lot the last couple years. Now I'm back to being who I am," Pedroia said. "I could tell I was healthy and getting back to normal in the offseason. I don't really listen to the outside stuff. All that's for other people. I just concentrate on doing what I do to help us win and go from there."
Check.
"There's never been anything expressed based on some of the outside comments," manager John Farrell said. "I think our guys have done a great job, particularly the guys in the rotation, of not paying any attention to what some of the comments may have been. I know that they're confident in themselves. Granted, this is Day One. They've been able to take some of that and maybe use some of it as motivation. Maybe this is a little bit of a rallying point, [but] we still have a long, long way to go."
One day does not a season make. It's possible that, as the season unfurls, needs will arise and the Red Sox will reconsider making an offer for Hamels. As the shadows lengthened over the field, for this day at least, it looked like one of the Red Sox best trades was the one they never made.
Paul Hagen is a reporter for MLB.com. This story was not subject to the approval of Major League Baseball or its clubs.