Hanley matches old pal Pedroia, hits two of his own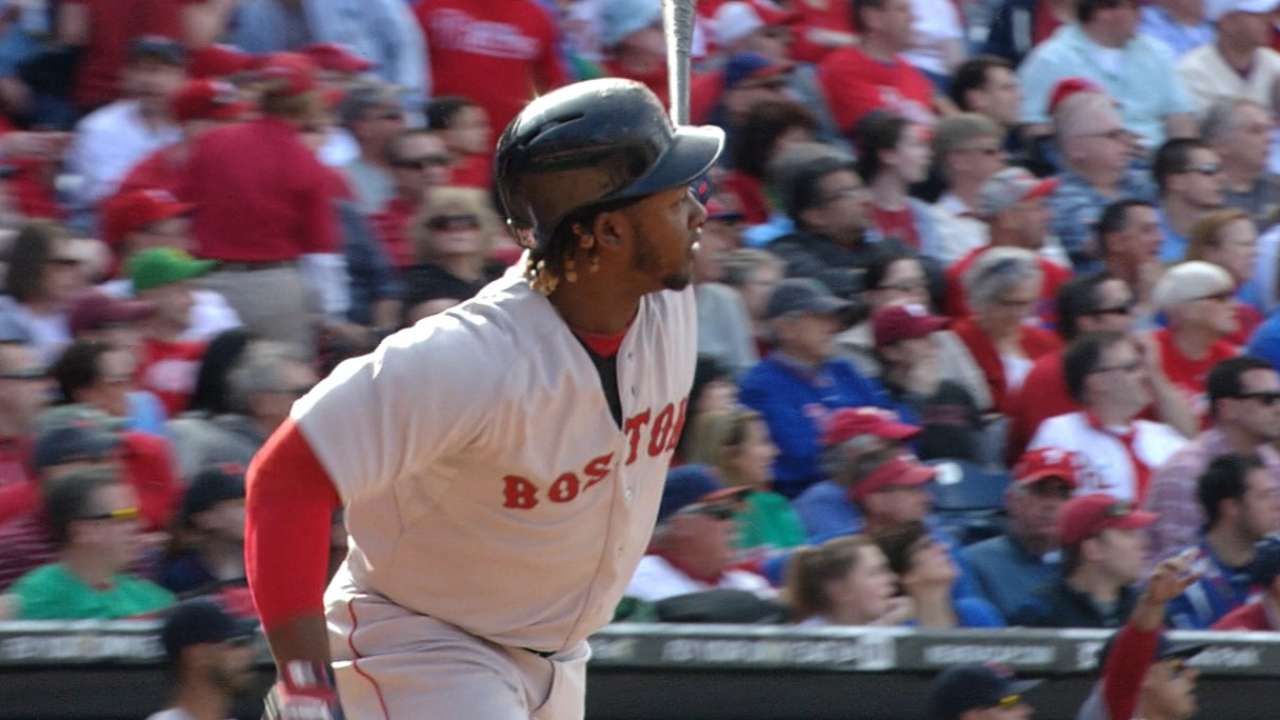 PHILADELPHIA -- Hanley Ramirez was laughing as his former Portland Sea Dogs teammate was talking trash on the bench during Opening Day against the Phillies. Yes, Dustin Pedroia had belted two home runs and he was letting his teammates know it.
Ramirez figured the only way to keep Pedroia quiet would be to match him.
In the end, Ramirez even topped him. The second homer by Ramirez in Monday's 8-0 romp over the Phillies was not just a grand slam, but a broken-bat grand slam.
"That evened the score based on he and Pedey, and maybe some of the comments that were going on between innings," said Red Sox manager John Farrell. "Yeah, it's good to see guys get their pitch and do some damage with it."
According to the Elias Sports Bureau, this marked the first time in history the Red Sox had two players produce multihomer games on Opening Day.
It was quite a return for Ramirez, who had five RBIs while playing his first game for Boston since 2005.
Back then, Ramirez was a September callup who played just two games at the Major League level. Now, he is a cleanup hitter, positioned behind Pedroia and David Ortiz and in front of Pablo Sandoval.
It might be the only broken-bat homer Ramirez hits all season.
"I was surprised," Ramirez said. "When the ball hit the bat, I heard the sound like I got a broken bat."
The eight-run outburst is something Ramirez thinks will be commonplace for the 2015 Red Sox.
"Yeah, it's what everybody expects from this team," Ramirez said. "Everybody hits homers and scores a lot of runs, but we're just going to try to win."
After a trade to the Marlins robbed Ramirez of spending his entire career with Pedroia, he is glad they are reunited.
"He hit a lot of homers in Portland. I was mad at him. I think he hit more than me, a little guy like him," said Ramirez. "No, man, Pedroia is a great player. He encourages everyone here. We just try to follow him. Everybody loves him."
Ian Browne is a reporter for MLB.com. Read his blog, Brownie Points, and follow him on Twitter @IanMBrowne. This story was not subject to the approval of Major League Baseball or its clubs.