In Twins homecoming, Torii faces former club
Veteran outfielder takes on Tigers in his 17th consecutive Opening Day
DETROIT -- Torii Hunter's homecoming with the Twins officially began Monday in another familiar place for the 18-year veteran, as it marked his return to Comerica Park after playing the past two seasons with the Tigers.
Hunter, who played with the Twins from 1997-2007 before returning to Minnesota on a one-year deal worth $10.5 million in the offseason, said he had nothing but positive things to say about his time in Detroit, but is excited about being back with his original club.
"This is crazy," Hunter said. "Who made the schedule? That's all I'm saying. I had fun in Detroit. That clubhouse over there, those guys made me laugh every day. The organization is A-1, and to start the season off on Opening Day in the place I used to play, against my former team, which I played for and I lived, it's kind of weird."
Hunter, 39, played in his 17th consecutive Opening Day on Monday, which is the longest such active streak in the Majors and dates back to '99. He said he had to reevaluate after last season if he wanted to play another year, but said he felt like he could still be productive, so he decided to return.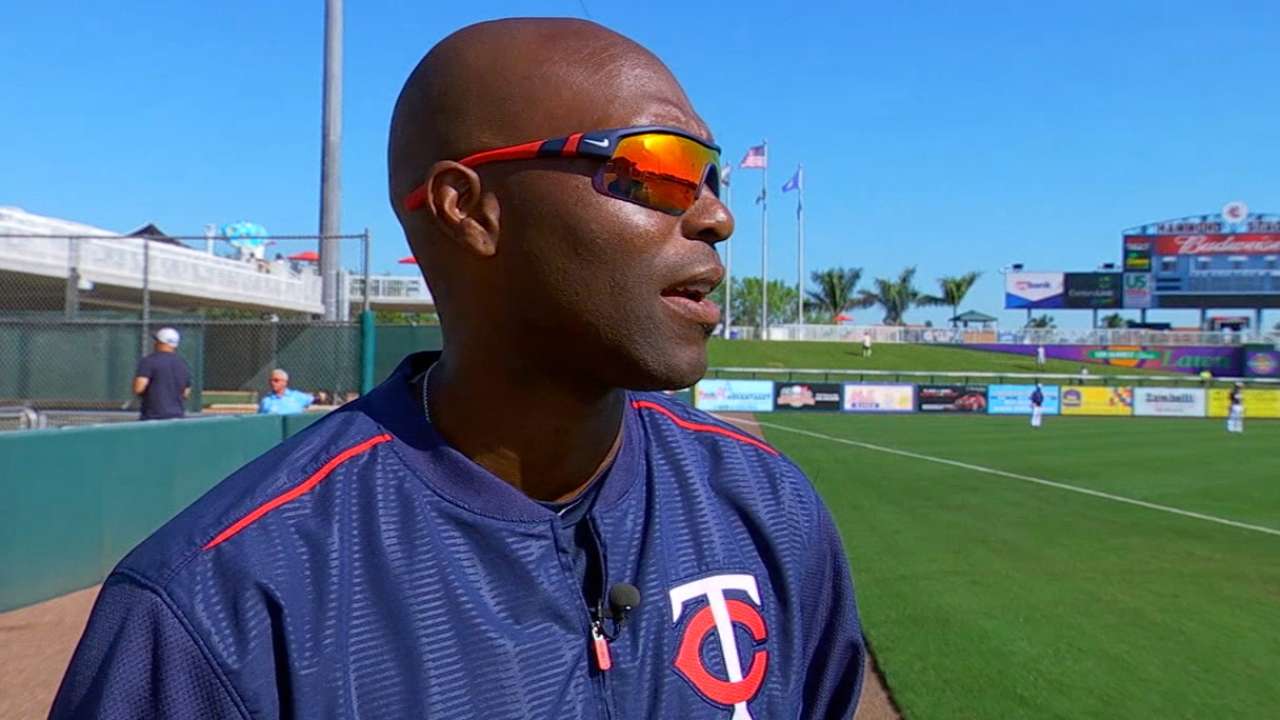 "As long as there's bullets left, I've gotta keep going," Hunter said. "After this season, I'll just re-evaluate everything and see what happens. But while I'm here for a year, I'm gonna give it my all and play hard like it's my last."
Hunter also said he has high hopes for his new team despite the fact they've lost at least 92 games over the last four seasons. But they were competitive within the division last year, including a 10-9 record against the Tigers.
"It's a young squad, but very talented," Hunter said. "These guys are I think right where they need to be, and they have a good chance of winning the division. I'm pretty sure the Tigers do, too, but we have a good chance of winning the division. And if it has to be a Wild Card, we can do that as well."
New Twins manager Paul Molitor, who was Hunter's teammate in Minnesota in '97-98, said he's happy to have him on his side, but noted the Twins brought him over to help their lineup and not just for his leadership off the field. Hunter was productive last year, hitting .286/.319/.446 with 17 homers and 83 RBIs in 142 games.
"You saw what he did over here in Detroit and everywhere he's been," Molitor said. "He's just been very professional about his work and his leadership. But we brought him here to play. The benefits we get from Torii is we get some intangibles it's hard to place a value on, but we expect him to play well, and that's probably first and foremost."
Rhett Bollinger is a reporter for MLB.com. Read his blog, Bollinger Beat, and follow him on Twitter @RhettBollinger. This story was not subject to the approval of Major League Baseball or its clubs.