Pederson impressive after getting start in center
Mattingly says club's No. 3 prospect likely to get majority of time over Ethier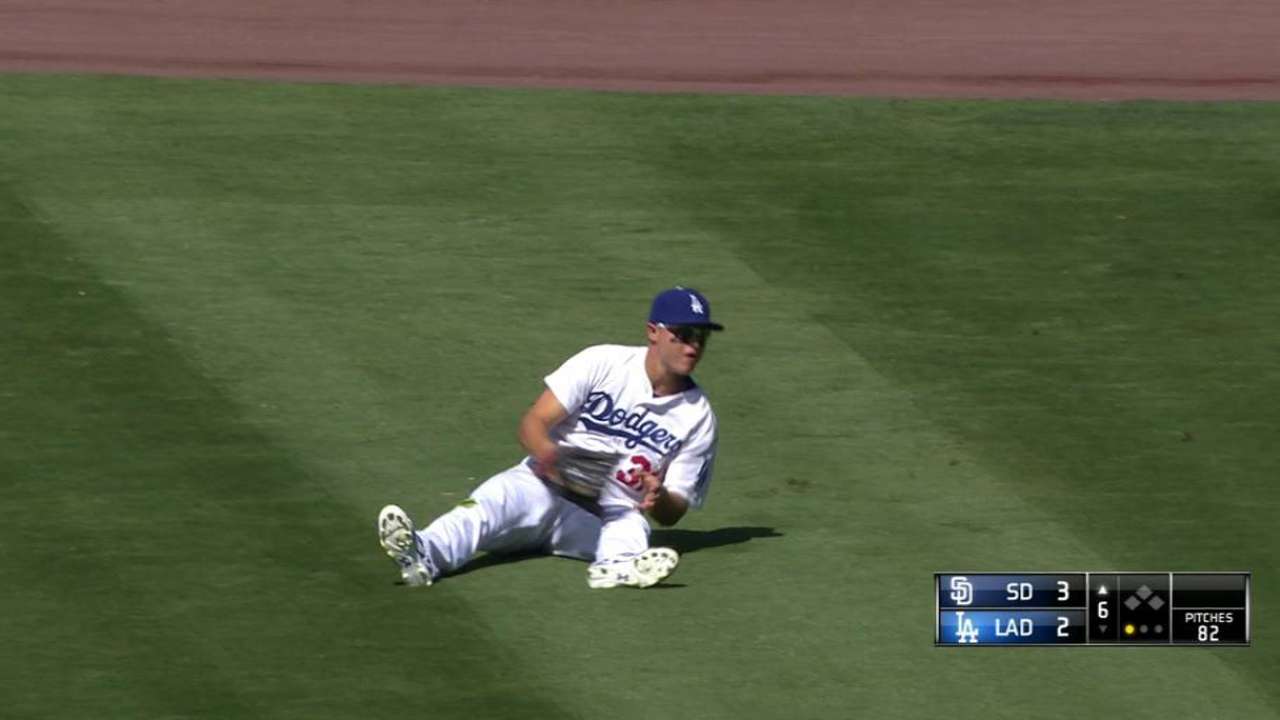 LOS ANGELES -- Dodgers manager Don Mattingly started Joc Pederson in center field for Monday's Opening Day game and said the rookie would get the bulk of playing time there, stopping short of calling him the everyday starter.
"We really like the way Joc goes about his business," Mattingly said.
Pederson backed it up on the field, making a tumbling catch of Will Middlebrooks' sinking line drive leading off the top of the sixth inning. The rookie sprinted toward the right-center gap, reaching down to make the catch and held on while tumbling over.
Pederson also doubled, stole third base and started the winning rally in the eighth with a leadoff walk in the Dodgers' 6-3 win over the Padres.
"I'm just happy to be here and excited to go out and help the team win," Pederson said before the game. "It's rewarding. Along with the hard work that paid off, I'm thankful for the coaches' help along the way. It's not about me anymore -- it's about helping the team win ballgames."
Pederson beat out veteran Andre Ethier after both left-handed hitters had solid Spring Training camps.
"He knows where we're at right now and that's all I can do," Mattingly said of Ethier. "If it was me, I can't say I'd be happy, and I don't expect him to be."
Pederson is coming off a 30/30 season at Triple-A last year and is considered the organization's No. 3 prospect by MLB.com behind shortstop Corey Seager and left-handed pitcher Julio Urias.
The last two Dodgers rookies to start on Opening Day and essentially keep the job the entire season were Wilton Guerrero in 1997 and Todd Hollandsworth in 1996.
Ken Gurnick is a reporter for MLB.com. This story was not subject to the approval of Major League Baseball or its clubs.