As Maddon gets situated, it's all about R-E-S-P-E-C-T
Cubs manager's motto a recurring theme in his new environment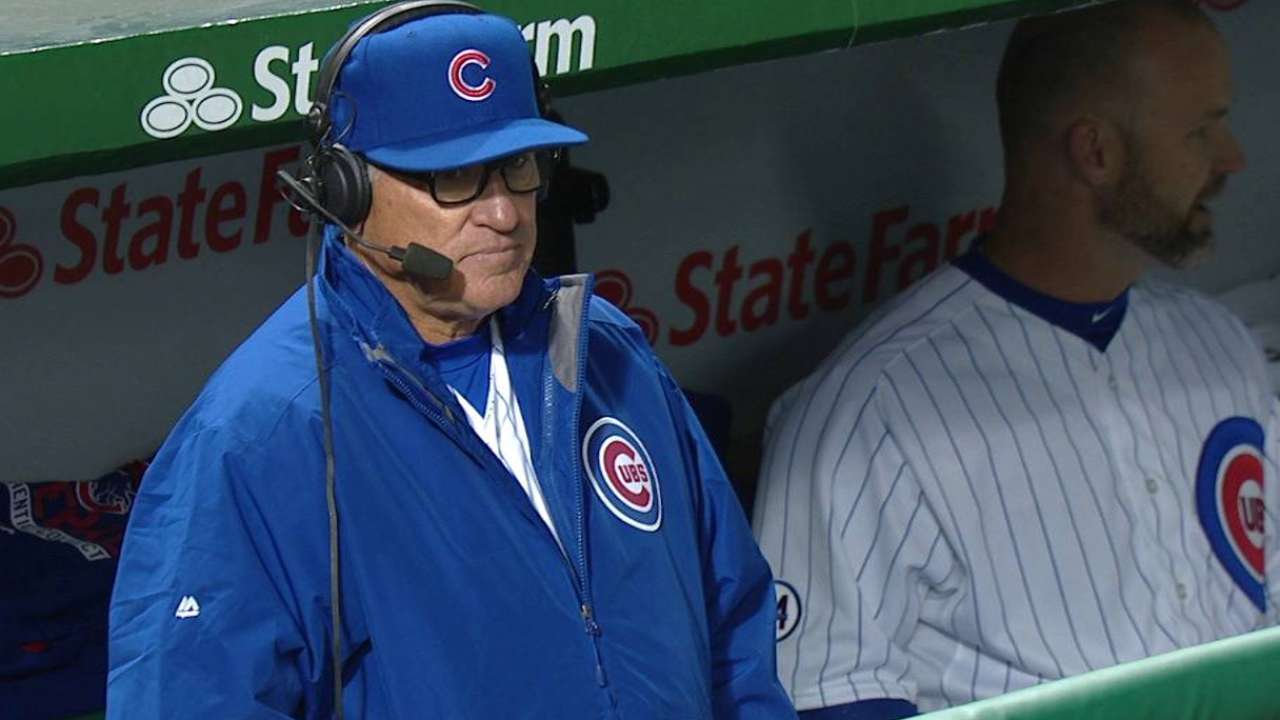 CHICAGO -- Joe Maddon has traded living in his recreational vehicle, "The Cousin Eddie," in Mesa, Ariz., for a suite at a downtown hotel.
On April 17, Maddon -- who helped raise more than $12,000 this spring at the first "Respect Bald" event as Cubs players, coaches and staff got their head shaved -- will introduce his "Respect Community" charity T-shirt initiative. After every Friday home game, he will represent a different Chicago nonprofit and wear that organization's T-shirt during his postgame news conference.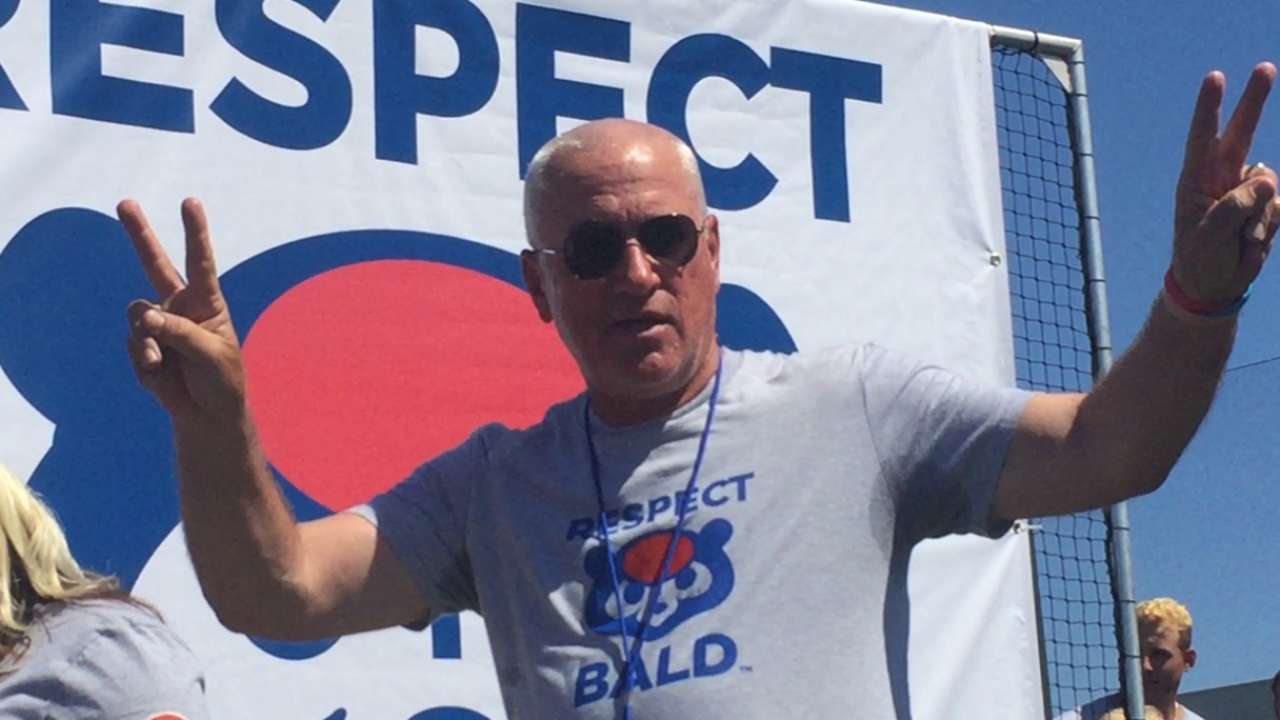 Maddon did a similar T-shirt promo in St. Petersburg as Tampa Bay's manager, but it will be different in Chicago. There are more members of the media. There are more fans. The Rays ranked last in home attendance in 2014, averaging 17,857. The Cubs, who lost 89 games, averaged 32,742 at Wrigley Field.
One thing Cubs president of baseball operations Theo Epstein has noticed about Maddon is that as unique as the new manager is, nothing seems out of the norm. Maddon is Epstein's third manager since taking over the Cubs, and he may be the perfect fit.
"If you let the day games be a distraction, they can be," Epstein said. "If you let history be a distraction, it can be. If you have a nice, relaxed, loose atmosphere, you can show up and play, and those things add to the texture of the experience and they're not obstacles for us."
Maddon's message to the Cubs' players since the first day of camp was "Respect 90." Run hard 90 feet to first base every time and respect the game, and good things will happen.
"It's tough to change people's minds in the first couple weeks, and he did that," third baseman Mike Olt said. "Now, we've gone through all the basics and all the little things will help us win games that maybe we didn't go over as much in the past. Even guys coming from other teams are impressed with that. That's what helps you win ballgames. We have the talent to do it. It's in our heads."
Maddon did that. As well as his first Spring Training with the Cubs went, the first month of the regular season may be even more important.
"I always think it takes that first month [to understand the team]," Maddon said. "I try to have a winning record every month, and that's something we'll talk about and try to make a goal."
Maddon has to learn Wrigley Field's weather-related nuances, how to get the most out of his bullpen and bench, and the tough National League Central. The Cardinals rudely welcomed him Sunday night, handing the Cubs a 3-0 loss in the season opener.
"That's my biggest chore is to understand the league," Maddon said.
The colorful manager, who tweets about how much he loves "ZD -- zero defects" in a game, won't be hard to miss in Chicago. When the weather warms up, Maddon plans on driving a 1972 Chevelle tricked out in Cubs blue with a white interior and red inlays in the seats.
Maddon was relaxed in Spring Training. Now, the games count, and he's being asked by generations of Cubs fans to lead the team to the World Series. Will Maddon change now that he's in a big market?
"I hope not," Maddon said. "I haven't to this point. I'm always willing to change, but it has to be for a good reason. Regarding how I do things, it doesn't happen overnight. I don't want to be guarded.
"There's times when I can't tell you something. [The fans] want to know what's going on. I was a fan at one point, and I used to love this stuff. Now it's been exaggerated by social media. Whatever's out there to make our sport a better sport and encourage kids to play more, I'm all for that."
Here's all you need to know about Maddon: On March 26, while he was watching Jon Lester pitch in a Minor League game at the Cubs' complex, a Mesa motorcycle cop walked up to the manager. Maddon recognized him immediately. Maddon had scouted and signed Brad Withrow, then a right-handed pitcher at the University of Wyoming, to a contract with the Angels 34 years ago. Withrow, now 55, played two seasons in the Minors, then had to quit baseball because of shoulder problems.
Withrow, who monitored traffic outside the Cubs' complex during Spring Training, has been with the Mesa Police Department for 23 years. He will retire in June.
Maddon nicknamed him "Hoss" because of his size, and that's what the manager called Withrow as soon as he saw him.
"I didn't know what to expect," Withrow said of the reunion. "He's just a great guy. He's the same person he was 34 years ago, the same guy."
Different team, different league. But it's the same game, same guy.
Carrie Muskat is a reporter for MLB.com. She writes a blog, Muskat Ramblings, and you can follow her on Twitter @CarrieMuskat. This story was not subject to the approval of Major League Baseball or its clubs.