MLB.com Columnist
Phil Rogers
Vintage Wainwright crashes party at work-in-progress Wrigley
Maddon praises Cardinals' ace: 'I have a lot of respect for him'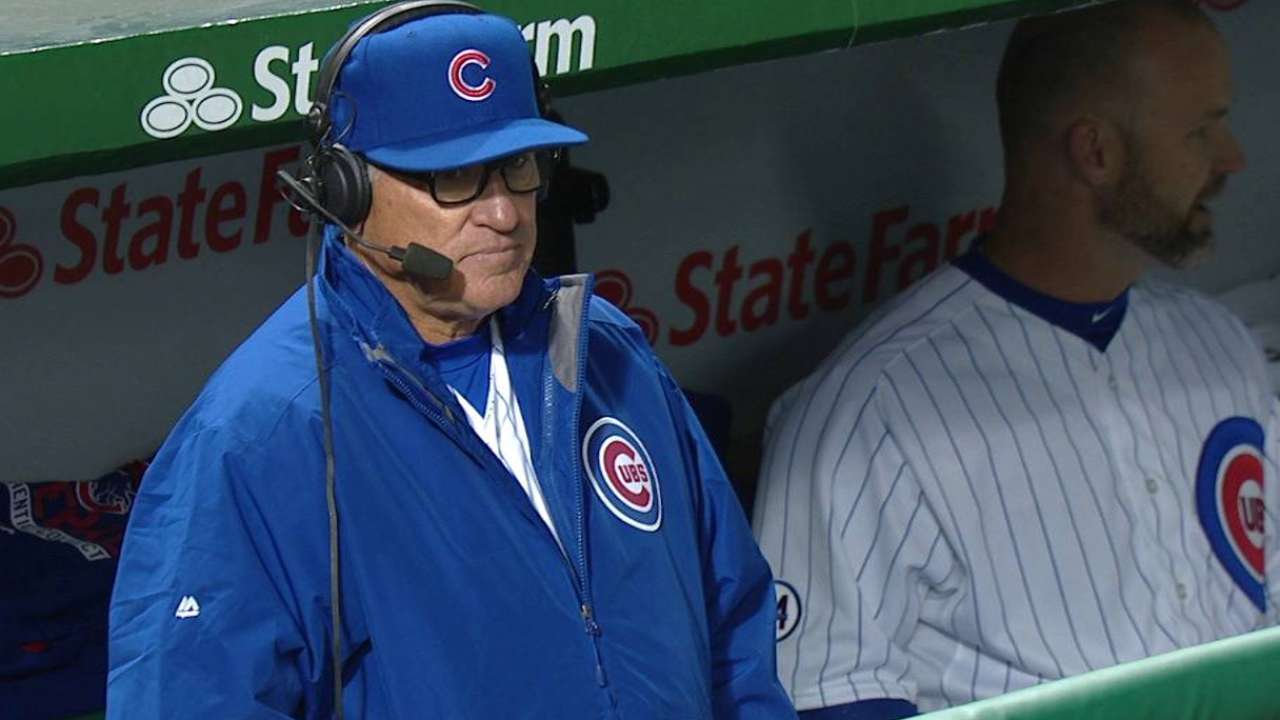 CHICAGO -- Don't worry that the outfield bleachers aren't finished, and that until further notice Wrigley Field will be both a job site and a playground. We're all works in progress, right?
With an Ernie Banks tableau hiding girders and beams where fans have sat since 1937, the Cubs took a major step into their future on Sunday night, unveiling a bright, shiny and ultra-high definition video board in left-center field as part of Tom Ricketts' vision of how to keep the team relevant in its ancient shrine. But they made one major mistake, not that they could really do anything about it.
They played their first game underneath the video board against the rival Cardinals, on a night when Adam Wainwright was pitching. Talk about bad scheduling.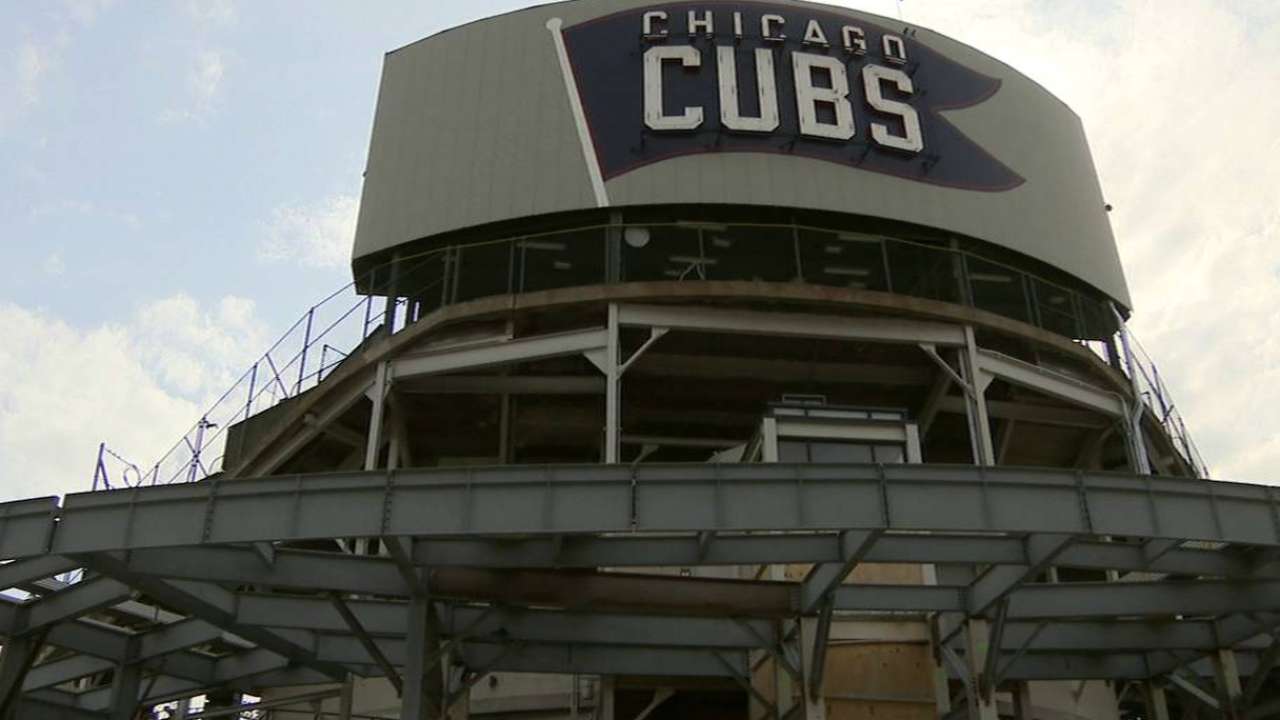 Not that new manager Joe Maddon minded.
"He's good,'' Maddon said after a 3-0 victory for St. Louis, which raised Wainwright's career record to 120-66. "You know one thing, you have to beat good pitchers to get to the playoffs. In order to be the best, you have to beat the best. I have a lot of respect for him, but that's how this thing works. I want us to see the best pitchers. Bring 'em 'on. Bring 'em all on, man. If you're going to get to the playoffs and the World Series, you've got to beat some good folks. We're not going to shy away from anybody. Bring 'em on.''
On the night that the Cubs unveiled their long-debated electronic scoreboard, the classic old hand-operated one in center field was also worth a long look by the crowd of 35,055. It has lines for 12 games, but on this night, there was only one being tracked -- the one at Wrigley Field.
That's how it was on Oct. 10, 1945, when the Cubs played their last World Series game. It's how it will look when they play their next game in the Series.
Ricketts, Theo Epstein, Maddon and everyone else involved with the organization hopes that will be before their fans get too accustomed to the new big screen and other changes planned at Wrigley in upcoming offseasons. But as Maddon said, before that can happen, they'll have to hold their own against the National League's best, like Wainwright.
While Wainwright was coming off a difficult Spring Training that started slowly because of an abdominal strain, he's always one of the last guys any team wants to face when it really needs to win a game. Just ask Clayton Kershaw.
It doesn't take a whole lot to light a fire under Wainwright. He's the best kind of baseball player -- a veteran who lives for the days he gets to compete. Wainwright has about 20 different ways to beat a hitter, and give him weeks to plan ahead for a start like this one and he'll use them all.
Any Opening Day start is a big deal for Wainwright, and one against the Cubs is extra special. Add in that this one was a battle with new Cub Jon Lester and the stage was set for a vintage outing from Wainwright, no matter what happened in Spring Training.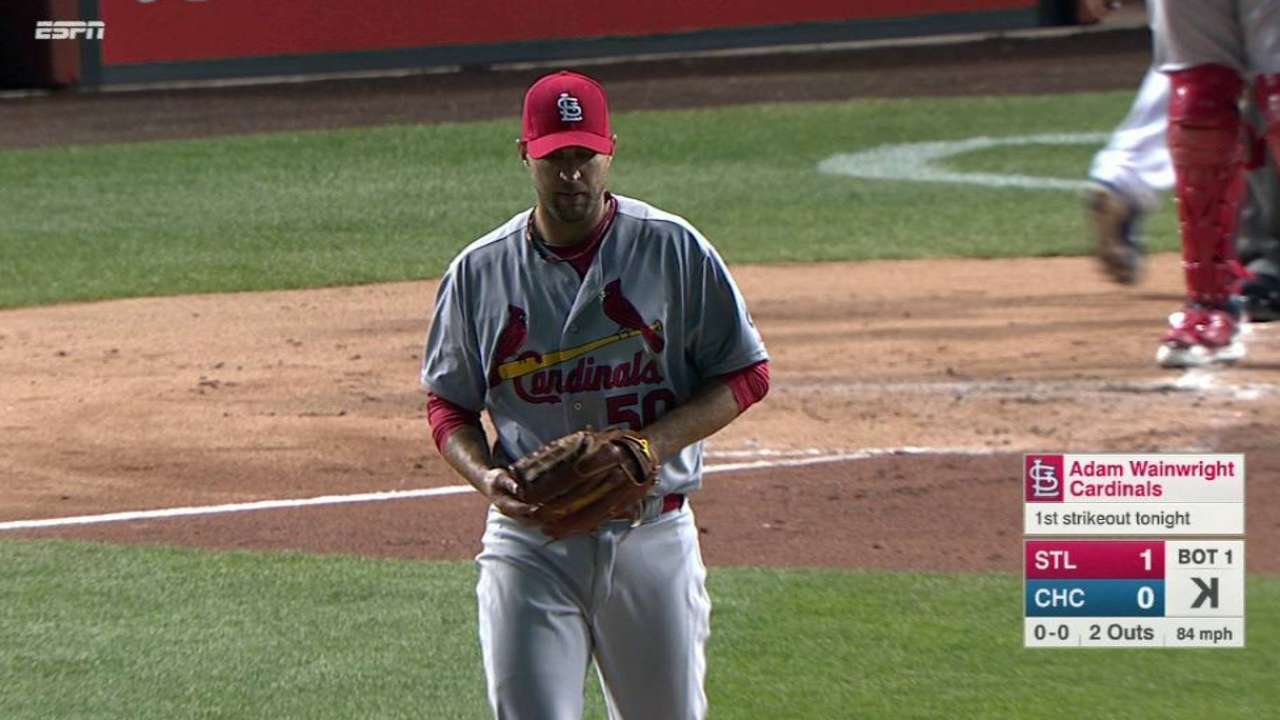 The last time Wainwright faced Lester was the 2013 World Series, and those games didn't go too well for him and the Cardinals. He hasn't forgotten. He'll never forget.
And not that this changes anything, but it had to be satisfying to spoil a night that the Cubs had planned as a celebration for their planned reentry into the sphere of contending teams. Wainwright said it was just fun to be part of the evening.
"The crowd was buzzing tonight like it was the World Series,'' Wainwright said. "It was really awesome. I felt privileged to be out there pitching in front of them. I love pitching here in Chicago. It's one of my favorite places to be.''
While the Cubs are getting better, this was an Opening Night that did little to stop their fans from dreaming about Kris Bryant and other reinforcements in the wings, like Addison Russell, Javier Baez, Albert Almora and Kyle Schwarber.
Against Wainwright, Carlos Martinez and Jordan Walden, the Cubs' hitters went 0-for-13 with runners in scoring position. Trevor Rosenthal struck out the side in the ninth, leaving the Cubs with 12 strikeouts against only two walks.
It was a disappointing debut for Lester, who never looked as sharp as he did with the Red Sox and A's last season. Maybe he threw too many pitches warming up, as the pregame activities, including a tribute to Ernie Banks, seemed to go on and on while he threw off the bullpen mound. Or, more likely, Lester hasn't gotten his routine going after he missed a late-spring start with a fatigued arm.
Lester used neither as an excuse, saying only that "not much [was] working.'' He wished he had pitched more effectively, but he said the environment was "everything I expected it to be, plus some.''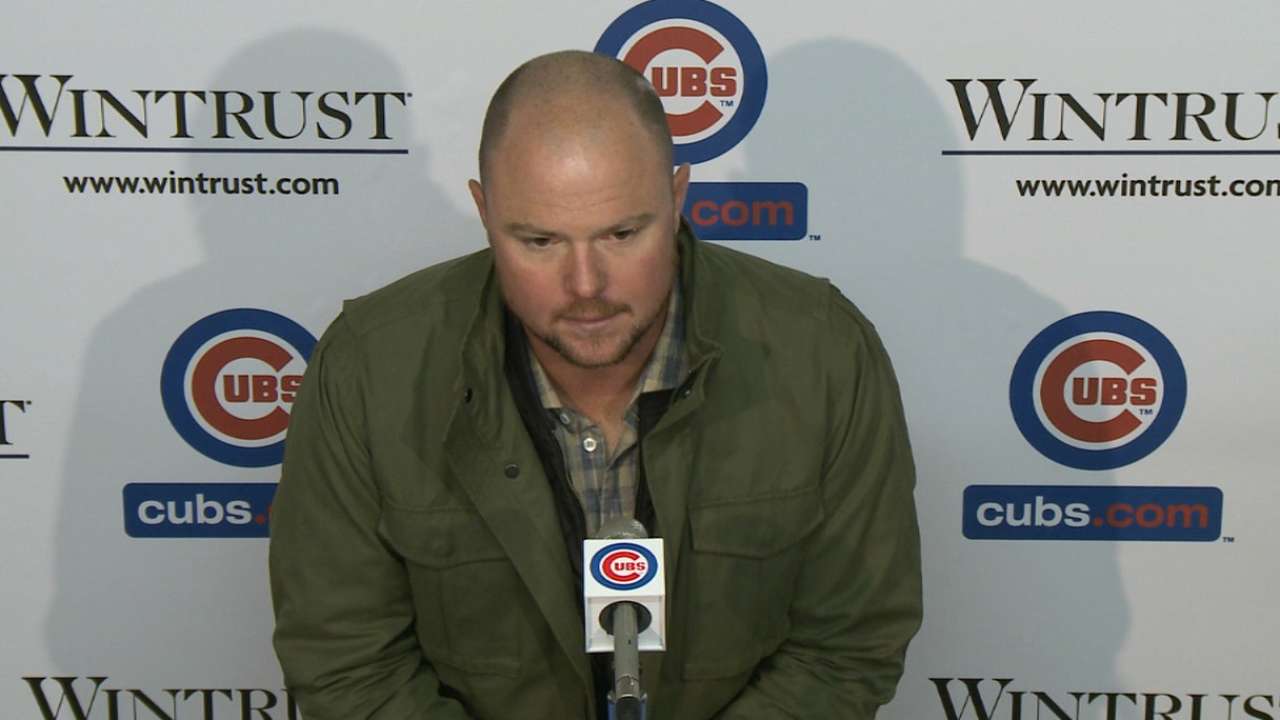 Even working with his old friend David Ross, Lester never got on a roll. He retired only 11 of the 22 hitters he faced, with Jason Heyward the biggest nemesis (double, double, single as he started his Cards career). Lester would have given up more than three runs if not for six strikeouts, two of which came when Maddon was playing his infield in.
In defense of Lester, Maddon's biggest concern about the Cubs is their ability to play cleanly in the field, and that showed up right away. A Ross throw that skipped into center field accounted for the lone error, but there were three others plays that weren't made behind Lester.
Right off the bat, the Cubs missed a chanting opportunity for their fans. It looked like strong-armed rookie Jorge Soler would have a shot to throw out Heyward as he tried to score from second on a Matt Holliday single, but Soler muffed the pickup, allowing Heyward to score without a throw.
In Heyward's next at-bat, left fielder Chris Coghlan and shortstop Starlin Castro were both a step or two away from a ball that fell into shallow left field for a hustle double. In the fifth, Lester's final inning, Soler had a seemingly easy play to force Heyward at second on a Holliday flair that fell in front of him, but he reacted slowly and then threw a one-hop tracer that glanced off Castro's glove.
Throughout the game, Lester allowed the Cardinals to take long leads without ever throwing to first base. This continued an odd trend, as he wasn't credited with a single throw to hold on a baserunner in 2014. Ross threw out Matt Carpenter on one steal attempt, but the Cards still swiped three bases off Lester, including a double steal by Heyward and Holliday.
Maddon admitted the Cubs will have to tighten that up or expect other opponents to run on them. There's plenty of time to make those adjustments, just as there is to complete renovations at Wrigley Field.
While you couldn't tell it by either of Wrigley Field's scoreboards -- the old or the new -- good things are happening on the North Side of Chicago. Maddon figures to be outstanding as both a manager and a tour guide.
"I've got classic cars with air conditioning,'' Maddon said about Wrigley's new video scoreboard. "I wouldn't drive my '56 Bel Air if I hadn't added air conditioning.''
While every trip has a destination, you always want to enjoy the journey.
Phil Rogers is a columnist for MLB.com. This story was not subject to the approval of Major League Baseball or its clubs.