Players come together to create 'MLB City' on MLBN
PHOENIX -- The first rain of Spring Training poured down on the second day of March, bringing with it gray skies, a chilly breeze and conditions sloppy enough to cut workouts short for most of the 15 Major League teams in the Valley of the Sun.
But on a 4,770-square-foot stage in a nondescript studio in downtown Phoenix, it was sunny and business as usual at the best place on Earth.
There was a steady stream of traffic and people commuted to work in the shadows of tall buildings in this perfect city. The subway ran on time. Later, an ancient coliseum-like structure with a baseball diamond in the middle of it mysteriously appeared.
It all felt so real. And in many ways, it was.
Welcome to "MLB City," the imaginary place where big league mascots and Major League stars all thrive. The ultimate destination inside this magical metropolis is MLB Central, the place where everything baseball resides. Starting today, MLB Central comes to life in a new show on MLB Network at 10 a.m. ET, hosted by Matt Vasgersian, Mark DeRosa and Lauren Shehadi.
"Here's the idea: This is a city of baseball, where everything is baseball, and the players and people commute to the center of this baseball city, which is MLB Central," said MLB Network creative director Premier Maldonado. "Everything that is baseball lives in MLB Central. If you want to know anything about baseball, that's where you go. Players, fans, and analysts go there, even the mascots."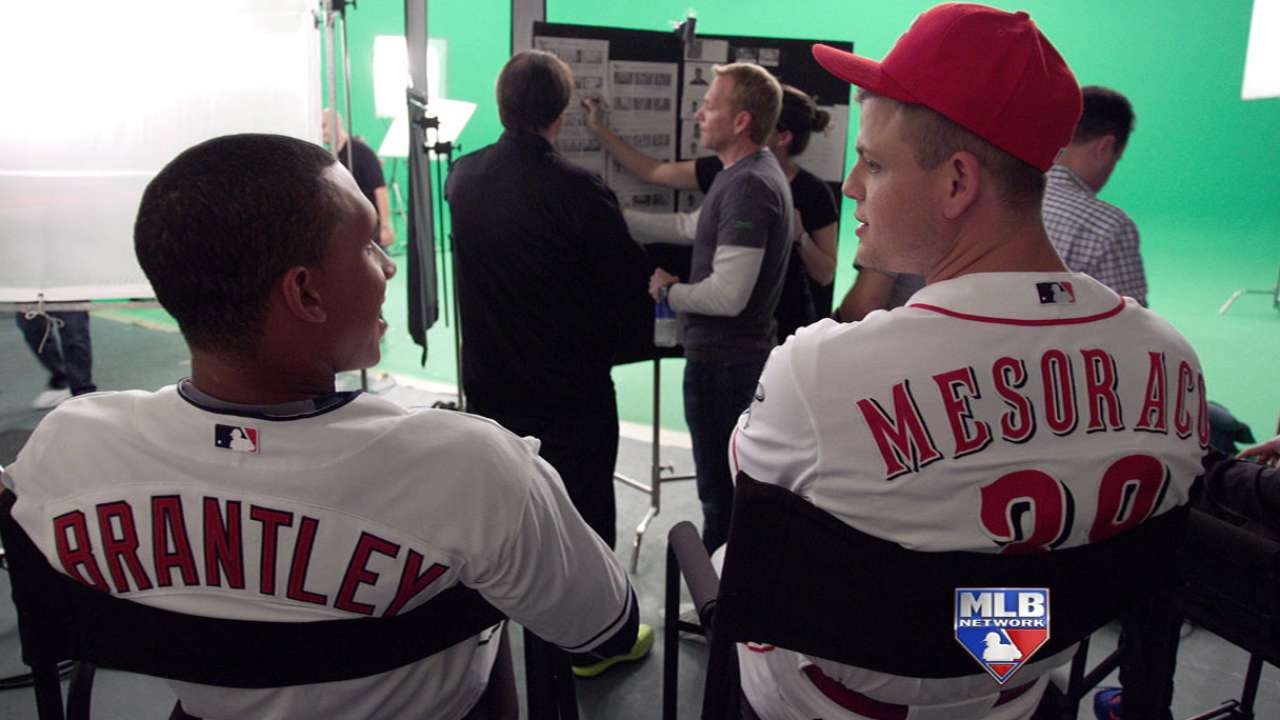 On this day, the soundstage was home to Milwaukee's Carlos Gomez, San Diego's Matt Kemp, Cleveland's Michael Brantley, White Sox slugger Jose Abreu, Kansas City's Eric Hosmer, Cincinnati's Devin Mesoraco and Seattle teammates Robinson Cano and Felix Hernandez, who all came together to film promos and the opening sequence for MLB Network's new show. Baxter, the mascot for the D-backs, also made an appearance.
Miami's Giancarlo Stanton and other big league stars of the Grapefruit League were filmed in Florida on separate shoots.
"I'm having a blast," Gomez said. "This is something really special, and it's a privilege to be part of such a great group of players asked to be here. I know the fans are going to enjoy it."
"I really had a good time," Cano said. "You get to do something that you are not used to doing, something different, but it's fun to do this. Being here is important, because the fans enjoy it and they are an important part of the game. They come out and support us every day, so I think it's up to us to do things for them, too."
The computer-generated graphics for MLB City, MLB Central and the baseball coliseum were added later, leaving players to act out their parts under the bright lights in front of green screens.
"This is really cool to see all of the work that goes behind the scenes in a project like this," Hosmer said. "There are a lot of cool effects that a computer can do, and I think the fans are going to really enjoy seeing us in different situations in full uniform having a lot of fun."
From the parking meters with a nine-inning limit to the helmets on top of the street lights to foul poles on top of the buildings, the details in MLB City leading up to MLB Central are just as fun. There's also the Hot Stove Diner, Tower 42, and the statue of Atlas carrying a large baseball.
"I am here for the fans, and I think that's why we are all here," Brantley said. "It's an honor and a privilege to even be invited to be part of something like this. I know my acting is terrible. That's why they pay me to play baseball. I was a little nervous in front of the camera, but I made it through it, and it was a lot of fun."
Jesse Sanchez is a reporter for MLB.com. This story was not subject to the approval of Major League Baseball or its clubs.