MLB.com Columnist
Jonathan Mayo
Braves restock with top prospects from Padres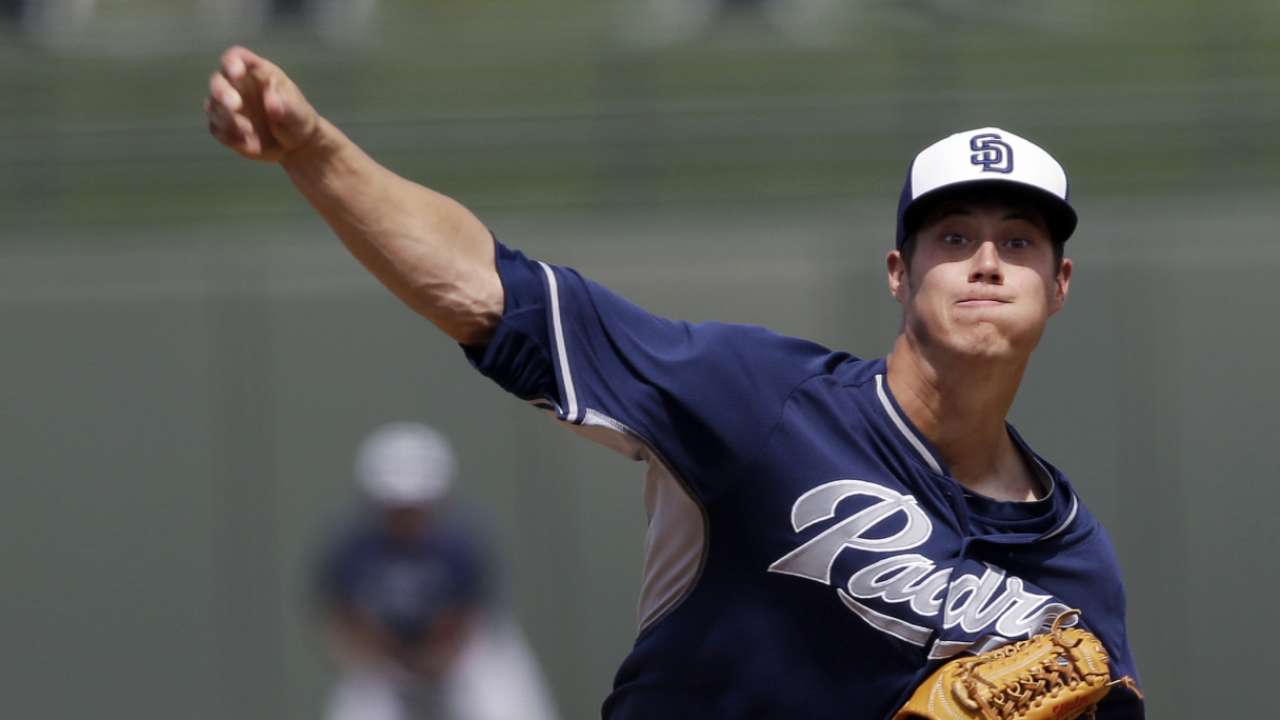 In San Diego, new general manager A.J. Preller had done more than any GM this offseason to retool his big league roster. In Atlanta, new GM John Hart had done more than just about any other counterpart to restock his farm system.
The two had already come together in December in the Justin Upton deal, so there was already a comfort level when Hart sent Craig Kimbrel and Justin's older brother, Melvin, to San Diego. Here's a closer look at the prospect return Hart got from the Padres in right-hander Matt Wisler and outfielder Jordan Paroubeck.
Wisler: The Padres went over slot in the seventh round of the 2011 Draft to sign Wisler, the top high schooler in Ohio that spring, for $500,000. The No. 4 Padres prospect at the time of the trade (and No. 70 on the Top 100 list), Wisler moved quickly up the organizational ladder, spending most of the 2014 season in Triple-A at age 21. His overall numbers there, namely a 5.01 ERA, don't look pretty, but he did finish with a 3.60 ERA in five August starts. Wisler is more about pitchability than pure stuff when he's throwing well, though he does have two plus pitches and can throw strikes with all four of his offerings. He'll run his hard sinker up to 95 mph and throw his changeup with good deception. Wisler can throw a slider and a curve with effectiveness. The right-hander had some problems with his arm slot in 2014, which led to him leaving too many balls up in the zone, though he made some adjustments late. He should be ready to help out in the middle of the Braves' rotation soon.
Paroubeck: The No. 15 prospect on the Padres' Top 30 at the time of the trade, Paroubeck is an athletic outfielder initially taken in the supplemental second round of the 2013 Draft out of the California high school ranks. He wasn't able to make his pro debut until 2014 because of a shoulder injury caused by a collision in high school. During his debut in the Rookie Arizona League a year ago, Paroubeck showed the solid all-around tools that made him an attractive Draft prospect in the first place. Still somewhat raw at the plate, Paroubeck has received hitting lessons from Barry Bonds, who attended the same high school and is friends with Paroubeck's father. Paroubeck does have excellent bat speed and solid swing mechanics from both sides of the plate. He runs well enough to play center, though he played only left field during his pro debut and might profile best as a fourth outfielder.
Jonathan Mayo is a reporter for MLBPipeline.com and writes a blog, B3. Follow @JonathanMayoB3 on Twitter. This story was not subject to the approval of Major League Baseball or its clubs.