MLB.com Columnist
Fred Zinkie
DraftKings Picks: Kershaw, Harper, etc.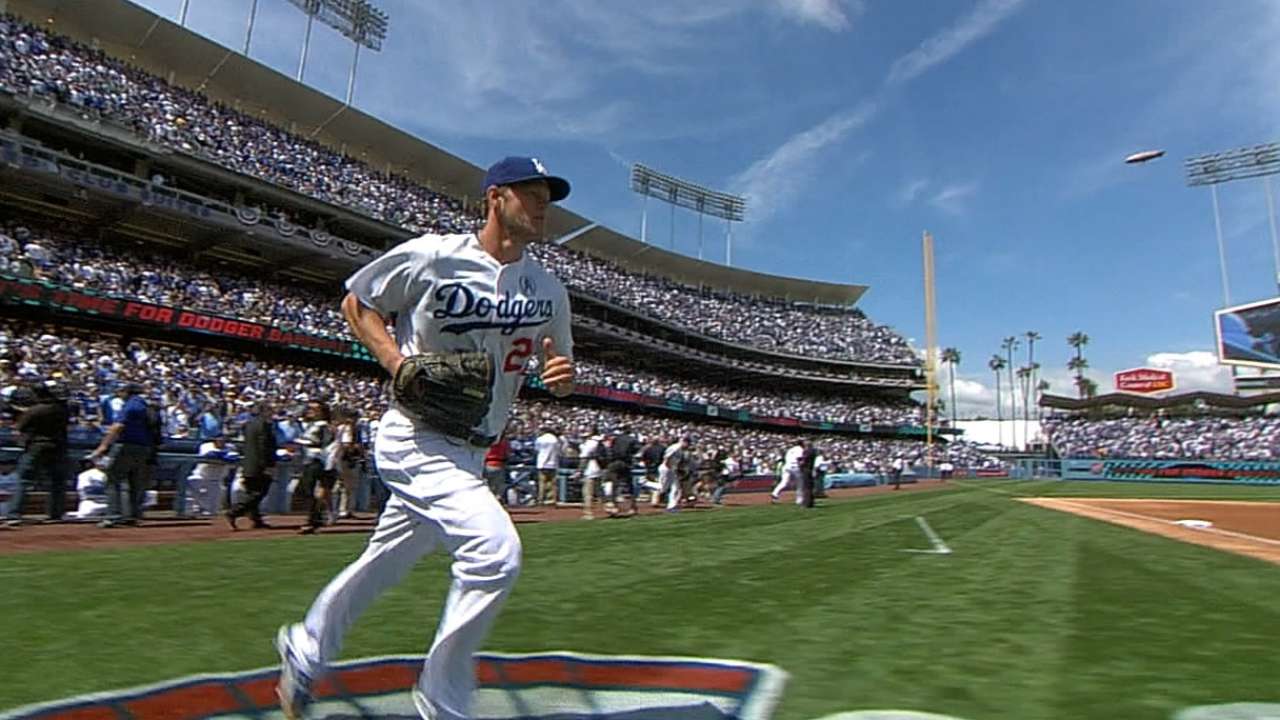 Opening Day may be the best day of the year, and participating in a DraftKings daily-fantasy league is another way to add to the excitement. Here are 15 players to target for your DraftKings team on April 6, aka Opening Day. We'll be making recommendations all season long, so come back each day for the latest advice.
But before we begin, let's cover one DraftKings tip: In pools with a large number of entrants, participants must strive to achieve the highest possible points total by maximizing upside. To do so, one could employ a "stacking" strategy.
In daily fantasy, a stack is a lineup with multiple players from the same team. Preferably, the hitters will be situated near one another in their real-life batting order. If their team has a strong offensive showing, RBIs and runs scored will abound, boosting your DraftKings points total. Within the below list of 15, you will find four Brewers batters who could work together to help you succeed in a big way on Monday.
Catcher, Brian McCann (Yankees): The left-handed-hitting masher owns a career .831 OPS vs. right-handers, and he could knock one out of hitter-friendly Yankee Stadium against Drew Hutchison, Toronto's fly-ball-prone Opening Day starter. Of McCann's 23 homers in 2014, 19 came in the Bronx.
First baseman, Adam Lind (Brewers): Milwaukee's new first baseman owns a career .860 OPS vs. right-handers -- compared to a .588 mark against lefties -- and he could be one of several Brewers to excel against righty Kyle Kendrick, the Rockies' Opening Day starter.
Second baseman, Brett Lawrie (A's): Lawrie offers solid power for a middle-infield option, and he could reach base multiple times in an Opening Day matchup against the Rangers' Yovani Gallardo, who recorded a 1.30 WHIP during his eight seasons with the Brewers.
Shortstop, Jean Segura (Brewers): Segura could be part of a successful Milwaukee lineup on Monday, as he and his teammates could score plenty of runs off Kendrick and the Rockies' bullpen.
Third baseman, Aramis Ramirez (Brewers): Ramirez could kick off his final Major League season in style by driving in multiple runs from the heart of Milwaukee's batting order.
Outfielder, Bryce Harper (Nationals): Bartolo Colon won't be one of the better starters on Monday, which could give Harper and his lineup mates a chance to score plenty of runs. Harper could be due for another Opening Day splash.
Outfielder, Eric Young Jr. (Braves): Young has stolen 76 bases across the past two seasons, more than any National Leaguer, and he has a good chance to swipe a bag or two against Henderson Alvarez, catcher Jarrod Saltalamacchia and the Marlins. Last year, Salty allowed more steals (72) than all but three big league backstops.
Outfielder, Ryan Braun (Brewers): Braun completes the recommended stack of Brewers hitters. Kendrick owns a career 4.42 ERA, and he could struggle vs. a powerful Milwaukee lineup in hitter-friendly Miller Park.
Starting pitcher, Max Scherzer (Nationals): Washington's new ace could have a dazzling debut against a light-hitting Mets lineup. And because the Nats' offense could succeed against Colon, Scherzer should be considered a prime candidate for a victory.
Starting pitcher, Henderson Alvarez (Marlins): Coming off a 2014 campaign in which he posted a 2.65 ERA, Alvarez has an attractive home Opening Day matchup at pitcher-friendly Marlins Park against a Braves lineup that is short on power.
And for some additional picks
Catcher, Devin Mesoraco (Reds): With a career .873 OPS vs. lefties (compared to a .710 mark against righties), he could be in line for a big day against inconsistent Pirates ace Francisco Liriano.
Second baseman, Chase Utley (Phillies): The Phillies will play in their hitter-friendly venue against Clay Buchholz, who posted a 5.34 ERA last season. The lefty-hitting Utley owns a career .872 OPS vs. right-handers such as Buchholz, but he is not as strong vs. same-sided hurlers, against whom he recorded a .682 OPS last year.
Third baseman, Chase Headley (Yankees): Like McCann, Headley could go deep in his long ball-happy home venue against Hutchison. The switch-hitting Headley will be batting from the left side vs. the righty Hutchison, and Yankee Stadium is known for boosting left-handed power.
Starting pitcher, Clayton Kershaw (Dodgers): The reigning winner of the National League Cy Young and MVP Awards should start 2015 in dominant fashion. After all, he will be taking the mound in his pitcher-friendly home park against a revamped Padres offense that nonetheless remains weak in several spots.
Starting pitcher, Yordano Ventura (Royals): The hard-throwing Ventura should start the season right when he toes the rubber vs. the White Sox in front of Kansas City's talented defense at pitcher-friendly Kauffman Stadium.
Fred Zinkie is a senior fantasy baseball writer for MLB.com. Follow @FredZinkieMLB on Twitter. This story was not subject to the approval of Major League Baseball or its clubs.