Clubs toss surprising curves in naming Opening Day rosters
Pair of 20-year-old righties make Blue Jays; Madson resurfaces in Royals' bullpen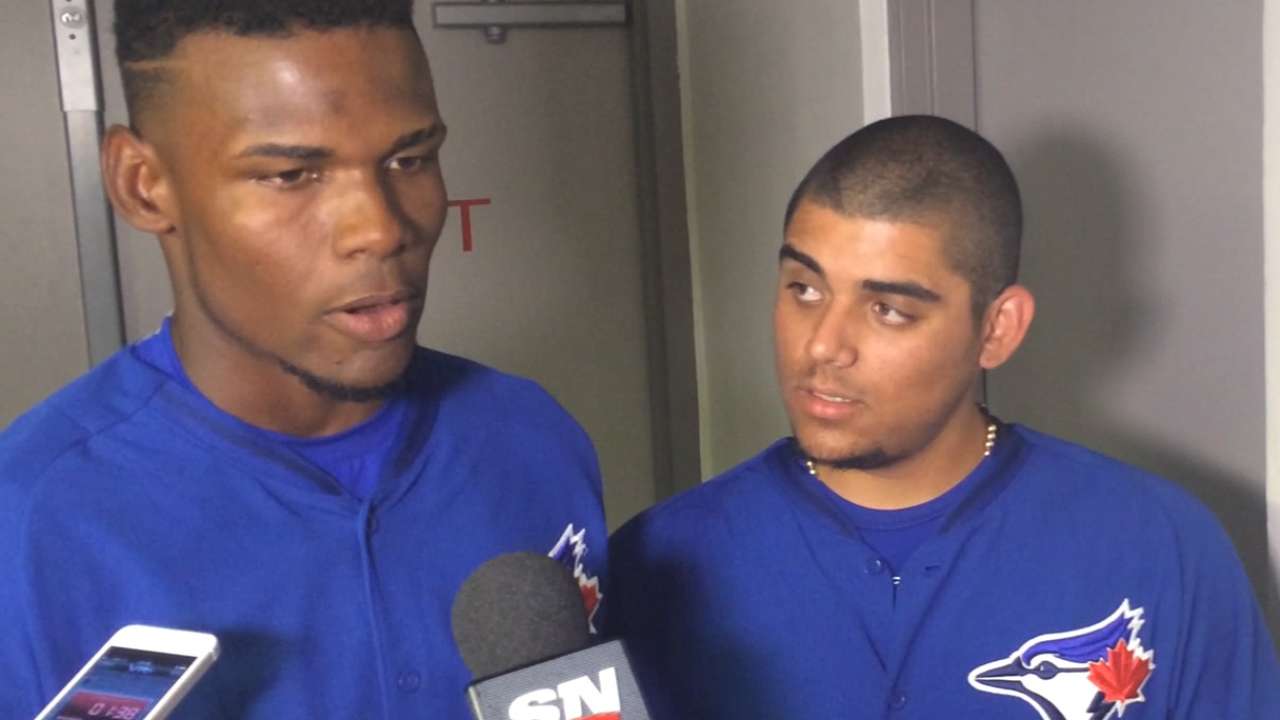 With all the Major League rosters submitted for Opening Day, several of those 25-man squads are dotted with surprises -- stories that weren't being told before Spring Training began, players with unique storylines that will be introduced in the coming days and weeks on the game's ultimate stage.
While much of the discussion late in Spring Training might have been about players that will not be on the roster to start the season, there are a number of instances where making the roster is an unexpected pleasure for those individuals and teams involved.
Here's a look at some of those roster surprises as the 2015 season begins -- some of which come in pairs:
Miguel Castro and Roberto Osuna, Blue Jays: Maybe one of the 20-year-old power arms was going to make the big club -- but both? That wasn't really on the radar when Spring Training began, but the Blue Jays head into a season they intend to contend in the American League East with a pair of rookie right-handers in the bullpen who haven't pitched beyond Class A ball.
Said Osuna: "I'm the happiest man in the world. I'm very excited, I can't describe how I feel. We're roomies, we work together, I'm so glad to have him on the team and try to work together. It will be awesome."
Delino DeShields and Logan Verrett, Rangers: DeShields has been headed toward the Rangers' regular-season roster as a reserve outfielder since he was selected in the Rule 5 Draft in December, but the arrival of right-handed reliever Verrett on the team's Opening Day squad is a rare surprise, indeed.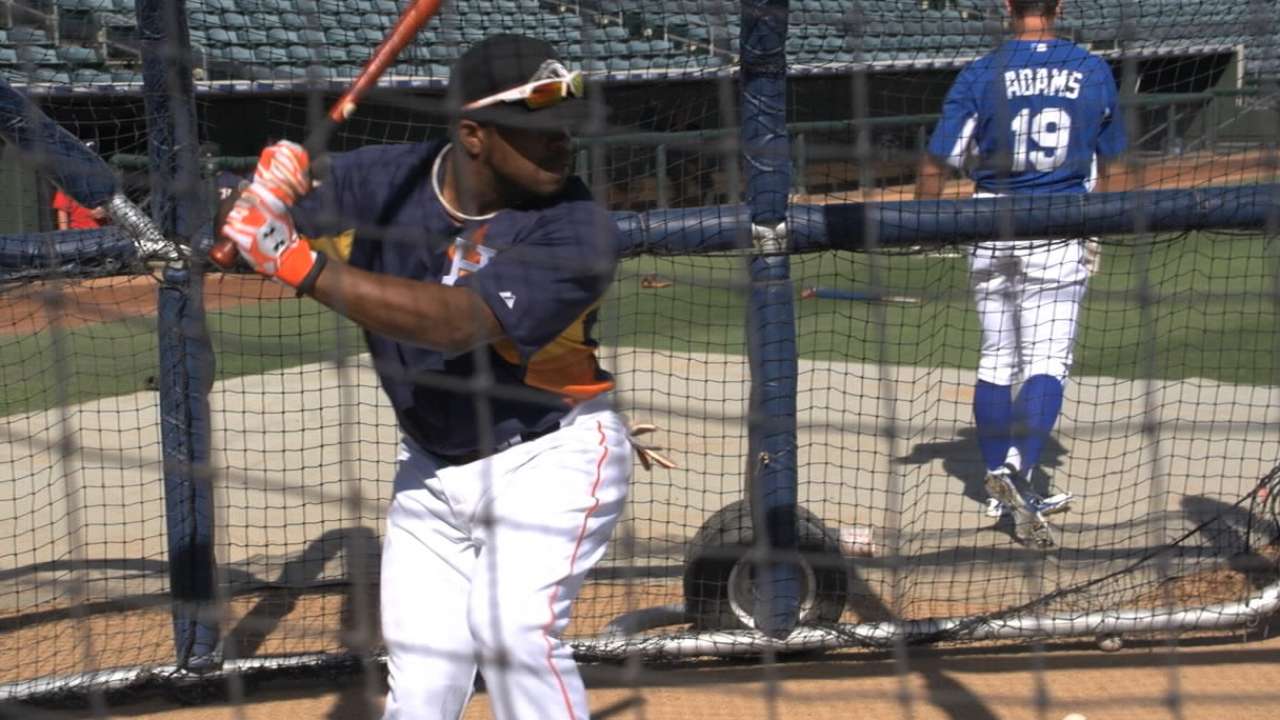 Texas will open the season with two Rule 5 Draft players for the first time in franchise history, a double the 2003 Brewers once pulled off but a real Rule 5 rarity. Verrett was waived by the Orioles last week after they'd selected him from the Mets' organization last winter, and the Rangers picked him up. Suddenly, his commute is a lot shorter -- he lives in Arlington.
"I went from not even knowing I was on waivers to getting claimed by the hometown team," said Verrett, a Baylor product from the Houston area. "I was ecstatic."
Tyler Olson, Mariners: A left-hander who grew up in Spokane, Wash., admiring Jamie Moyer and became a seventh-round Draft pick out of Gonzaga, Olson is living the dream of being in the bullpen on Opening Day for his home state's team -- wearing a Mariners uniform in a Major League game.
"It's awesome," Olson said. "Just working so hard growing up and then finally getting that opportunity, not a lot of words can describe it."
Chris Herrmann, Twins: He'd been through the process before, and he'd ended up with a ticket to the Minors. Not this time, and Herrmann is pumped about being the backup catcher to veteran Kurt Suzuki and expanding his resume with some play at first base as well as part of Minnesota's Opening Day lineup.
"My heart's still pounding right now. This is something I've never felt ever before," Herrmann said after learning he had made the club out of Spring Training. "I didn't have a clue. I'm so used to getting sent back down."
Ryan Madson, Royals: Not that long ago, Madson was an annual lock for being on the Opening Day roster with the Phillies. But after injury-marred stints with the Reds and then the Angels without throwing a single pitch for either in the bigs, Madson is back. He'll make his first appearance since 2011 when the Royals call him out of their stacked bullpen for the first time.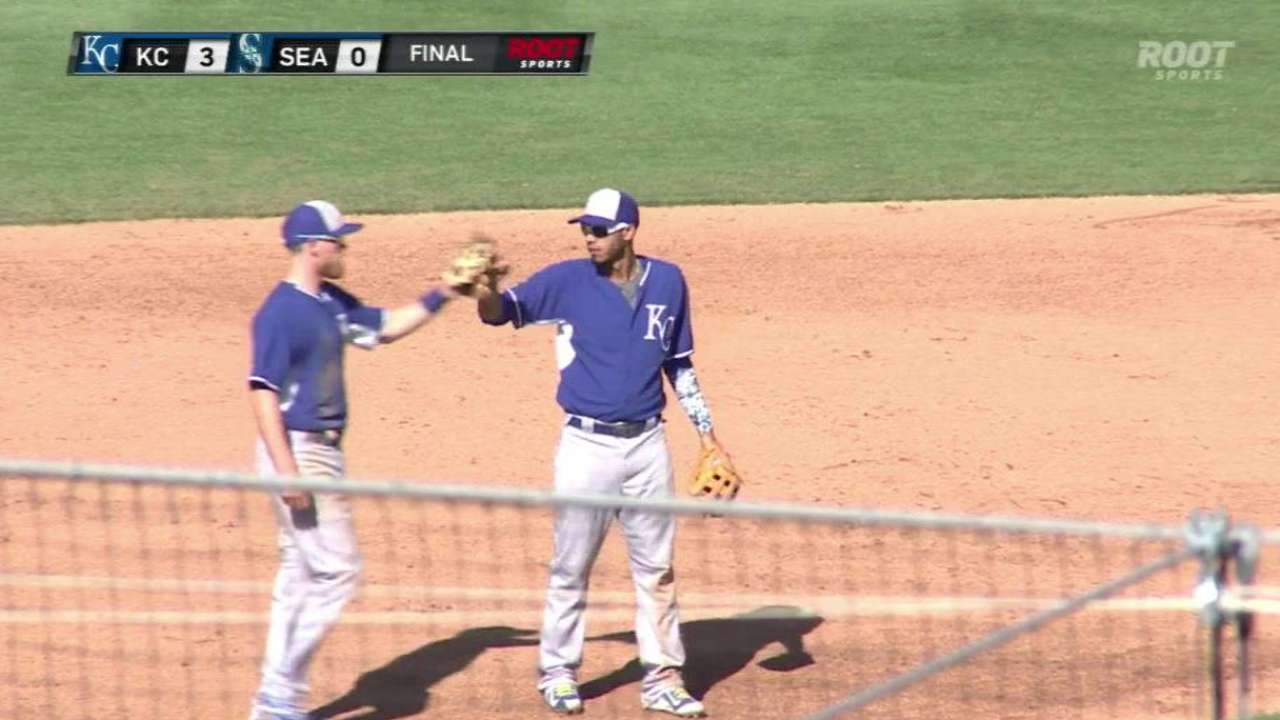 Odubel Herrera, Phillies: It's not just because he made it as a Rule 5 draftee, but what really raises eyebrows is that the converted infielder will be the Phillies' starting center fielder on Opening Day, with Ben Revere shifting to left.
The Phillies have another somewhat surprising figure on the Opening Day roster in 10-year veteran Jeff Francoeur, who batted .175 with 10 whiffs this spring after playing in just 10 games for the Padres last season.
Asher Wojciechowski, Astros: The Citadel product stayed on point throughout Spring Training and eventually earned himself a spot in the rotation in a development not even his manager could see coming.
"I would not have predicted early in camp that Wojo would win a starting spot," A.J. Hinch said of the right-hander who posted a 1.29 ERA in 21 innings. "He was a really pleasant surprise."
John Schlegel is a national reporter for MLB.com. You can follow him on Twitter @JohnSchlegelMLB. This story was not subject to the approval of Major League Baseball or its clubs.