Szczur's hard work pays off with roster spot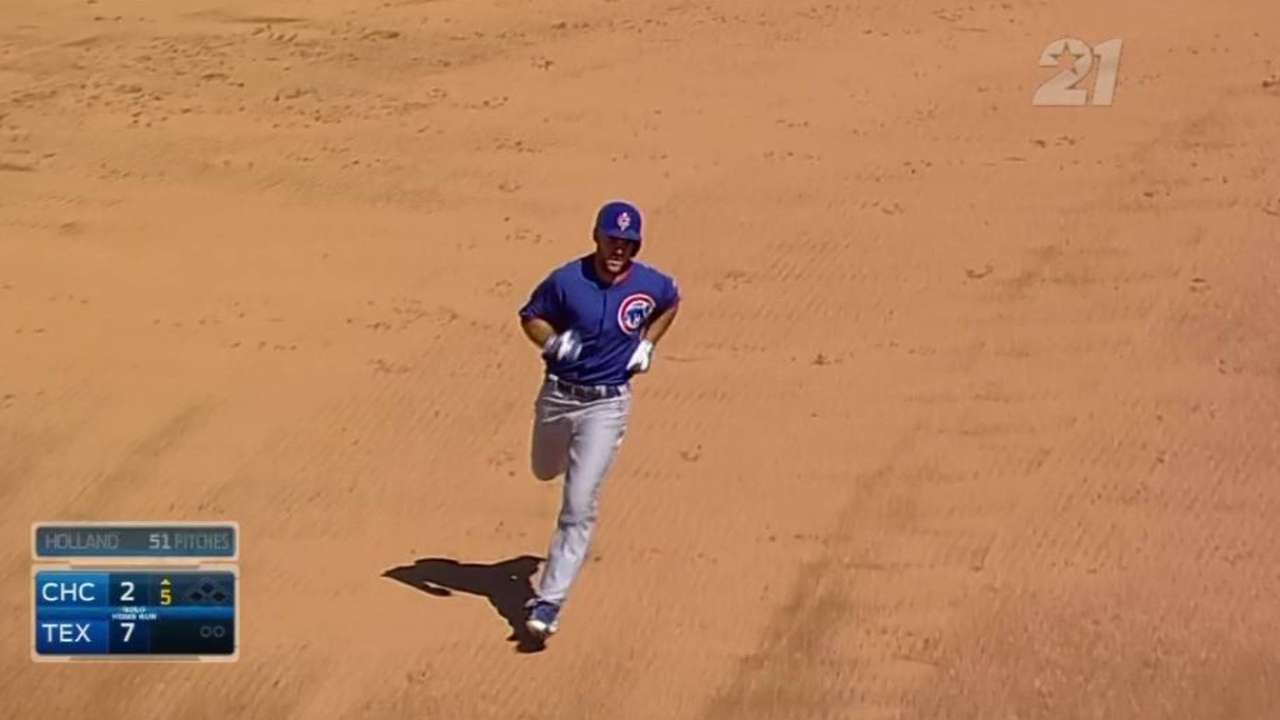 CHICAGO -- Matt Szczur was called into manager Joe Maddon's office last Wednesday. He knew the team was making roster moves and wasn't sure where he fit.
"[Maddon] said, 'I hate to give this news to a Villanova guy, but you made the team,'" Szczur said on Sunday from the dugout at Wrigley Field, on the Cubs' Opening Day roster for the first time in his young career.
"It was great, and a really great feeling," he said. "They told me I earned it, which was an even better feeling. I worked hard this offseason to fine-tune it."
Szczur and Maddon had a friendly wager this spring, because their respective schools, Villanova and Lafayette, faced off in the first round of the NCAA men's basketball tournament. Villanova crushed Lafayette, and Maddon had to wear a Wildcats sweatshirt and give Szczur a bottle of wine.
"The skip's a good sport," Szczur said. "He's trying to get me a Lafayette sweater. I'm waiting for it."
Szczur was able to get his family to Wrigley Field in time for Sunday's game against the Cardinals. More important, all his work paid off. He changed his swing path so that he isn't rolling over on balls as much.
"Kris Bryant has been the lightning rod all camp, and you have guys like Szczur, who had a wonderful camp," Maddon said. "If he was not protected by [Bryant], he would have been out there and talked about a whole lot. He had a great camp."
Szczur didn't have butterflies as he waited for the opener.
"I feel I have the anxious feeling, the excited feeling for the game," Szczur said. "It's a blessing, it's a great feeling to be here."
Extra bases:
• Left-hander Jon Lester has maintained that he doesn't need a personal catcher, but Maddon matched him with David Ross on Sunday. Lester has a 2.77 ERA when Ross is behind the plate.
"I wanted Jon to go out there more comfortably," Maddon said.
Miguel Montero, projected as the starting catcher, is 5-for-17 lifetime against Cardinals starter Adam Wainwright.
"For right now, based on what I saw all camp, regardless of what Jon has said, I think it's a better way to go on Opening Night right now to have Rossy catch him," Maddon said.
• Sunday was Maddon's first time in the cramped interview room at Wrigley Field.
"I can get claustrophobic in here," he said.
Carrie Muskat is a reporter for MLB.com. She writes a blog, Muskat Ramblings, and you can follow her on Twitter @CarrieMuskat. This story was not subject to the approval of Major League Baseball or its clubs.