Moustakas looks for big season batting from two hole
Third baseman has not hit second in the order since high school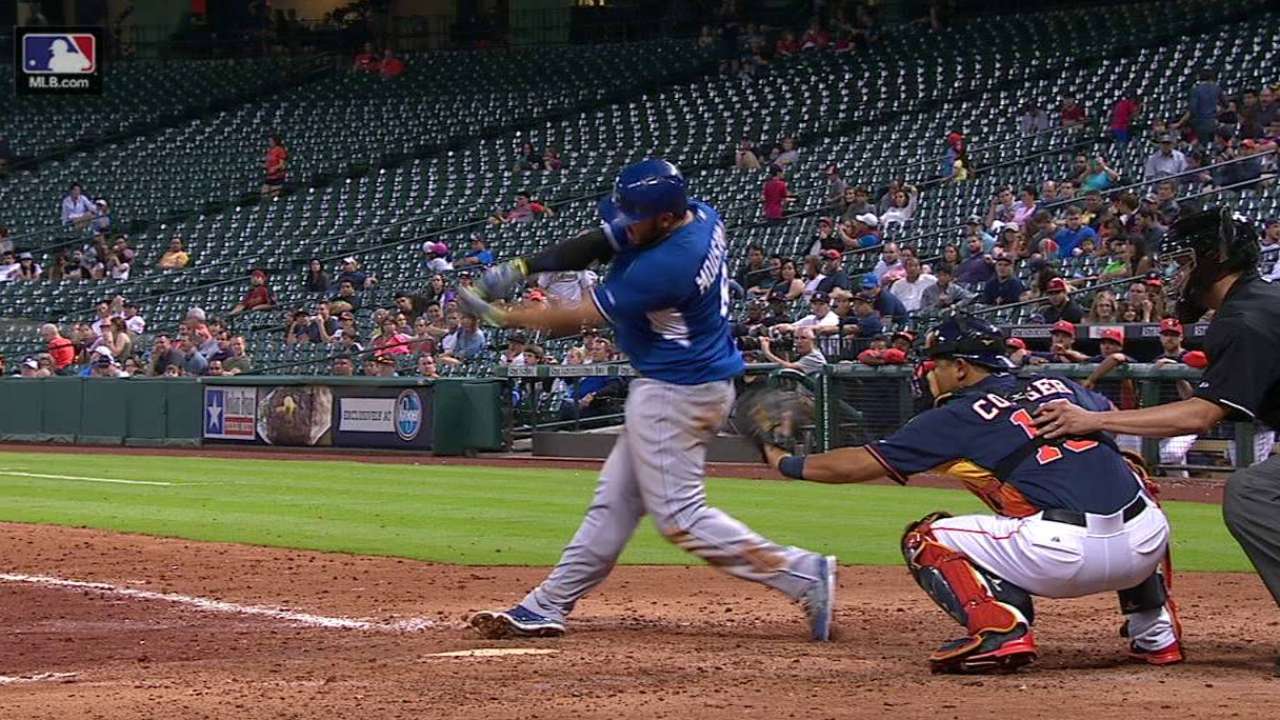 KANSAS CITY -- Throughout Spring Training, Royals manager Ned Yost contemplated numerous possibilities for who he might hit second in the batting order.
There was Alex Rios, Alex Gordon, Omar Infante, and others.
But it wasn't until a few days ago that Yost had a brainstorm regarding who might be the perfect fit -- third baseman Mike Moustakas.
Moustakas has been working diligently all spring on hitting the ball the opposite way as a means to beat the shift, and that work ethic did not go unnoticed with Yost.
"He just worked his tail off and right now he's hitting as well as anyone we got," Yost said.
And there is some psychology involved, too. Yost is trying to build Moustakas' confidence, as he once did with another struggling hitter -- Gordon.
"It kind of brought me back to my first [season] with the Royals and when Gordon had been going nowhere offensively," Yost said.
"Out of nowhere I put him in the three hole and gave him that extra bit of confidence. When a player knows I've got confidence in them, it changes them. He went on to hit .300 with 45 doubles and had a monster year.
"The same thing with Moose. Alex is gonna be the same guy no matter where we hit him. But the confidence it could give Moose for the first half of the season … it just made sense."
Moustakas, who has a career .290 OBP, is eager for the chance to prove Yost right.
"It wouldn't matter to me if I was hitting eighth or second," Moose said. "But I love the challenge of hitting second. I've been working on hitting the ball to all fields and now I think when [Alcides Escobar] gets on base, it'll open up some holes and hopefully I can utilize them."
Moustakas said the last time he hit second in the lineup was in high school.
"You know, you only hit second once, really," he said. "And after that it all kind of mixes together. I'm looking forward to it. I want to do my part."
Jeffrey Flanagan is a reporter for MLB.com. Follow him on Twitter at @FlannyMLB. This story was not subject to the approval of Major League Baseball or its clubs.