CarGo shifts to No. 2 spot in Opening Day lineup
Weiss looks for more power at top of batting order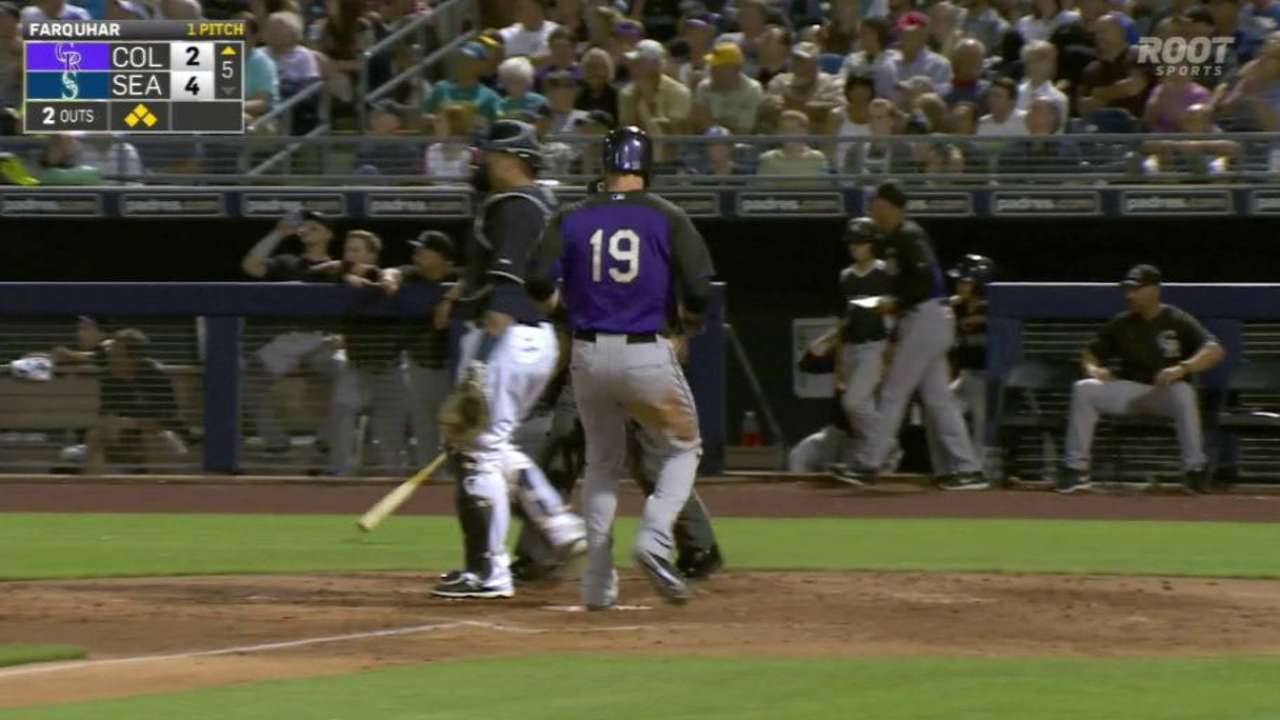 MILWAUKEE -- Looking to take advantage of Carlos Gonzalez's big bat and healthy legs, Rockies manager Walt Weiss placed him second in the batting order for Monday's opener against the Brewers at Miller Park.
Usually, Gonzalez and Troy Tulowitzki -- the stars who must stay healthy for the Rockies to do enough offensive damage to contend in a pitching-dominated era -- bat third and fourth. Both had season-ending surgeries last August.
The way Gonzalez has looked this spring led Weiss to move the combination higher than usual. Weiss has said he likes the idea of power in the No. 2 spot. His mentor, Tony La Russa, often chose a big bat over the more traditional strategy of a bat-handler at No. 2.
"This is one of several lineups we'll go with," Weiss said. "I like when that lineup turns over, it's dangerous. And CarGo is running as good as I've seen him in a couple of years. That was a factor, too."
Gonzalez, coming off left knee surgery, doesn't mind hitting second. Gonzalez likes the idea of Tulowitzki's power bat behind him, and Charlie Blackmon's speed in front.
"I think I can bring energy when in the top of the lineup for Tulo, [Justin] Morneau and Nolan [Arenado], the guys behind me," Gonzalez said. "Third or second, it's the same thing. Sometimes when I have a guy that is slower than me, it might cost a run or an extra base. It's a good balance for the club."
The Brewers are starting righty Kyle Lohse. It's possible in later innings the Brewers will go to a left-hander, but Weiss believes Blackmon and Gonzalez handle lefties well enough to stay in against such a move.
Rockies vs. Brewers Opening Day lineups
Rockies: Charlie Blackmon, CF; Carlos Gonzalez, RF; Troy Tulowitzki, SS; Justin Morneau, 1B; Nolan Arenado, 3B; Corey Dickerson, LF; Nick Hundley, C; DJ LeMahieu, 2B; Kyle Kendrick, P
Brewers: Carlos Gomez, CF; Jonathan Lucroy, C; Ryan Braun, RF; Aramis Ramirez, 3B; Adam Lind, 1B; Khris Davis, LF; Scooter Gennett, 2B; Jean Segura, SS; Kyle Lohse, P
In other developments:
• Weiss made official the assignment of righty Eddie Butler as starter for Wednesday's finale of three against the Brewers. Weiss has commended Butler, 24, on his added maturity after he struggled with shoulder issues last season.
But keep in mind Butler was called up from Double-A, and he made just one Triple-A start last season.
"There still has to be development at the Major League level for a lot of these guys, and we focus on that," Weiss said. "When players get here, they're not a finished product."
• Lefty Jorge De La Rosa celebrated his 34th birthday by facing hitters for the first time since left groin tightness forced him to be scratched from his scheduled start in Friday's home opener. De La Rosa threw 45 pitches.
The Rockies also announced 15-day disabled list placements for De La Rosa, righty pitcher David Hale (left oblique strain, retroactive to March 27) and infielder Charlie Culberson (lumbar disk, retroactive to March 31). Righty Tyler Chatwood is on the 60-day DL as he completes his comeback from last year's Tommy John surgery.
• Weiss said there is enough playing time for catchers Nick Hundley, Michael McKenry and Wilin Rosario.
"It won't be an issue," Weiss said. "It would be different if they were three straight-up catchers. Obviously, Wilin is going to play some first base. There's enough versatility."
With three catchers and five infielders, the Rockies have four outfielders. In an outfield emergency, switch-hitting infielder Rafael Ynoa is the first option. He and infielder Daniel Descalso have taken time shagging fly balls before games, just in case.
Thomas Harding is a reporter for MLB.com. Read his blog, Hardball in the Rockies, follow him on Twitter @harding_at_mlb, and like his Facebook page, Thomas Harding and Friends at www.Rockies.com This story was not subject to the approval of Major League Baseball or its clubs.