Waino, Cards spoil Lester's Cubs debut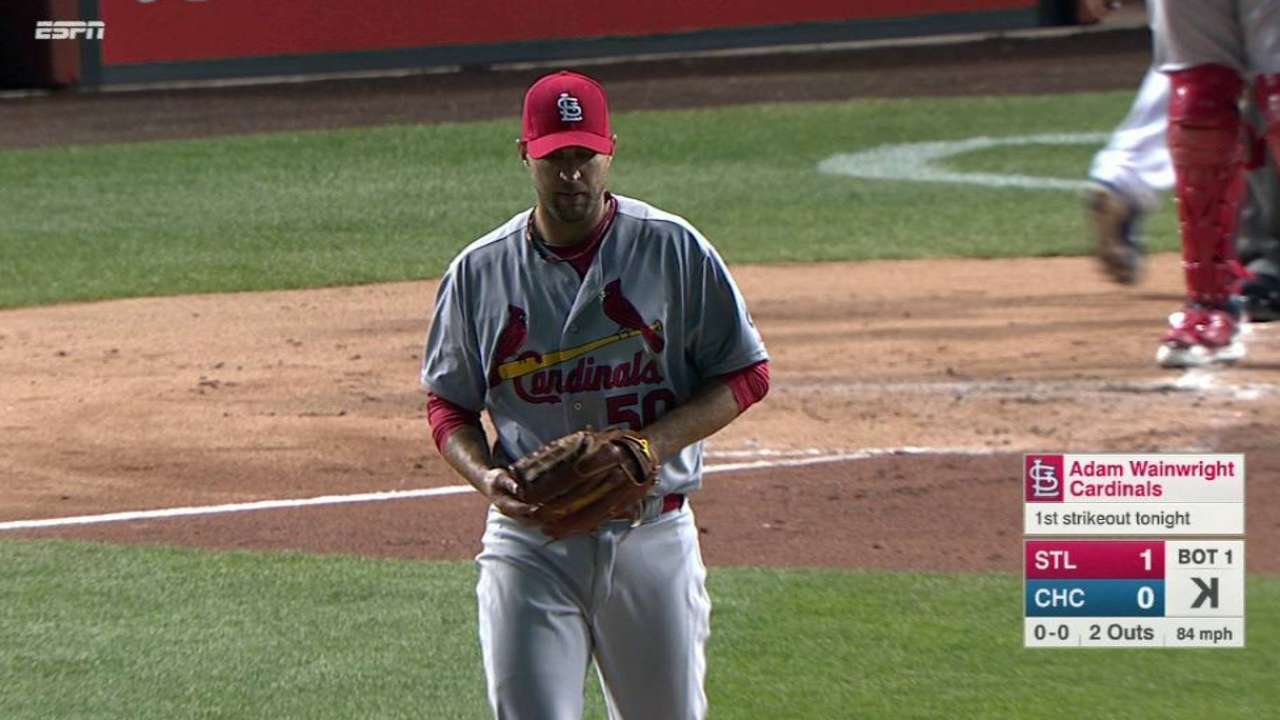 CHICAGO -- Matt Holliday hit a pair of RBI singles to back Adam Wainwright and lead the Cardinals to a 3-0 victory over the Cubs in the opening game of the 2015 Major League Baseball season on Sunday night, spoiling the Wrigley Field debuts of manager Joe Maddon and lefty Jon Lester.
Wainwright, making his fourth career Opening Day start, improved to 9-1 in 20 games at Wrigley. The Cubs lost, 1-0, to the Pirates to start 2014, and this marks the first time in franchise history they've been shut out in consecutive openers.
"He's good," Maddon said of Wainwright. "You have to beat good pitchers to get to the playoffs. In order to be the best, you have to beat the best. I have a lot of respect for him, but that's how this thing works. I want us to see the best pitchers. Bring 'em on. Bring 'em all on.
"If you're going to get to the playoffs and win the World Series, you have to beat some good folks. We're not going to shy away from anybody. Bring 'em on."
Lester is one of the reasons the Cubs can talk about the playoffs in April, as he signed a six-year, $155 million contract in December, which signaled a shift in the organization from rebuilding to contending.
MOMENTS THAT MATTERED
Dazzling debut: Jason Heyward jump-started his Cardinals career with three hits -- two of which went for extra bases -- in his first three at-bats with his new club. He doubled and scored the team's first run of the season in the opening frame, helped execute a double steal in the fifth and was part of a top-third of a batting order that went 7-for-14 with two runs and three RBIs. It was Heyward's first three-hit game off a lefty since June 2012 -- also against Lester. More »
"It's just good to be playing baseball again," Heyward said. "I love my job. I love the game. It was a fun atmosphere to come play in here at Wrigley Field."
Damage control: Given an early one-run lead, Wainwright fell into quick trouble, as Dexter Fowler led off the bottom of the first with a double. But Wainwright answered back, freezing three-hole hitter Anthony Rizzo on an 84-mph cutter after Fowler moved to third, then inducing an inning-ending groundout. That would be the first of several jams Wainwright escaped. Though he allowed the leadoff batter to reach in four of six innings, he held the Cubs hitless in 11 chances with runners in scoring position. Three times he stranded a runner at third. More »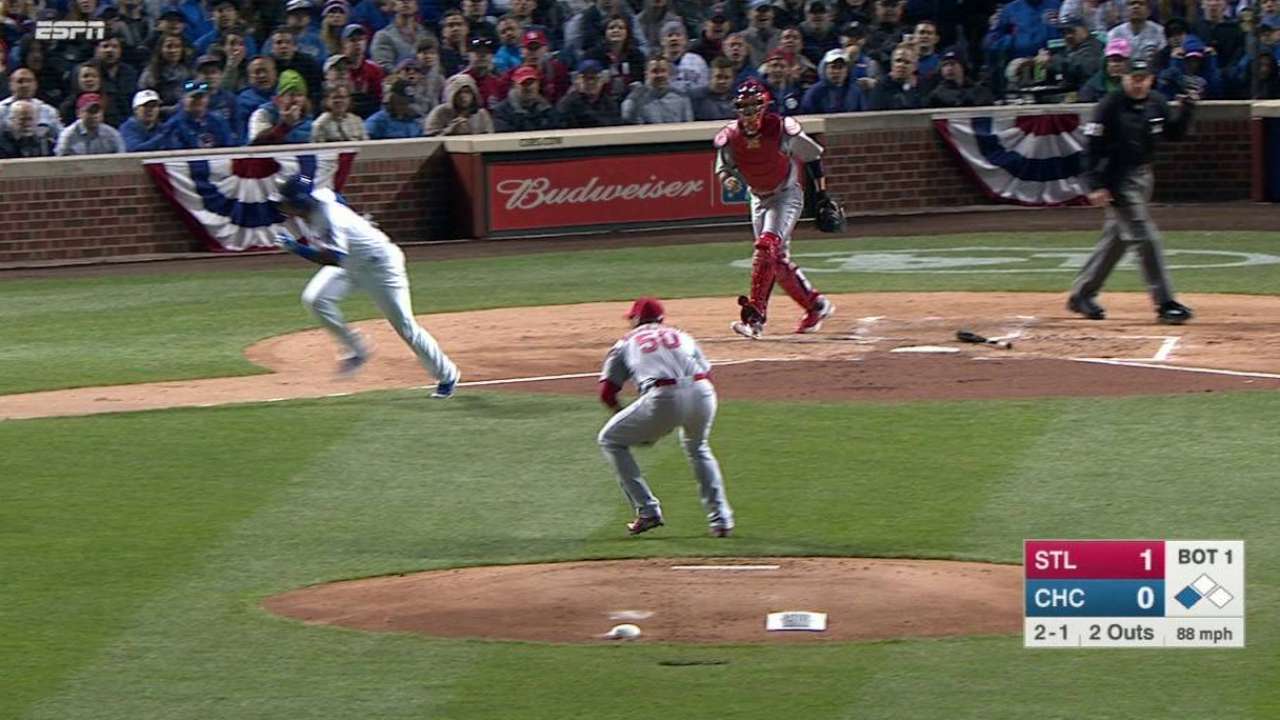 "That's what he does," Cardinals manager Mike Matheny said. "He keeps making pitches. It's fun to watch him. There are just guys like that who, when they get into tough situations in big games, they're able to make the big pitch when they need to." More »
Lester finds comfort zone too late: Lester had faced the Cardinals once in the regular season prior to Sunday's game but did have the edge in postseason play. He went 2-0 in two World Series starts, holding St. Louis to one run over 15 1/3 innings. Maddon wanted him matched up with his former Red Sox catcher David Ross in hopes of making him feel comfortable in his first Cubs start, and Lester did seem to get in a better rhythm as the game progressed. More »
"Not much was working," Lester said. "It was a little bit of a grind from the get-go. A lot of foul balls, a lot of balls up in the zone. I wasn't real sharp, the ball was flat. Any time I get that many fly balls, I know I'm not where I need to be. Piitches aren't doing what they need to be doing. I was up in the zone too much tonight."
QUOTABLE
"The crowd was buzzing tonight like it was the World Series. It was really awesome. I felt privileged to be out there pitching in front of them. I love pitching here in Chicago. It's one of my favorite places to be." -- Wainwright
"Opening Day is wonderful. It's tradition, it's a holiday, it's a celebration, it's special for everyone in baseball whether you're a casual fan, a diehard fan, you work in the game, but it does have this sort of exaggerated effect. People extrapolate these conclusions from one game. I really enjoy Game 2. You can get into a good rhythm. To me, one of the best parts about baseball is the rhythm of the game, the daily routine, knowing there's a game tomorrow, the next day and the next day. Opening Day doesn't feel like that, it feels like a holiday. I like to see which fans are at Game 2." -- Theo Epstein, Cubs president of baseball operations
SOUND SMART WITH YOUR FRIENDS
Fowler is the Cubs' third Opening Day leadoff man in the last four seasons and fifth in the last six openers. Ryan Theriot led off in 2010, Kosuke Fukudome in 2011, David DeJesus in 2012-13 and Emilio Bonifacio in 2014.
With his start on Sunday, Yadier Molina became the first catcher in Cardinals history to make 11 consecutive Opening Day starts. The last Cards player to to start on Opening Day in that many consecutive years was Albert Pujols (2001-11).
In 2014, the Cubs ranked 14th in the National League in batting average with runners in scoring position, hitting .223. On Sunday they went 0-for-13 with RISP. More »
Lester was the first Cubs pitcher to bat eighth since Jeff Samardzija on Sept. 8, 2012, at Pittsburgh. Sunday was only the second time a Cubs pitcher did so in 15,848 games from 1914 to 2014.
With a 1-0 win against the Reds last season and Sunday's 3-0 victory over the Cubs, the Cardinals have recorded consecutive Opening Day shutouts for the first time in franchise history.
INTERESTING DEVELOPMENT
After leading all NL teams with 27 stolen bases in spring games, the Cardinals continued their running ways with three off Lester and another against Hector Rondon in the ninth. It surely helped that Lester struggles to hold runners, but Matheny has pushed his club to be more aggressive in general. Under Matheny the Cards have never finished better than 13th in the league in stolen bases. Last year they swiped 57; they hadn't stolen four in a game since 2012.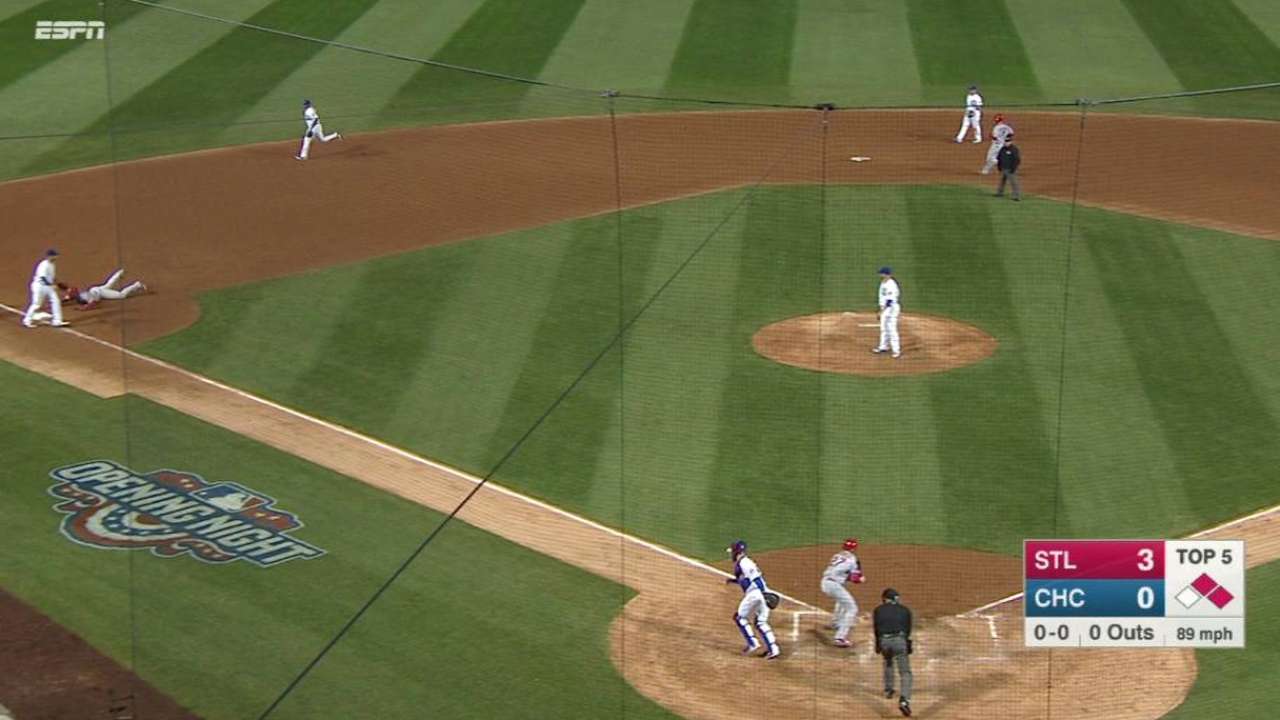 WHAT'S NEXT
Cardinals: The Cards will hold a short workout at Wrigley Field on Monday morning before resuming their three-game series at Wrigley Field at 7:05 p.m. CT on Tuesday. Lance Lynn, a 15-game winner for St. Louis in 2014, draws his first regular-season start since inking a three-year extension with the club. His six career wins against the Cubs are tied for the most against any opponent.
Cubs: After an off-day on Monday, the Cubs and Cardinals resume the series on Tuesday. Right-hander Jake Arrieta will make his first start following a strong spring. He has a career 2-0 record and 0.92 ERA in five career starts against the Cards. The game will be broadcast on WGN-TV and WBBM Radio, with first pitch scheduled for 7:05 p.m. CT.
Jenifer Langosch is a reporter for MLB.com. Read her blog, By Gosh, It's Langosch, and follow her on Twitter @LangoschMLB. Carrie Muskat is a reporter for MLB.com. She writes a blog, Muskat Ramblings, and you can follow her on Twitter @CarrieMuskat. This story was not subject to the approval of Major League Baseball or its clubs.