Ventura: White Sox need to clean up spring 'sloppiness'
Manager focused on club's mechanics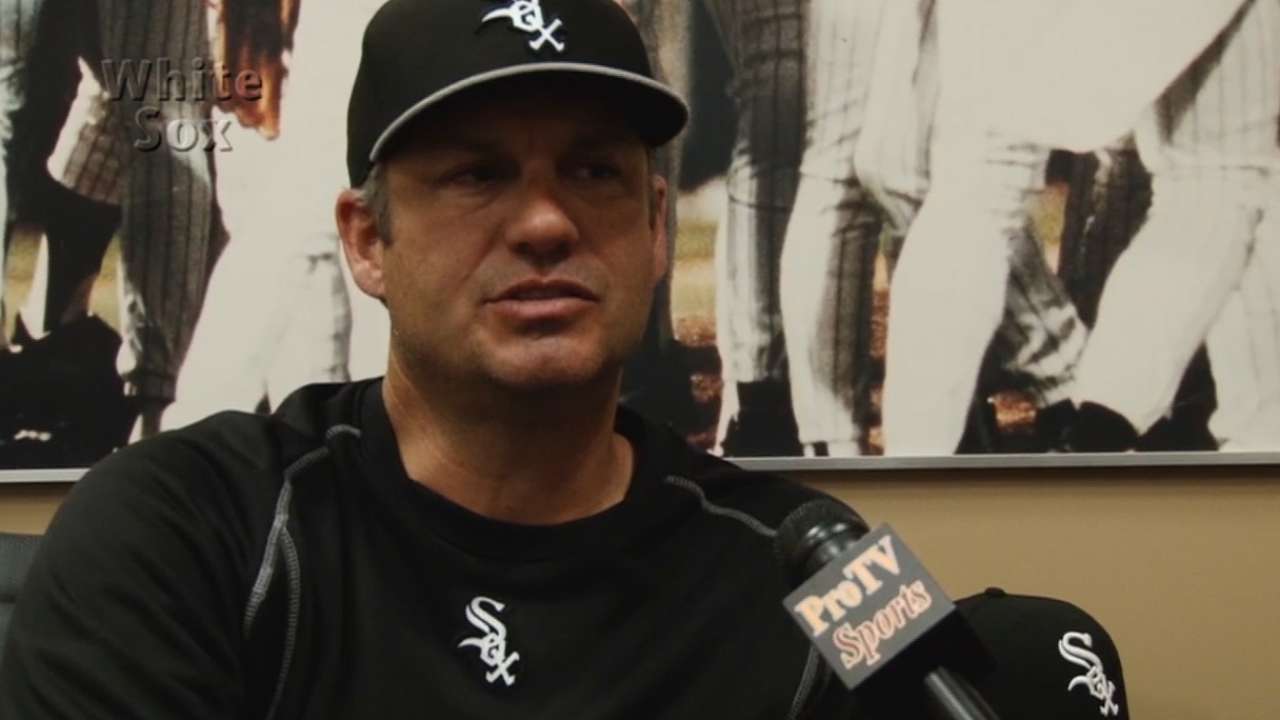 KANSAS CITY -- Robin Ventura understands that statistics and results don't count during Cactus League play. No player ever made the Hall of Fame from his Cactus League performance, and no team ever won a World Series crown because of that 44- or 45-day stretch.
The White Sox manager also understands that sloppy play is sloppy play, regardless of the time of year. And it's not something that will be tolerated, especially for a team with lofty postseason expectations entering the 2015 campaign.
"It wasn't necessarily the results," Ventura said during the White Sox workout Sunday at Kauffman Stadium. "There was some sloppiness in there that we raised and took care of in some meetings.
"You need to play better. This is the Major Leagues. If you are not going to play clean baseball, you are not going to have a chance to win. We haven't played as well as we liked at the end here. So, for these guys, it's all about the execution of what you do. We need to be good at it. We need to take care of the baseball. There's a lot of details that you need to be good at and we need to be better at."
Defense is expected to be a stronger suit for the White Sox, with a full season of Avisail Garcia in right, Melky Cabrera replacing the Dayan Viciedo /Alejandro De Aza combination in left and Gold Glover Adam LaRoche lending his contributions part of the time at first base with Jose Abreu. Micah Johnson was named the starting second baseman Sunday, and his play in the field has developed throughout Spring Training.
That improvement on paper doesn't mean much if the execution of fundamentals isn't there, as Ventura directly pointed out Sunday. It's a sentiment leadoff man and center fielder Adam Eaton agrees with.
"He's absolutely right. I think all of us know that," Eaton said. "Spring Training is Spring Training. Get the kinks out in Spring Training. At the same time, there is an expectation to execute, with the bat, in the field, pitching, cuts and relays.
"This is the big league level and expectations are high to do that even in Spring Training. The lull of Spring Training really got to us towards the end. When games don't matter and kind of the vibe is a little different, it is difficult to come and perform well. But at the same time you know you're professional and it needs to be held at a little higher pace. With that being said, we'll have a little more adrenaline tomorrow and hopefully it translates into some good, solid baseball."
Scott Merkin is a reporter for MLB.com. Read his blog, Merk's Works, and follow him on Twitter @scottmerkin. This story was not subject to the approval of Major League Baseball or its clubs.