Look out, MLB: Miggy could be in for power rebound
With leg strength back, more homers could come
ST. PETERSBURG -- Miguel Cabrera cleared questions about his readiness for Opening Day a long time ago. From there, the question became what to expect from Cabrera after offseason surgery that kept him off his right ankle and foot for most of the winter.
The way he looked at the plate over the final week of Spring Training did nothing to temper expectations. If anything, it has done the opposite.
"Really, I'm at a point with Miggy -- and I don't want to speak for him -- but I think he's comfortable at the plate at this point," said manager Brad Ausmus. "He seems to be moving normally.
"Now, I'm not saying he doesn't have a little bit of soreness now and then, but it doesn't seem to be affecting him too much at this point. So I feel very good about where Miggy is physically."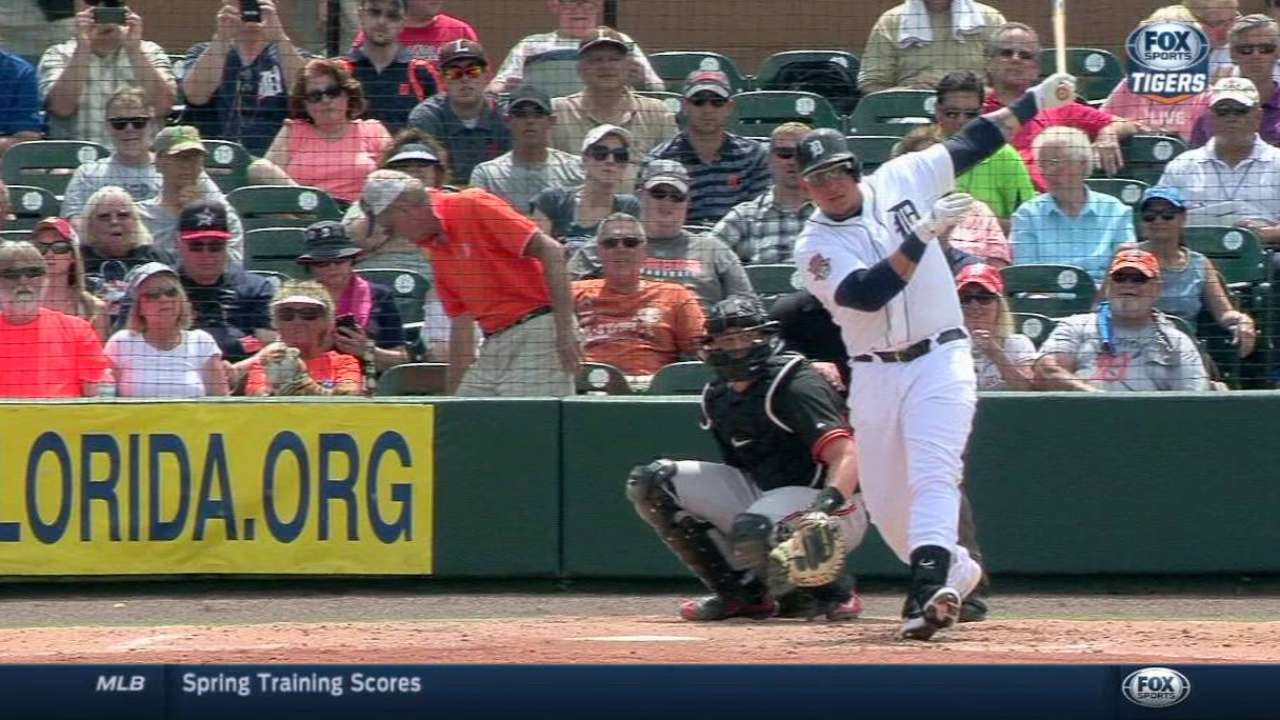 Cabrera went 10-for-29 in 11 Spring Training games. That wasn't particularly a surprise; his bat was still expected to be quick. The power, however, came back quickly. Half of his hits went for extra bases, including three home runs.
He showed power to all fields against all sorts of pitchers, and he closed his spring by pushing a ground ball through the right side against a pull shift by the Rays' infield.
"He has looked stronger for sure," Ausmus said.
What that means for this season is intriguing. While Cabrera's numbers took a dip last season, the fact that he hit .313 with an .895 OPS while playing with what was later discovered to be a stress fracture in his foot over the season's second half is a medical marvel. His slugging percentage fell to .524, his lowest since his first full Major League season in 2004, but he actually had more extra-base hits (77) than he did in '13, when his .636 slugging percentage led the league.
Cabrera hit 25 home runs, his lowest total over a full season, but his 52 doubles marked a career high for him and was the best in the American League last year. Essentially, a lot of balls that a healthy lower body might have powered out landed in the gaps and on the track instead.
If Cabrera has renewed power, that balance could be worth following.
Jason Beck is a reporter for MLB.com. Read Beck's Blog and follow him on Twitter @beckjason. This story was not subject to the approval of Major League Baseball or its clubs.