Giancarlo focused on team goals, not personal records
Marlins slugger's next home run will establish team record
MIAMI -- Giancarlo Stanton is on the brink of gaining sole possession of the Marlins' all-time home run record. But don't expect the 25-year-old slugger to get caught up in the numbers.
Stanton's single-minded focus is on Miami doing what it takes to be a playoff team. According to Stanton, if the preparation is there, the results should follow.
"No numbers -- just play the whole year and help the team," Stanton said. "I don't do numbers."
Stanton enters Opening Day on Monday against the Braves at Marlins Park at 4:10 p.m. ET with 154 homers, tied with Dan Uggla for the franchise lead.
So every at-bat is a chance for the two-time All-Star to make history.
To Stanton, the personal records are part of what might be ahead in a promising 2015.
"It's another addition to the excitement of the year," Stanton said. "But it is very cool to be in that company, and also hopefully take care of it."
Stanton is the reigning National League home run champion after hitting 37 in 145 games a year ago.
If healthy, Stanton projects to shatter a number of slugging marks.
Since breaking in as a 20-year-old in 2010, Stanton has clubbed 154 homers in 634 MLB games. Uggla established the record in 776 total games with the Marlins. Hanley Ramirez, who is third on the team's all-time list with 148, played in 943 games with the Marlins.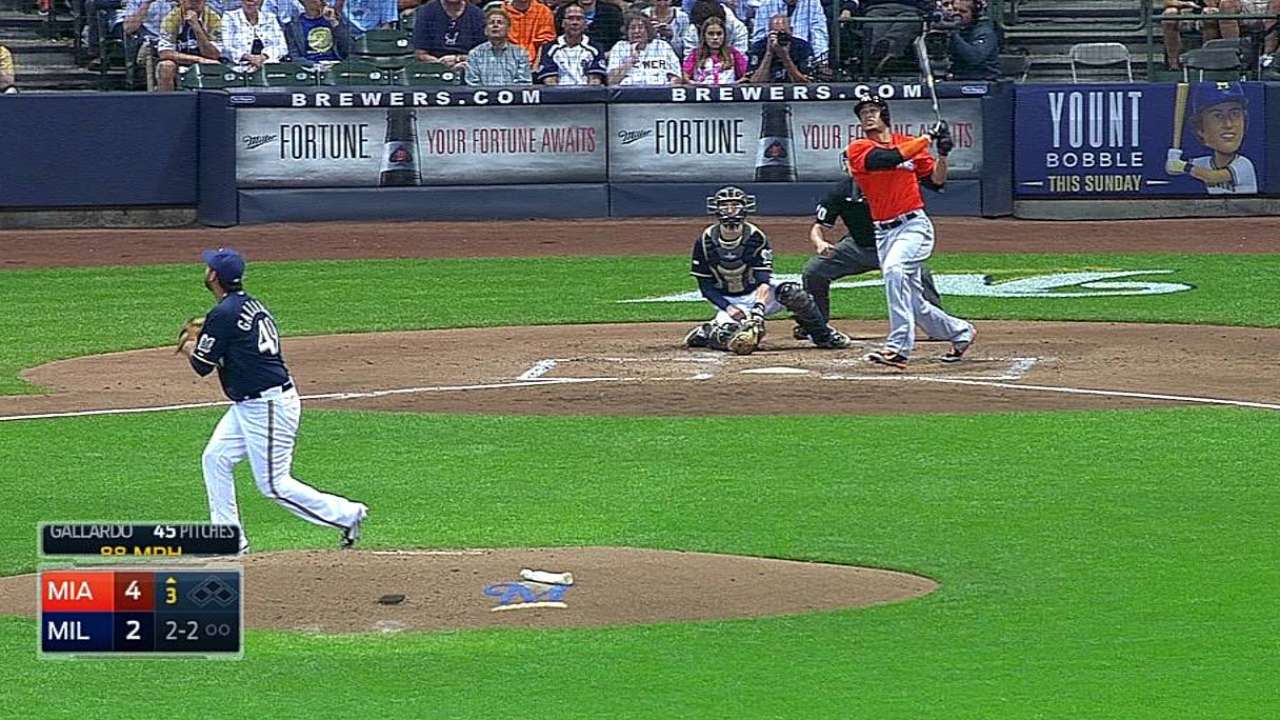 A year ago, Stanton's primary goal was to play in all 162 games. He was on his way until he was struck in a face by a pitch on Sept. 11 at Milwaukee. Stanton's season ended abruptly with 17 games left to play.
Stanton is hopeful to play every day, but that isn't necessarily his goal.
"If I'm there the whole year and prepare the way I need to, and do all the things I feel I'm capable of, the numbers will take care of themselves," the slugger said. "That's the way I view it. You've got a different challenge every day. Take care of it."
Stanton will be wearing a customized face guard on his helmet, but he insists he has no lingering hesitation to step into the box on Monday.
"In terms of how the season ended last year, no," Stanton said about being eager to get back into action. "In terms of being ready for the season, the new team and all that, yes. There is no thoughts of what happened.
"This is the best lineup that I've had, and all-around lineup I've had with me."
Joe Frisaro is a reporter for MLB.com. He writes a blog, called The Fish Pond. Follow him on Twitter @JoeFrisaro. This story was not subject to the approval of Major League Baseball or its clubs.