Tigers hold off on Verlander's DL assignment
Club waiting to see how right-hander's rehab progresses before adding to roster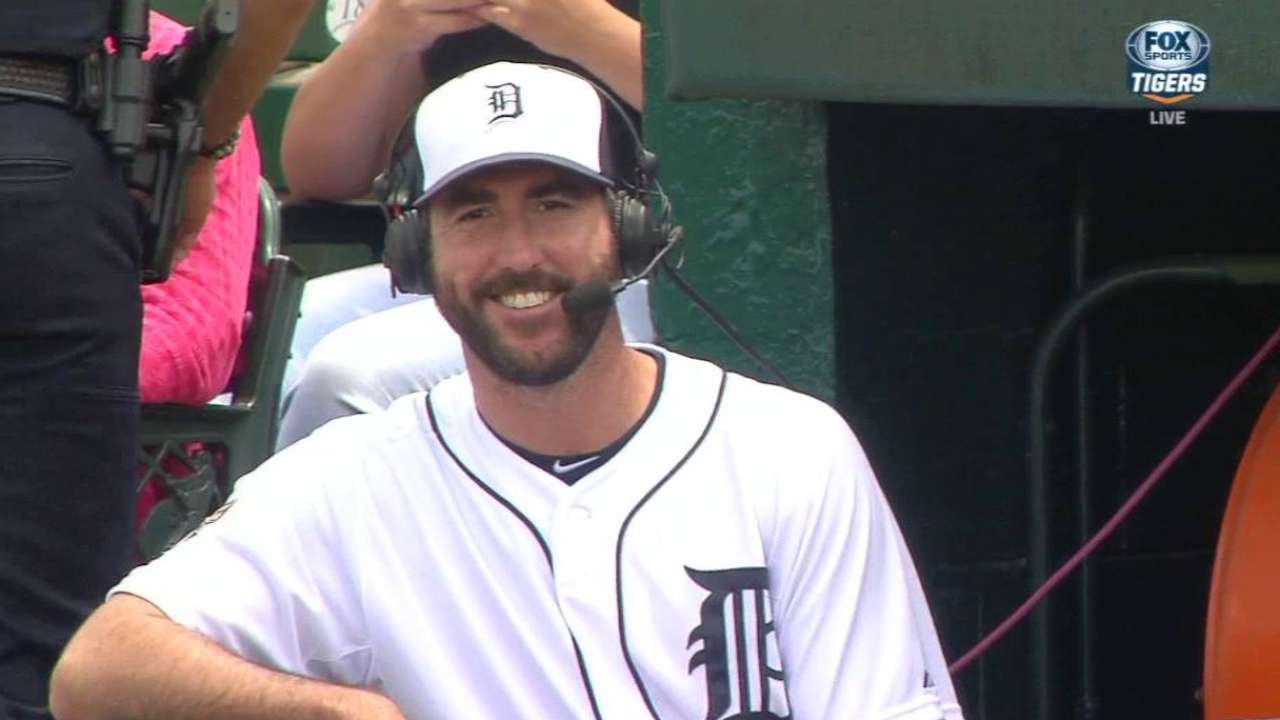 DETROIT -- Justin Verlander will technically be part of the Tigers' Opening Day roster. He just won't be part of Opening Day.
While the Tigers made the first of their previously announced disabled list moves Sunday morning by placing reliever Bruce Rondon on the 15-day DL with biceps tendinitis, they held off on such a move with Verlander for now. That leaves them with a 25-man roster for Monday's season opener against the Twins, but just 24 healthy players.
Verlander isn't expected to be in Detroit. He stayed back in Lakeland, Fla., to continue his rehab from the right triceps strain that knocked him out of his Spring Training start March 27 and had bothered him for several days since.
Verlander was scheduled to throw a light bullpen session Sunday, and then he'll face hitters on Tuesday. From there, the Tigers hope to have a better idea of whether he'll be able to start as planned next Sunday in Cleveland.
Either way, Verlander is expected to go on the 15-day DL. The decision, however, impacts who the Tigers will call up to fill his spot. If Verlander is on track to start Sunday, Detroit will call up an extra relief pitcher for a few days, giving the club depth in case of extra innings or rain delays. The latter could be huge, given the forecast for Detroit and Cleveland later this week.
If Verlander doesn't appear ready to go Sunday, or even if his status looks questionable, the Tigers are expected to call up an insurance starter, likely left-hander Kyle Lobstein.
The Tigers have to get this right. By rule, the only way they can call up a player right now who was optioned to the Minor Leagues out of camp is to replace somebody who goes on DL. If the Tigers put Verlander on the DL and call up a reliever, they can't replace him with a starter a few days later if they find out Verlander won't be ready. That would leave them with a potential bullpen start, since they can't skip his rotation spot again.
The pieces are already in place for the Tigers to call up somebody. The roster announced at Triple-A Toledo currently has one player above the limit, anticipating a forthcoming move.
As for Rondon, the Tigers do not have a timetable for his return. The tendinitis is not believed to be serious, but clearing the soreness can take longer than expected.
Jason Beck is a reporter for MLB.com. Read Beck's Blog and follow him on Twitter @beckjason. This story was not subject to the approval of Major League Baseball or its clubs.