Power Rankings: Pitching-rich Nationals open on top
Dodgers, Mariners, Cardinals and Pirates round out the top five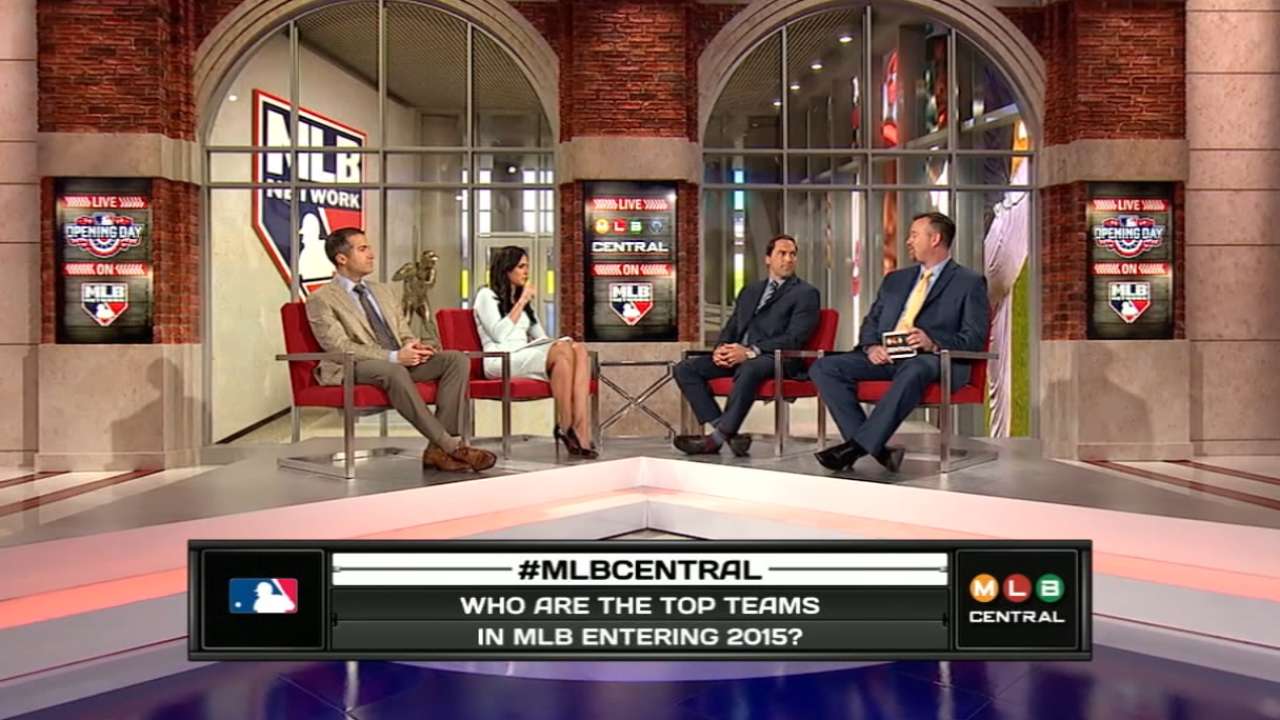 Happy Opening Week, baseball fans. This is a time when stress levels are low, optimism is high and most teams, save for a very few, are feeling pretty good about their chances for good things to happen during the season ahead.
But let's be honest -- even though everyone is starting out 0-0, we don't need a crystal ball to help us separate the elite from those who have, shall we say, room for improvement. Welcome to Round 1 of the weekly MLB Power Rankings, where we poll a handful of MLB.com and MLB Network experts, and then open the floor to you.
This week's top 20 list is based on predictions, observations and overall health coming out of Spring Training. Actual games played? That'll come soon enough. Until then, here's what we've got ... how about you?
1. Washington Nationals
There's arguably one team that really didn't need to tweak its starting rotation after 2014. And that's precisely the team that ended up signing the most coveted free-agent pitcher on the market. Those outside of the D.C. area may view the Nationals-Max Scherzer marriage as almost unfair. Inside the Beltway, the home team boasts a rotation so strong that Tanner Roark -- an immense talent who, without exaggeration, would have a spot in 29 other rotations -- probably can't crack this one. That's the definition of loaded, and it is a major reason why the Nationals are our runaway No. 1.
2. Los Angeles Dodgers
How many 94-win teams spend an offseason overhauling the front office and several key on-field positions due to dissatisfaction with how things ended? The Dodgers, loaded with All-Stars and a payroll that reflects the bigger-is-better mantra of the city where they play, have had few issues getting to the postseason in the past couple of years. The pennant, however, has eluded them. They're back this year with a new front office, a revamped roster and a seemingly sunnier clubhouse culture. And, despite some health issues in the rotation, they have Clayton Kershaw. Advantage: Dodgers.
3. Seattle Mariners
Was there a more feel-good scene than the last game of 2014, when a packed Safeco Field cheered loudly and proudly for a team that missed the postseason by thiiiiiiis much? Over the winter, the Mariners added Nelson Cruz to be their designated hitter with the hope he'll bring with him the power that enabled him to hit 40 homers for the Orioles last year. A 3-4-5 trio of All-Stars -- Robinson Cano, Cruz and Kyle Seager -- should boost an offense that at times lagged in '14. Add to that a rotation buoyed by King Felix, and more than a few prognosticators are quietly picking the Mariners to win the American League West.
4. St. Louis Cardinals
The Cardinals have the special knack for tweaking here and there, infusing young talent at just the right time and peaking in October. Playing in arguably the strongest division in baseball, the Cardinals will have plenty of competition for the National League Central title. But for now -- even with those retooled Cubs and the well-balanced Pirates -- we're sticking with the Cardinals as the division's most elite. They've been there, they've done that, and they haven't really given us much reason to suspect they've taken a step back from their 2014 campaign, which didn't end until Game 5 of the NL Championship Series. And, they acquired slugger Jason Heyward to give a big presence in the upper third of their batting order. But stay tuned. The NL Central portion of our weekly Power Rankings is sure to be a moving part. Which brings us to....
5. Pittsburgh Pirates
Looking over the Pirates' rosters from the past few years, this year's may be the deepest and most balanced yet. It's hard not to take the Pirates seriously, as they are no longer the just-happy-to-be-here contenders. They are now a team that won't be satisfied with just playing the NL Wild Card Game again. They want to win the division, and they have the personnel to do it. Andrew McCutchen highlights the very top of the upper echelon of MLB players -- and a Pirates outfield that also stars Starling Marte and Gregory Polanco. A solid rotation anchored by youth (Gerrit Cole) and experience (Francisco Liriano) will make the Bucs a likely force throughout 2015.
The rest:
6. Angels
7. Tigers
8. Indians
9. Red Sox
10. Orioles
11. Padres
12. Marlins
13. Blue Jays
14. White Sox
15. Athletics
16. Mets
17. Yankees
18. Giants
19. Royals
20. Cubs
Alyson Footer is a national correspondent for MLB.com. Follow her on Twitter @alysonfooter. This story was not subject to the approval of Major League Baseball or its clubs.