Manfred touts youth, pace of play initiatives on 'Meet The Press'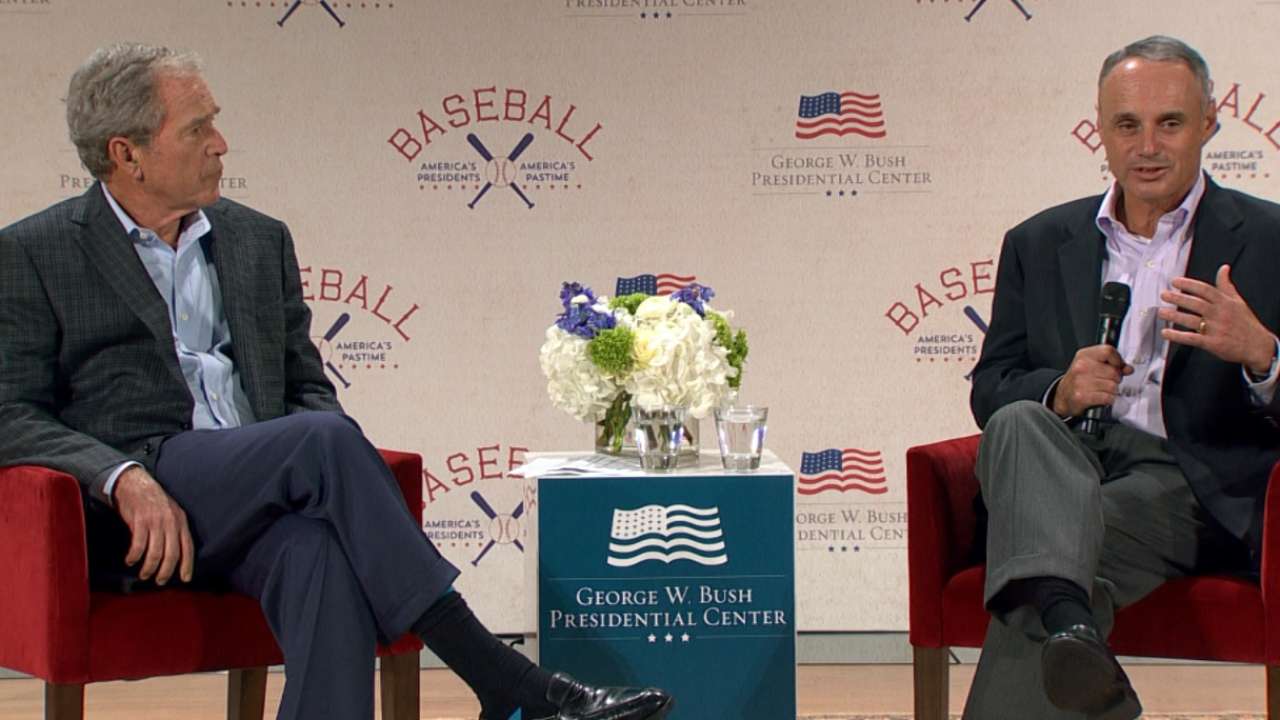 Rob Manfred was featured on "Meet The Press" on Sunday, his first national broadcast appearance since succeeding Bud Selig as Commissioner in January. In the interview with NBC's Chuck Todd, which was taped earlier this week at Yankee Stadium, Manfred continued to emphasize his focus on keeping youth involved in baseball.
"We've really studied it and looked hard at [the youth space]," Manfred said. "It's a very competitive environment. I'm 56 years old. When I was a kid, you played baseball in the spring. You played football in the fall. You played basketball in the winter.
"Now, kids have all sorts of choices. ... [There are] just a plethora of choices available to them. It's competitive, and our focus is to try to form good partnerships in the youth space to try to get more kids playing. I mean, we have a great Little League. And we're working with a number of other groups to try to make sure that baseball's competitive in that space."
Todd pointed out that the participation rate of African-American children in baseball has been declining.
"We have a number of programs in place that we're going to be expanding on as we go forward," Manfred said. "We have a program called 'Reviving Baseball in Inner Cities.' It's a mass-market program in areas where kids, otherwise, do not have an opportunity to play."
He further noted that MLB and the MLB Players Association have a joint program called the "Baseball Tomorrow Fund" which has built $10 million worth of youth fields in the past decade.
"And maybe most important, our clubs and partnerships with baseball have opened a number of urban youth academies," Manfred said. "I had a chance to visit the one in Washington earlier this spring. It's a fantastic program, an after-school program that includes baseball, educational support, nutritional support. And through those sorts of programs, we hope to attract more people, more African-Americans, back to the game."
Manfred also discussed baseball's pace of play initiatives for this upcoming season. He mentioned baseball's aggressive experiments in the Arizona Fall League, which resulted in pitch clocks in Double-A and Triple-A. Baseball will also employ timers at Major League games to help eliminate excess time between innings. Todd countered by saying multiple pitching changes in the late innings can slow games down.
"Here's the issue with that, though," Manfred said. "You know, when we alter things related to the play of the game on the field, we always try to avoid something that changes the way the game is currently being played. If say, you know, 'You can't match up lefty on lefty, every other batter' -- if that's what you want to do, you've limited people's competitive options. We're always reluctant to do that."
The interview also touched on television ratings and the status of Pete Rose, who has applied for reinstatement after being banned for life for betting on baseball.
"What you're talking about [with national ratings] is a fragmentation of audiences that is an issue for all entertainment products," Manfred pointed out. "The good news is that I think in 11 of our markets last year over the course of the summer, baseball was the No. 1-rated program. And there's tons of baseball available in those local markets. The challenge is to make sure that as we move into our postseason, we don't lose that huge local fan base."
Regarding baseball's all-time hits leader, Manfred repeated that Rose will get a full and fair hearing. He also noted that there are two separate issues on the table: Whether or not somebody on the permanently ineligible list should be allowed to work in baseball again, and whether he should be eligible for the Hall of Fame.
"The second issue's not mine, right? I mean, it's a Hall of Fame rule," Manfred said. "So it's not a question of what I'd like. I have to focus on the institution that I'm responsible for, which is Major League Baseball, and protecting the integrity of that institution."
Paul Hagen is a reporter for MLB.com. This story was not subject to the approval of Major League Baseball or its clubs.