Chafin added to D-backs bullpen
Club still waiting to decide on third base and backup catcher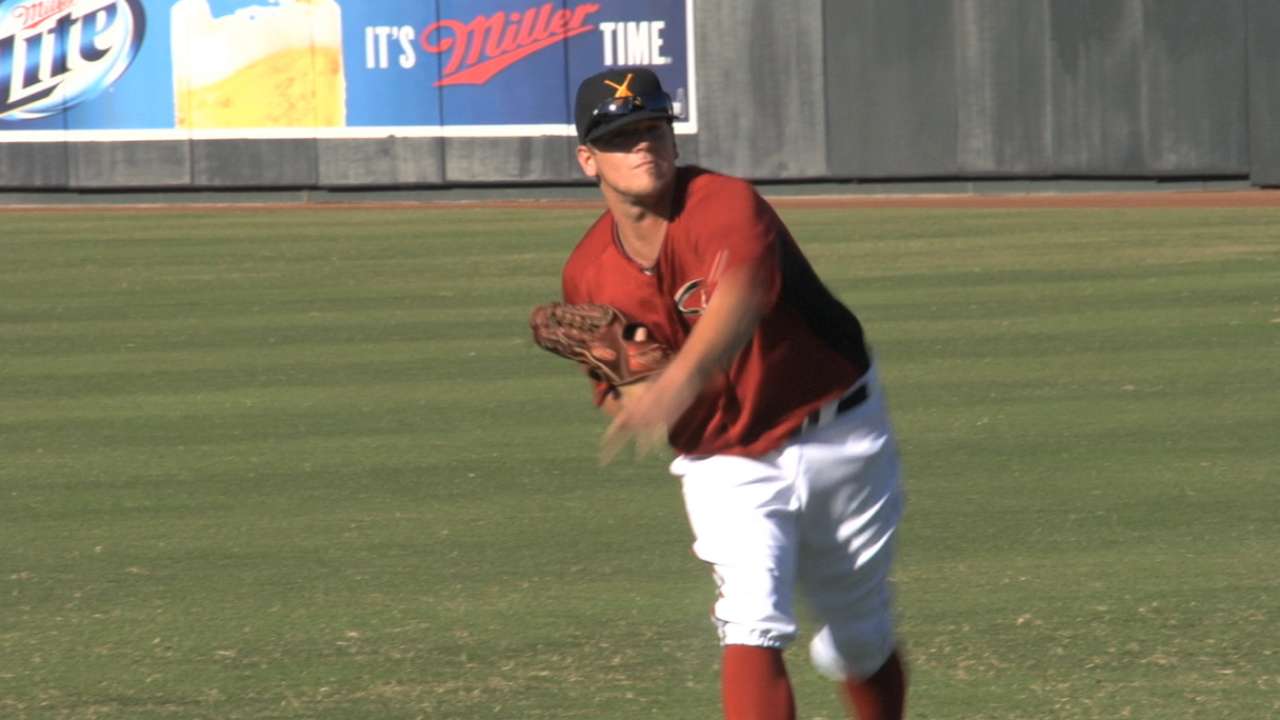 PHOENIX -- The Diamondbacks started Spring Training six weeks ago with very few roster spots locked up, and they will go until the very end to finalize their Opening Day roster.
Left-hander Andrew Chafin on Saturday was named the final reliever after the D-backs closed out the spring with a 4-2 win over the Cubs at Chase Field. That still leaves decisions at third base and backup catcher, which must be made by noon Sunday.
"There's still some decisions to be made that people want to sleep on," manager Chip Hale said.
Left-handers Vidal Nuno and Robbie Ray were optioned to Triple-A Reno, right-hander Enrique Burgos was optioned to Double-A Mobile and catcher Blake Lalli was reassigned to the Minors.
That leaves Yasmany Tomas, Jake Lamb vying for third base -- though Tomas also could play in the outfield, where as it stands now, there are five others -- and Gerald Laird and Jordan Pacheco for backup catcher behind Tuffy Gosewisch.
"When the last spots are decided, then you'll understand why," Tony La Russa, D-backs chief baseball officer, said of the lengthy process to finalize the roster. "The more you explain it, the more it becomes unfair to the guys [involved]. That's why we're waiting this long; there's been more than 25 guys who deserve to make this roster."
A trade could open an additional roster spot, La Russa said, though he added that's a difficult proposition this time of year. At the same time, La Russa confirmed the D-backs were involved in trade talks regarding Nuno, who was scratched from Saturday's start. Published reports said the other team was the Texas Rangers.
"There was interest in Vidal," La Russa said. "The last I heard it wasn't going to happen."
Barring a trade, or something else unforeseen, the D-backs will have to choose between Lamb and Tomas at third. Lamb outhit and outplayed Tomas in the field. Tomas looked better in the outfield, where he made a running catch over his head in left on Saturday.
"He needs to play [but] he's not out of the mix yet," La Russa said.
When it came to Chafin for the final spot in the bullpen, the 24-year-old's versatility was the key.
"Each of the guys offered something special, we just felt Chafin could come in, pitch an inning, get an out or two, [or] pitch extended innings," La Russa said. "He's competitive and durable."
Chafin had a 4.73 ERA and 14 strikeouts in 13 1/3 innings this spring.
"I came in with the mind-set that I was going to make this team, so when they told me, it was kind of relief because I expected it," said Chafin, who started the spring in the mix for the rotation. "I feel comfortable in any situation.
"As it got closer to crunch time, every day everybody wonders what's going to happen. Nobody really knows until it happens. It's very relieving to know what I'm doing now."
Chris Gabel is a contributor to MLB.com. This story was not subject to the approval of Major League Baseball or its clubs.