Butler awaiting official word on if he made roster
Prospect likely has spot with Rockies as long as his shoulder is fine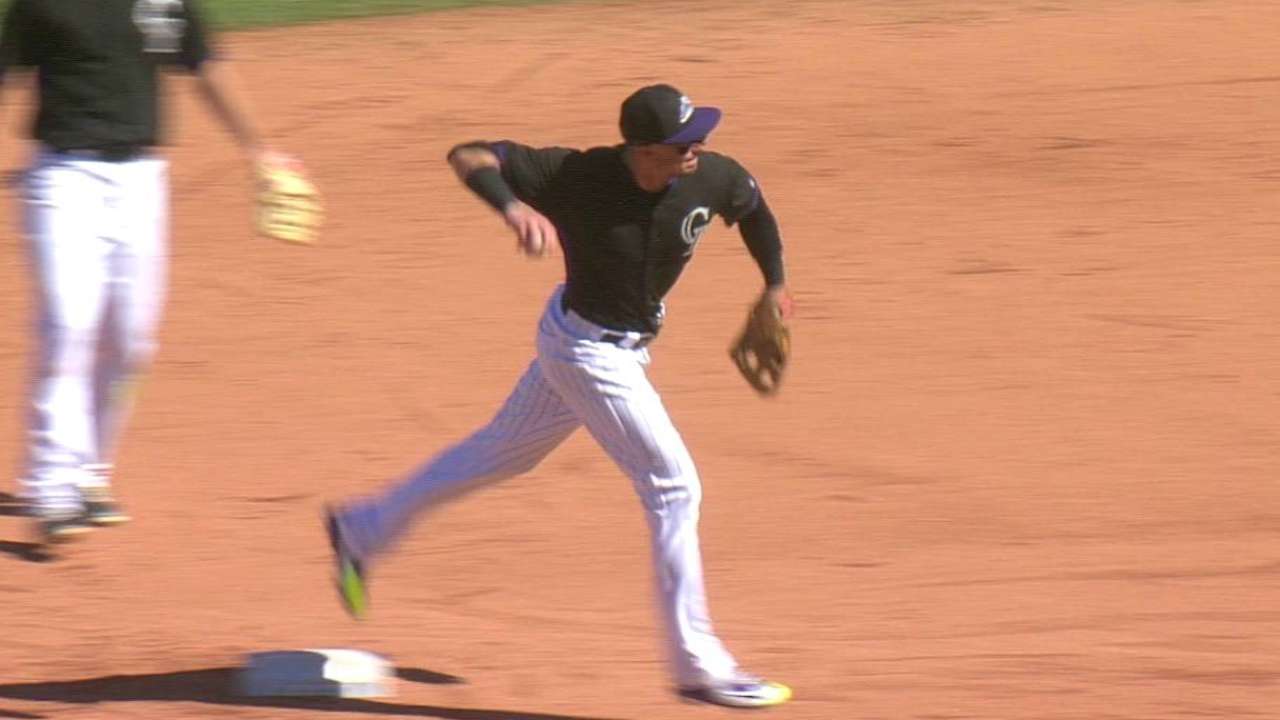 SCOTTSDALE, Ariz. -- Eddie Butler brought a suit to the Rockies' Spring Training complex on Saturday.
But as veteran teammates were getting ready for the trip to Milwaukee, Butler still wasn't sure whether he needed it. He noticed his teammates had scouting reports for the Brewers, the Rockies' opponent in the season-opening series from Monday-Wednesday. But while Butler is in line to start Wednesday's game, he didn't have the report.
So he accepted congratulations warily. "I don't know if I've made the team yet," Butler said.
Butler had to put on his suit but wait for official notification. Rockies manager Walt Weiss said it won't be official until he has to turn in a roster on Sunday, but as long as Butler doesn't have any issues with his shoulder, he will get a roster spot.
Butler started the Rockies' Spring Training finale against the Mariners on Saturday, and he gave up five runs and six hits in 2 1/3 innings. But more importantly, Butler's right shoulder -- which was an issue when he was called up from Double-A last year and again in his previous Cactus League outing -- felt good after his 30-pitch start.
"I've been working in the training room to get it better and didn't have any problems today," said Butler, the Rockies' No. 2 prospect. "They came over and asked me after the first inning, and I said it felt normal. It's a good thing. Everything felt good with that. I just made a couple bad pitches today."
Butler said he left some fastballs over the plate, especially on Logan Morrison's two-run homer. A run scored when Butler balked on a pick-off move to third -- he received a signal to do so, but third baseman Rafael Ynoa apparently didn't or missed it and was ruled to be not close enough to the bag. The final two runs scored after Butler left and Kyle Seager tripled off Christian Friedrich.
For much of the spring, Butler has kept a consistently heavy fastball. More importantly, Butler arrived prepared for a long season. Last year, he dealt with rotator cuff issues because he didn't understand the physical work that has to be done for a pro season.
"I come back to maturity level -- there's been a pretty drastic change with Eddie, from last year," Weiss said. "A lot of that was because of him, being motivated."
Butler has absorbed the latest lesson. When the issue that led to his removal from his last start proved not serious enough to need an MRI, it became clear that concern because of last year motivated Butler to leave the game.
"That's something Walt has been talking about, find out what you can pitch with and what you can't," Butler said. "It felt different, but during the season I'll try to do something real quick to try to fix this and get back out there for the next inning."
Thomas Harding is a reporter for MLB.com. Read his blog, Hardball in the Rockies, follow him on Twitter @harding_at_mlb, and like his Facebook page, Thomas Harding and Friends at www.Rockies.com. This story was not subject to the approval of Major League Baseball or its clubs.