At 35, Stults grateful to be on just his fourth Opening Day roster
Veteran ready for season after capping off strong spring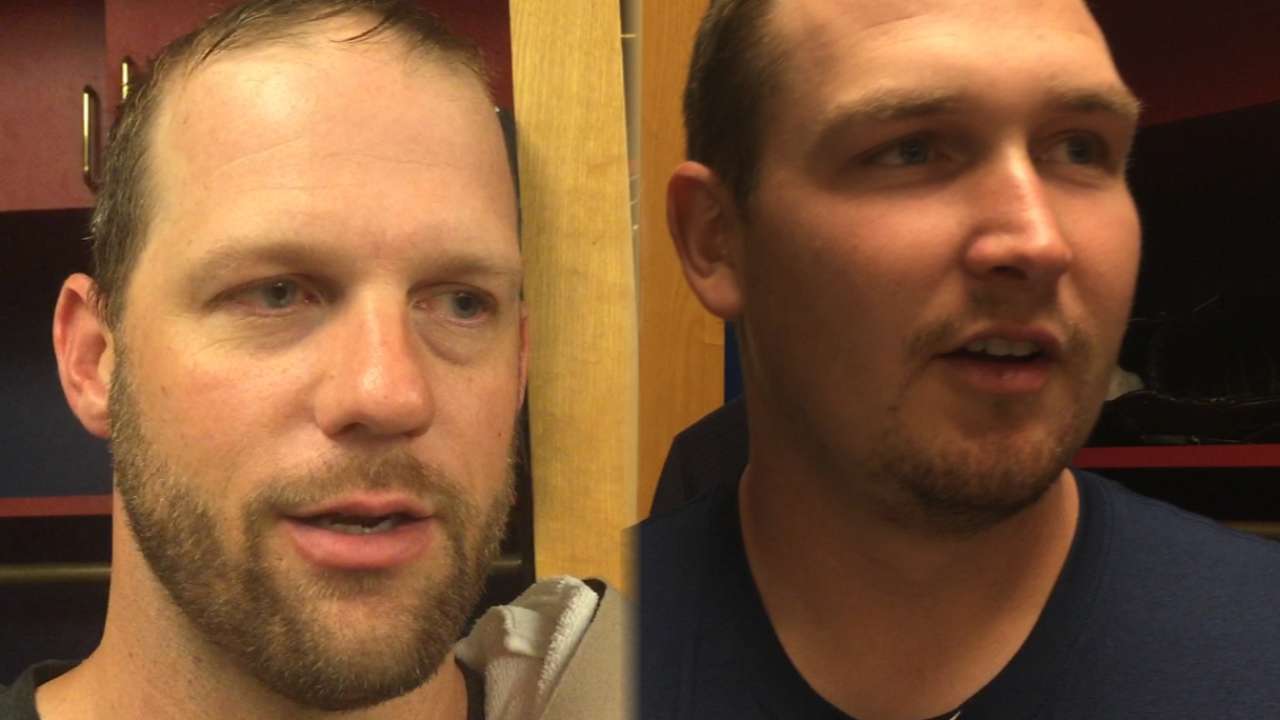 LAKE BUENA VISTA, Fla. -- Though he is more than 10 years older than three other members of Atlanta's starting rotation, Braves left-hander Eric Stults had reason to feel genuine gratitude on Friday, when he was informed he had earned a spot on Atlanta's Opening Day roster.
"It's a great feeling," Stults said. "Whether you know you're on the team or you're fighting for a spot, any time you're told you've made an Opening Day roster, it's a great feeling. It's something you never take for granted."
Stults made his Major League debut for the Dodgers during the latter part of the 2006 season and pitched sparingly at the big league level each of the next three years. The 35-year-old southpaw spent the '10 season pitching in Japan and then spent much of the next two years back in the United States at the Minor League level.
Since pitching well for the Padres during the second half of the 2012 season, Stults has stayed in the Major Leagues. Still, there was reason for him to be joyful on Friday, when he learned he will be part of an Opening Day roster for just the fourth time in his career.
When Stults signed a Minor League deal with the Braves, he was projected to battle Mike Foltynewicz for the fifth spot in Atlanta's rotation. Mike Minor's lingering left shoulder discomfort created two rotation voids. But as Wandy Rodriguez pitched effectively through the early portion of the Grapefruit League season, Stults found himself in the midst of a roster battle.
Stults ultimately won this battle as Foltynewicz showed he needs more Minor League seasoning, and Rodriguez was doomed by his recent medical history. Rodriguez was released on Friday, approximately 12 hours after the Braves had acquired Trevor Cahill, a more durable pitcher who will team with Stults to fill the final two spots in Atlanta's rotation.
Stults will serve as the starting pitcher for Atlanta's home opener against the Mets on Friday night. He surrendered just one run over five innings against a group of Orioles prospects on Saturday to end the Grapefruit League season with a stellar 1.88 ERA.
Mark Bowman is a reporter for MLB.com. This story was not subject to the approval of Major League Baseball or its clubs.