Hudson handles A's as Giants cap spring with Bay Bridge Series win
Veteran righty goes five scoreless in final tuneup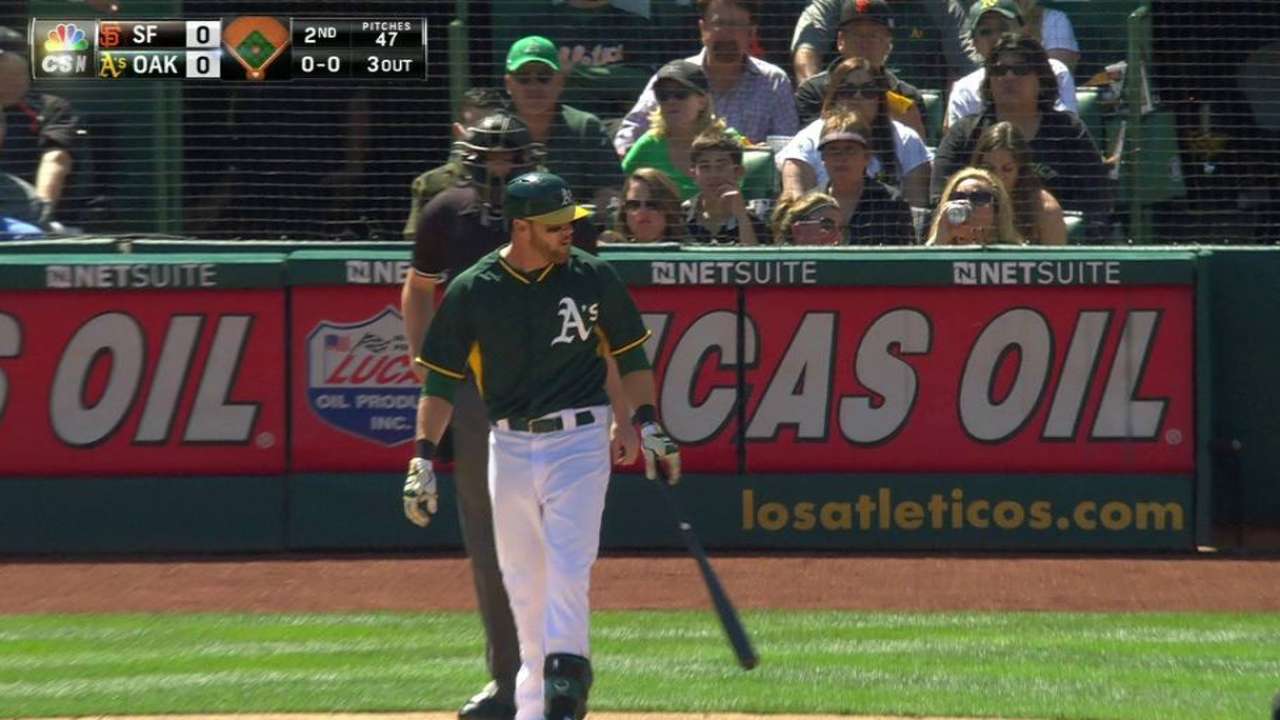 OAKLAND -- Giants right-hander Tim Hudson fired five scoreless innings in his final tuneup against his former A's team, allowing four hits in a 2-1 win at the Coliseum on Saturday afternoon.
"I can't complain about the results," Hudson said after his outing. "It was five shutout innings -- a nice confidence-builder going into the season. I feel good about it."
Another member of "The Big Three" also made an appearance. Lefty Barry Zito, who once helped form the trio of former A's aces with Hudson and Mark Mulder, pitched a scoreless sixth inning in his return to Oakland. It marked his first time pitching in green and gold at the Coliseum since 2006.
"That was kind of cool," Hudson said. "All we needed was Mulder to go down to the bullpen, warm up and come in after him. That would have been the topper."
Outfielder Justin Maxwell doubled and brought home a run in the fourth for the Giants, who also scored on a Drew Pomeranz balk in the inning.
Pomeranz made it through five innings in his final spring start, allowing two runs and five hits with two walks and three strikeouts. He'll make his regular-season debut on Friday against the visiting Mariners.
Brett Lawrie got the A's on the board in the sixth with a sacrifice fly off Yusmeiro Petit.
After the game, Giants manager Bruce Bochy said the team would likely wait until Sunday to announce its final roster.
"We're going to hold off and keep discussing a couple things," Bochy said.
Up Next: The Giants will open their World Series title defense on Monday when they travel to Arizona for a 6:40 p.m. PT first pitch against the Diamondbacks. Madison Bumgarner will get the start for San Francisco, about five months after he finished off Game 7 of the World Series against Kansas City.
Jane Lee is a reporter for MLB.com. This story was not subject to the approval of Major League Baseball or its clubs.