Leitner astonished by Padres' transformation
Radio play-by-play voice thrilled for Black's opportunity to work with revamped roster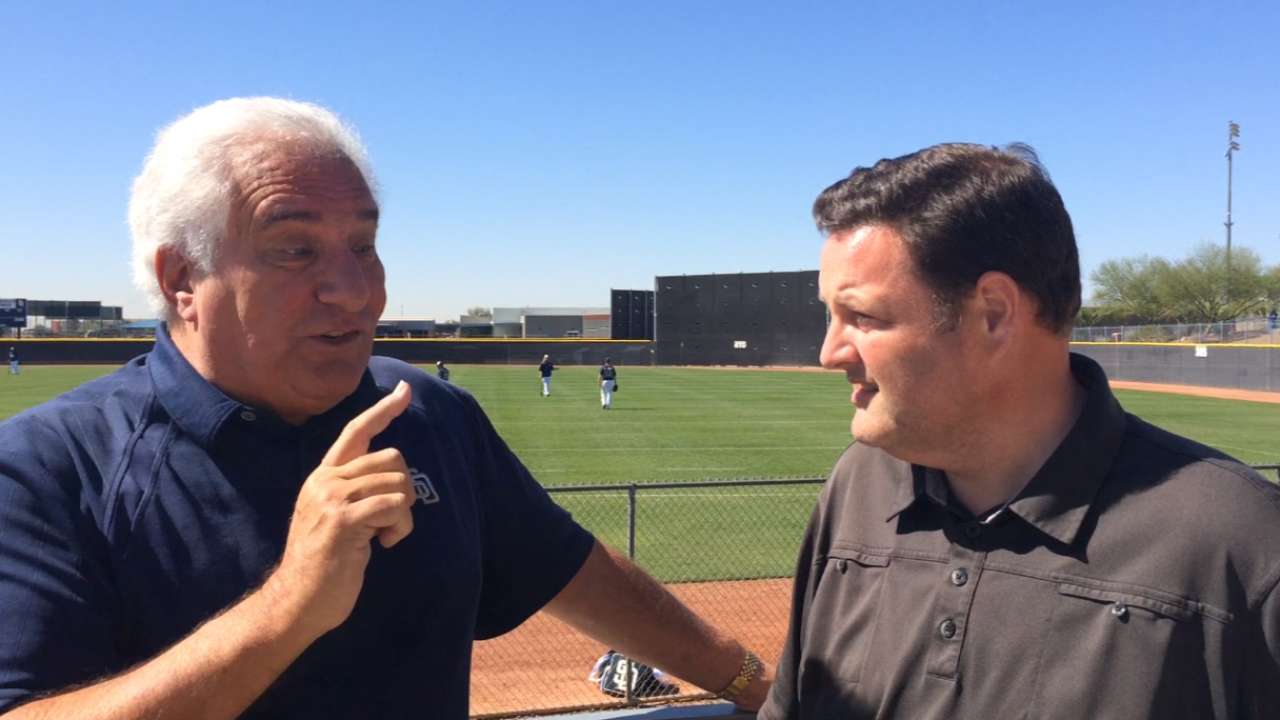 PEORIA, Ariz. -- If there's anyone who has seen and heard it all when it comes to Padres baseball, it's longtime broadcaster Ted Leitner.
Leitner, play-by-play radio voice of the team, is set to enter his 35th season behind the microphone, as he'll call games again for the Padres' flagship, AM 1090.
Leitner spoke with MLB.com from the team's Spring Training facility in Arizona, addressing the upcoming season, manager Bud Black and what his former broadcast partner, the late Jerry Coleman, would make of this revamped Padres roster.
MLB.com: You have so much history with this team, Ted. As you're sitting back this offseason and watching what general manager A.J. Preller did with this team in the offseason, what's going through your mind?
Leitner: You look around here [the Spring Training facility in Peoria], and they first renovated the clubhouse [in 2014], then the ballpark here [in 2015] and now they have renovated the ballclub. I've never seen a transformation like this before. I'm not sure it's ever happened that way -- a transformation this great. It's unbelievable. And doing it all with trades and not giving up your top pitching, I never thought, in my lifetime, that they would get this good this fast.
MLB.com: For you, knowing manager Bud Black as well as you do, is there some sense of satisfaction there, that you're happy for him and that's he's been given something to work with?
Leitner: Absolutely. I do the manager's report each day, and for me to go in there each day in the bad times, when they don't have hitting, when they're hitting .170 in June, and I'm looking at the other team's lineup card and see what they have? Now to see what the Padres have, their three, four, five, six guys in the lineup who come with a track record. I'm excited for him. He deserves this.
MLB.com: It's been a little over a year since Jerry Coleman has been gone. What would he make of these new faces out here -- James Shields, Matt Kemp, Justin Upton. Jerry would love this, wouldn't he?
Leitner: Jerry always did this, he'd walked into the clubhouse and say, 'I don't know these guys.' He was partially teasing and partially not teasing. He was not good with names. But if he was to come in with these names, he'd do the same thing. But I'd remind him that he'd seen these guys. He would be very excited.
Corey Brock is a reporter for MLB.com. Keep track of @FollowThePadres on Twitter. This story was not subject to the approval of Major League Baseball or its clubs.