Johnson thrilled to officially be back with Braves
Utlity man earns spot on bench after strong spring
LAKE BUENA VISTA, Fla. -- Kelly Johnson has grown to the point that he no longer wants to be regarded as one of the Baby Braves -- the cast of rookies that helped Atlanta win the last of its 14 consecutive division titles in 2005.
But Johnson was certainly thrilled earlier this week when he was informed he has officially rejoined the Braves. The 33-year-old utility man earned a spot on Atlanta's bench while producing an impressive Grapefruit League season as a non-roster invitee.
"My wife has always said that she thought I could come back at some point," Johnson said. "Obviously it worked out and I had to earn it. But it was extremely exciting when they called and gave me an opportunity. [Manager Fredi Gonzalez] said they would give me a chance to play and that they would find a spot for me."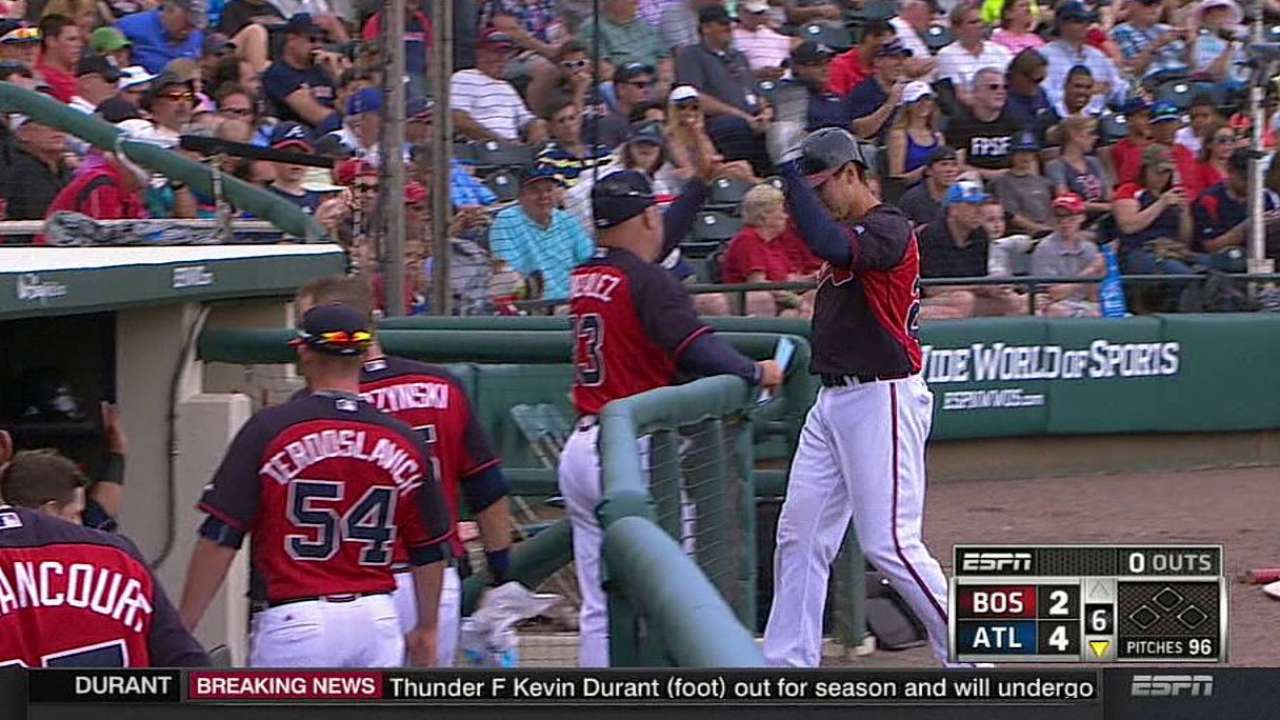 Coming off a season during which he batted .215 with a .659 OPS while playing for the Yankees, Red Sox and Orioles, Johnson seemed to be in trouble when he recorded just two hits in his first 19 at-bats of the Grapefruit League season. But while notching 14 hits, including four doubles and two home runs, in the 33 at-bats that followed, he gave the Braves confidence that he could provide value to their bench.
Along with serving as a left-handed pinch-hit option and versatile defensive option, Johnson could get regular at-bats in left field on days when the Braves do not want Jonny Gomes facing a right-handed starting pitcher.
"It's going to be fun," Johnson said. "After last year, not having to pack up a house and move around, it's cool. I'm excited to be back with this group that has a chance to win and surprise some people."
Johnson batted .264 with a .777 OPS while playing for the Braves from 2005-09. He originally joined Atlanta's organization as a first-round Draft selection in 2000.
Mark Bowman is a reporter for MLB.com. This story was not subject to the approval of Major League Baseball or its clubs.