Brewers place Henderson on DL with right shoulder inflammation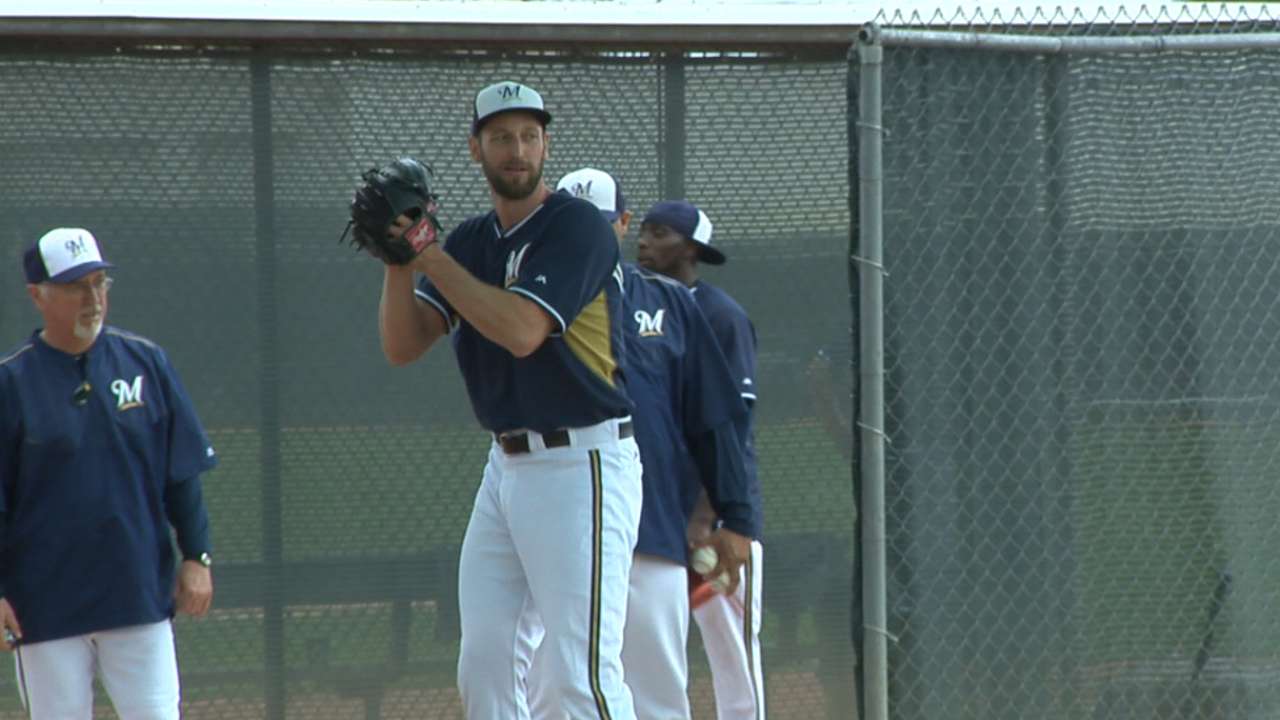 The Brewers placed reliever Jim Henderson on the 15-day disabled list Saturday with right shoulder inflammation and formally set a 25-man roster for Opening Day.
The DL move did not represent any sort of setback for Henderson, who had shoulder surgery last August and has been working through periodic discomfort this spring while attempting to regain lost velocity. He has been pitching in Minor League games -- in an outing Thursday, Henderson retired all six batters he faced on fewer than 15 total pitches -- and will continue to pitch for now in extended Spring Training.
"There were a couple of glimmers in there of hope [during Thursday's outing]," assistant GM Gord Ash said. "He agreed with that, so we're going to start on the DL, leave him here and let him pitch here and then hopefully by the middle of April, get him out on an injury rehab. I hope he's that close. We've left it up to him to kind of tell us when he thinks he's ready."
"He likes the progression," Brewers manager Ron Roenicke added. "He's just not at the point where he feels like he can start out with somebody."
"Comfort" may dictate Henderson's readiness more than velocity, Ash suggested. Henderson regularly touched 97-98 mph during his successful stint as Brewers closer in 2013, but has been pitching this spring in the 88-90 mph range.
"I don't think you're going to, in the short term, see what we saw in the past," Ash said. "His best pitch the other day was his last pitch -- it was 91. I don't think anyone can predict it, but he's hopeful, we're hopeful. We'll see what happens."
One factor fueling that hope is Henderson's history. When he signed with the Brewers in 2009 and went to Class A Wisconsin to be a 26-year-old closer on a team stocked with 19- and 20-year-olds, Henderson's fastball set in the 90 mph range. By midseason at advanced Class A Brevard County, it was up to 95 mph.
Because they placed him on the big league DL instead of optioning him to the Minors, Henderson will draw his $512,000 salary at the start of the season.
With Henderson's status settled, the Brewers released this Opening Day roster on Saturday:
Starting pitchers: Kyle Lohse, Matt Garza, Wily Peralta, Mike Fiers. Jimmy Nelson
Relief pitchers: Closer Francisco Rodriguez, Jonathan Broxton, Will Smith, Jeremy Jeffress, Neal Cotts, Tyler Thornburg, Michael Blazek.
Catchers: Jonathan Lucroy, Martin Maldonado.
Infield: First baseman Adam Lind, second baseman Scooter Gennett, third baseman Aramis Ramirez, shortstop Jean Segura, reserves Hector Gomez and Luis Jimenez.
Outfield: Left fielder Khris Davis, center fielder Carlos Gomez, right fielder Ryan Braun, reserves Gerardo Parra and Logan Schafer.
For Blazek, Nelson, Gomez and Jimenez, it will be their first Major League Opening Day.
Adam McCalvy is a reporter for MLB.com. Follow him on Twitter at @AdamMcCalvy. This story was not subject to the approval of Major League Baseball or its clubs.