Blue Jays' bats come alive in exhibition finale in Montreal
Donaldson hits sixth spring homer; Norris tosses three scoreless innings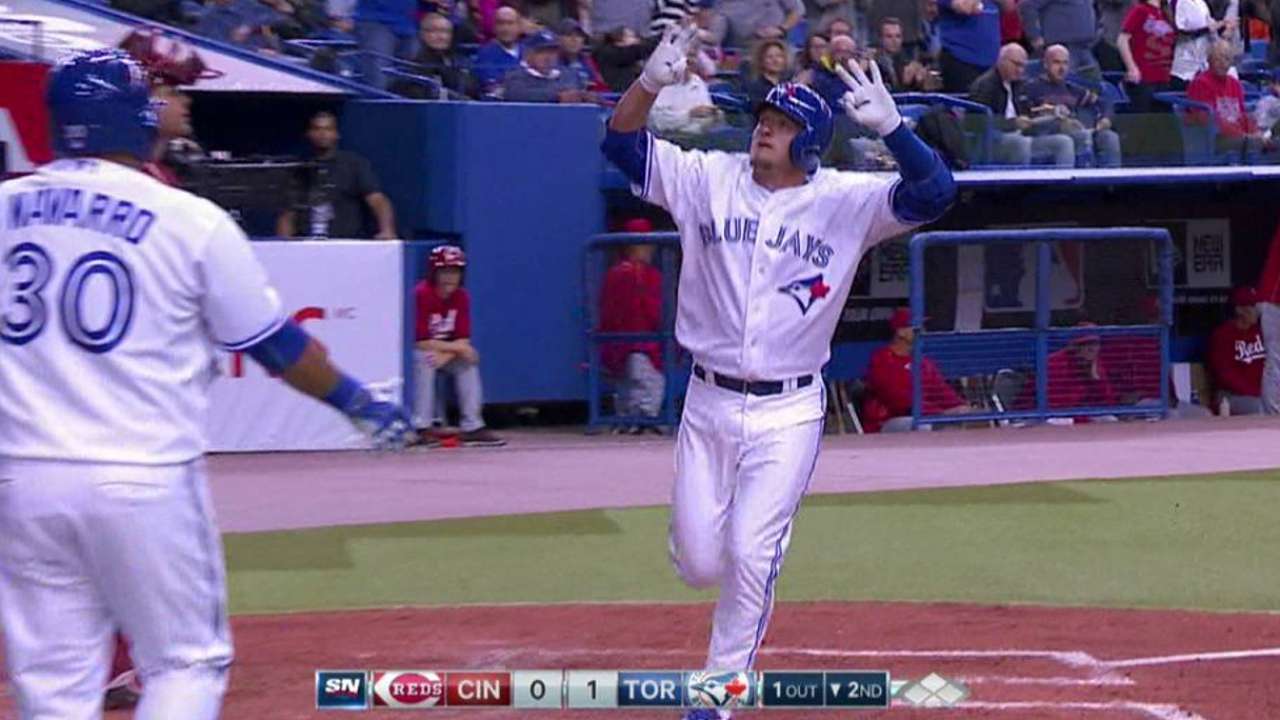 MONTREAL -- The Toronto Blue Jays gave Montreal fans starved for Major League Baseball plenty to cheer about Saturday to wrap up another pair of wildly successful exhibition games at Olympic Stadium.
Josh Donaldson hit his sixth homer of the spring and drove in two runs, and Daniel Norris got his fourth win in Toronto's 9-1 victory over the Cincinnati Reds before an enthusiastic crowd of 50,231 at the former home of the Montreal Expos.
Donaldson went 2-for-3, including a one-out drive over the center-field wall off Reds starter Anthony DeSclafani (1-2) in the second inning. The Toronto third baseman added a run-scoring single in the fifth off Chris Carpenter, who also gave up Dioner Navarro's RBI double that put the Blue Jays up 6-0.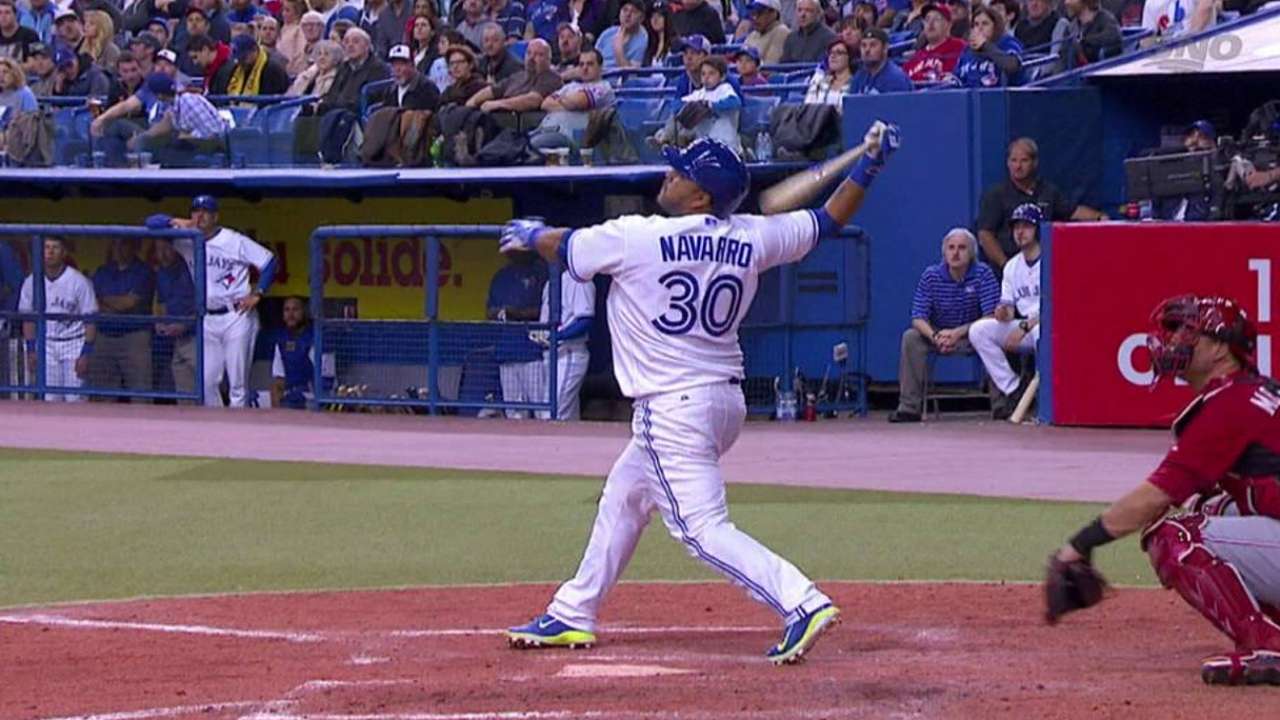 Navarro and second baseman Devon Travis also had two hits each as Toronto rapped out 15 hits in the final preseason game for both teams.
Montreal mayor Denis Coderre, who was wearing a red, white and blue Expos cap, led the cheers as the crowd gave itself a standing ovation when attendance was announced in the eighth inning.
"It's showing that Montreal has a passion for baseball and baseball's alive in Montreal," Blue Jays catcher Russell Martin said. "I think the city is hungry for a baseball team. It's just a matter of time until it happens."
Martin, who spent part of his childhood in Montreal, was cheered throughout both games, and got one more standing ovation when Sean Ochinko took over behind the plate to begin the seventh inning. He walked off the mound with his father, Russell Martin Sr., who performed both national anthems on his saxophone Friday night.
"It was one of those moments where -- already the weekend's been fantastic, the big moment with the national anthem and just being in Montreal and my dream coming to life, really, and then my dad shows up on the field out of nowhere," Martin said. "It was a pretty cool moment."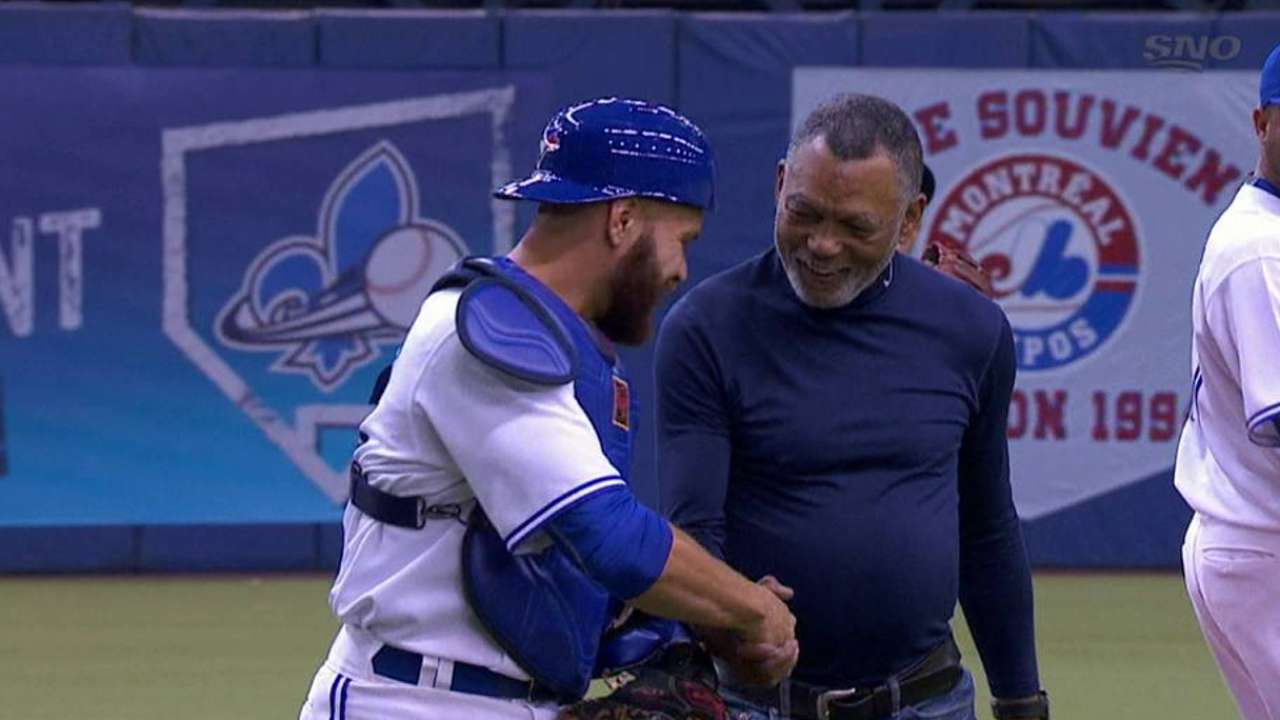 A total of 96,545 took in the two-game series hosted by the Blue Jays, a slight increase from Toronto's two games against the New York Mets last year. That series drew a combined total of 96,350 for the first Major League Baseball games in the predominantly French-speaking city since its National League franchise moved to Washington, D.C. after the 2004 season.
"We loved it," Blue Jays manager John Gibbons said. "We realy enjoyed it last year and I think everyone was looking forward to coming back. They put on a great show for us. And the games are worthwile because it's a lot like the season. Big crowds. You get out of that hot sun in Florida and play some night games. So I thought it was a big success and we appreciated it all."
Norris (4-0) lowered his ERA to 2.93 with three shutout innings in his seventh start. He allowed one hit, three walks, and struck out one.
Five Blue Jays relievers combined to allow one hit over the next five innings before Taylor Cole allowed an RBI single to Bryson Smith with two outs in the ninth.
"This was great, just getting out here in front of a huge crowd," Norris said. "It's a really cool experience. It's a good tuneup for what's to come, not only that but being a part of what Russell had in store that was pretty special for him and for his pops to be out there, I think that was really neat."
Jose Bautista hit an RBI double after Martin walked to lead off the fourth, but was thrown out at third by Cincinnati catcher Devin Mesoraco when he tried to advance on second baseman Brandon Phillips' relay throw to the plate.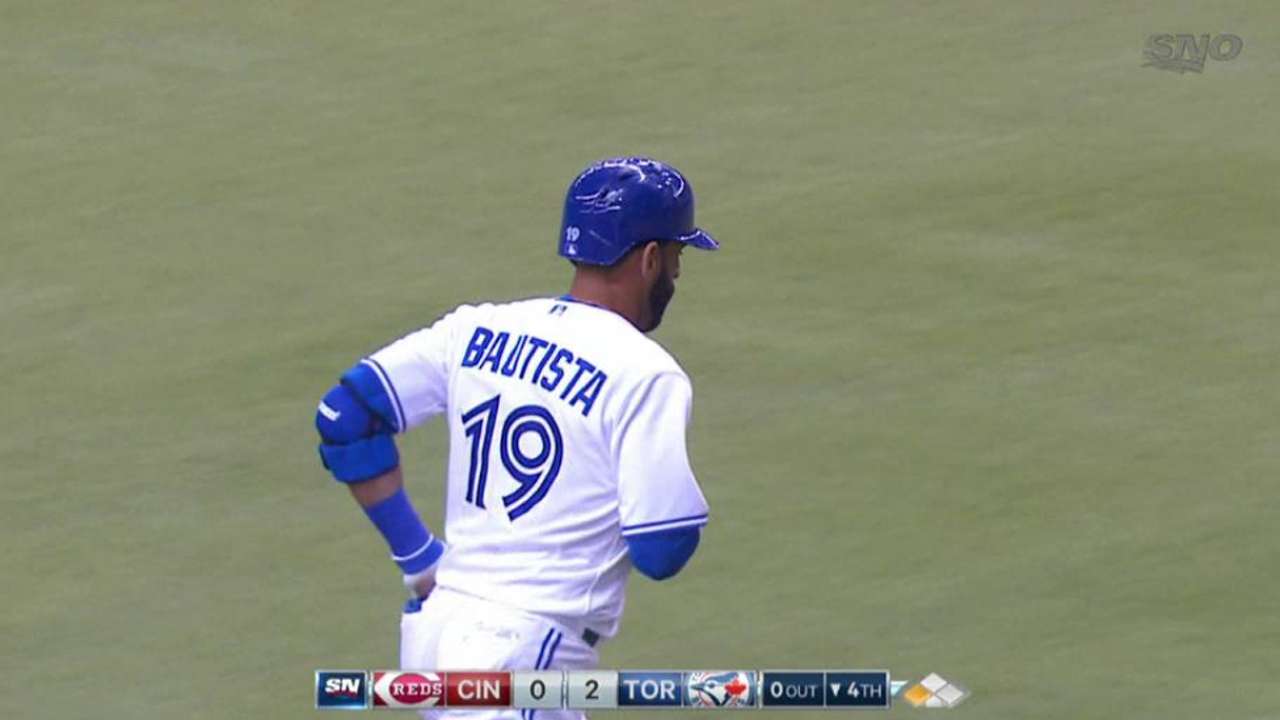 Gibbons feels that Toronto's 19-13 spring training record addressed some concerns.
"We answered some questions," Gibbons said. "We've got some good youngsters who are going to fill some holes for us. We've got our veteran guys who've done it year after year. Going in, you're always optimistic, but there was a lot of question marks this year and we didn't know if we'd be able to fill them and a lot of guys have stepped up and we feel really good. Now the test, where it counts. It's a little bit different, but we feel they can all handle it."
DeSclafani (1-2) allowed three hits and two runs in four innings. He struck out three and walked two. Toronto scored four runs in the fifth, including RBI singles by Jose Reyes and Edwin Encarnacion off Kevin Gregg, who allowed four hits and four runs while getting two outs when Martin grounded into a double play.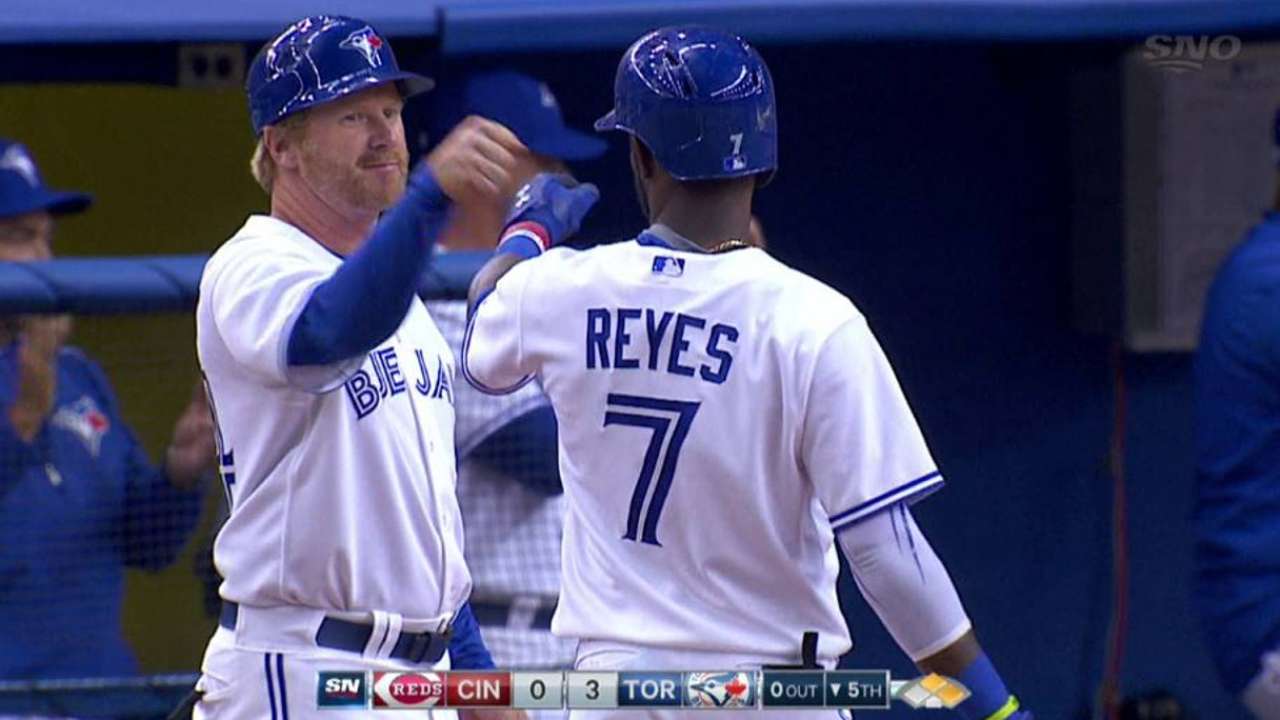 Steve Tolleson hit an RBI double off Reds reliever Manny Parra as the Blue Jays added three more runs in the sixth. Parra, who retired two, gave up three runs and five hits, including run-scoring singles by Justin Smoak and Danny Valencia.
"We certainly gave them a lot to cheer about today (Saturday); that part I didn't like," Reds manager Bryan Price said. "I liked it when it was a lot more quiet yesterday (Friday), but it was neat. I'm sure it was neat for the fans. It looks like they're hungry for having a team back here in Montreal."
Price is grateful to end Spring Training with a relatively healthy lineup compared to last year.
"You never want to play games like that, however it seemed to tell me that it's time to get the season started," Price said. "The pitchers are all stretched out and ready to go, the starters, the bullpen guys are ready to go and the lineup is healthy, as are the bench players, so we'll start season at very close to 100 percent."
Cincinnati's Chad Wallach was given a warm ovation before he struck out for the second out of the eighth when he was introduced to the crowd as the son of longtime Expos third baseman Tim Wallach.
"That was a little bit of a surprise, but it was pretty awesome," said Wallach, who replaced Joey Votto at first base in the sixth. "That just really showed me how popular my dad was here, just to get that kind of ovation. I know it was because of my dad, but I just really appreciated it."
Up next: The Blue Jays open the regular season on Monday at 1:05 p.m. ET against the New York Yankees at Yankee Stadium. Drew Hutchison makes the start for the Blue Jays, and will be opposed by Masahiro Tanaka on MLB.TV. It will be Hutchison's first career Opening Day start.
Sean Farrell is a contributor for MLB.com This story was not subject to the approval of Major League Baseball or its clubs.