Krol's return to Tigers' bullpen especially sweet
Reliever worked hard this spring to improve offspeed pitch, reduce walks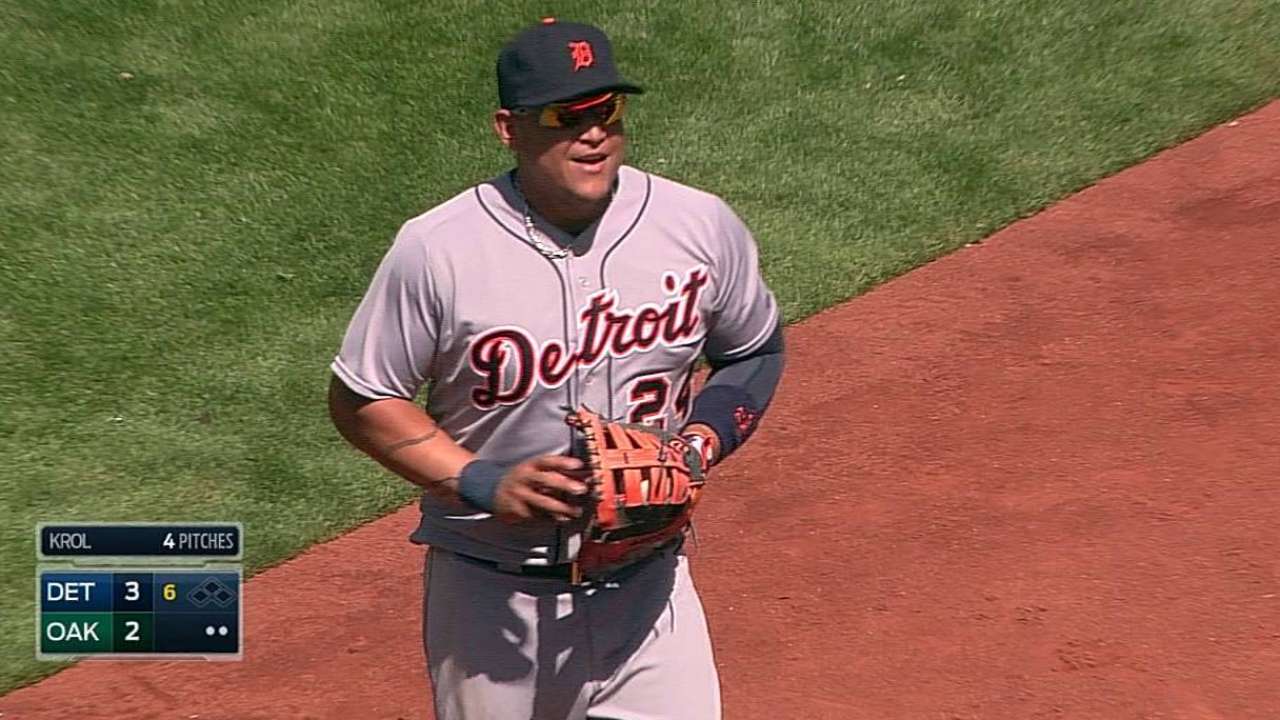 ST. PETERSBURG -- Ian Krol reclaimed his spot in the Tigers' bullpen this spring. For him, it was bigger than when he won the job in the first place.
"It's definitely a lot more rewarding this year than it was to last year," Krol said, "because last year I kind of had it a little easier. I have worked hard. I believe I deserve to be in this position.
"That's the main reason I'm so happy about the decision that they've made: I did work my butt off," he said. "I did everything I possibly could do. Like I said, I put myself in the right position, which I had to do all the right things [to do]. It's definitely great to see how hard work pays off. It's just one of those clichés: Hard work does pay off."
He didn't have to prove himself so much as he had to prove he had changed a bit. It was the product of an offseason and spring of working harder than he ever had before, to show how badly he wanted it.
In the end, even after the Tigers' offseason signing of Tom Gorzelanny, Krol looked like the best lefty in the bunch. While Gorzelanny spent the second half of camp stretching out to cover potential long relief situations, Krol kept getting shorter, more specialized work.
Krol delivered come decision time. His fastball hit 96-97 mph all spring. His cutter became a viable weapon. His curveball became a pitch he could throw in any count with confidence.
Statistically, Krol allowed four runs on nine hits over 9 2/3 innings. About half that damage came in his second outing of the spring, after which he allowed two runs on five hits over his final 7 2/3 innings with four walks and 12 strikeouts.
"We talked at the beginning of Spring Training about the things I needed to work on," Krol said. "It was not slowing my arm down and my body down on my offspeed, throw my offspeed for strikes, and not walking as many people. I feel like the walks cut down later in the spring. I threw a lot more offspeed for strikes. I'm still trying to get a grasp on finding a happy medium between slowing my body down and not.
"I feel like I improved on all three of those this spring. I paid attention to detail. I feel pretty good about where I'm at right now."
Now comes the challenge of carrying it forward. After spending all offseason strengthening his shoulder to prepare for a heavy workload, his work turns to maintenance. After all, it was a mid-June stint on the disabled list with what was called shoulder fatigue that derailed last season for him.
If Krol can stay healthy, the effectiveness should take care of itself.
"I want to have a good season. I've never been able to sprint to the finish line," he said. "I've always been a guy to start the season off really strong, show good numbers, but kind of fade out and not keep up those numbers throughout the season. It's definitely something for me to prove, having a good year and being a valuable piece in the bullpen. I do believe I can do that, and I do believe I can be that guy. I have confidence in myself."
Jason Beck is a reporter for MLB.com. Read Beck's Blog and follow him on Twitter @beckjason. This story was not subject to the approval of Major League Baseball or its clubs.