Hart drives Bucs' offense in final spring game
First baseman hits two-run double in sixth; Morton struggles in loss to Phils
PHILADELPHIA -- Last year, Phillies pitcher David Buchanan was scheduled to pitch this game, the last tuneup of the exhibition season at Citizen's Bank Park. But he never got to the mound; the game was rained out, and Buchanan found himself headed to the Minors instead as the Opening Day starter for Lehigh Valley. This year, he not only made it to the mound, he turned in five strong innings that soldified his presence in the starting rotation in a 6-4 Phillies win Saturday over the Pirates.
"I remember just being so excited to pitch -- and then it never happened," Buchanan said. "That's just part of it."
Saturday, Buchanan pitched five scoreless innings, allowing two hits and two walks and striking out four. He finished 3-0 this spring with a 1.29 ERA.
"Overall, I'm pretty pleased," he said. "My curveball was successful this spring; I've had good command and been consistent in the strike zone. Walking guys gets on my nerves, and I'm still trying to avoid that.
"I wouldn't say I feel secure; I'm comfortable that I can have success at this level, but I'm never going to be content. I think that goes for all of us on this team. We're hungry. We want to go out and prove people wrong."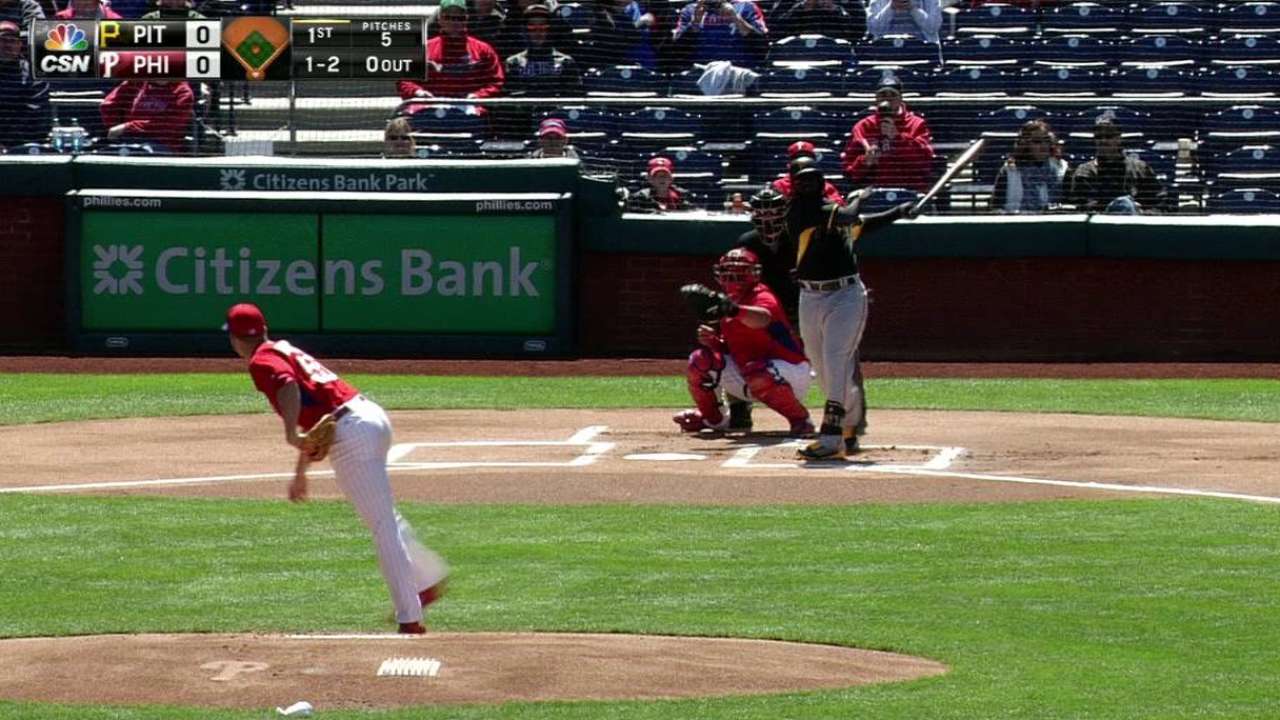 The Phillies announced that Buchanan will be the third starter behind Cole Hamels and Aaron Harang. Jerome Williams is the fourth starter.
"The experience he gained last year has really shown," Phils manager Ryne Sandberg said. "All the way through the spring, he's had a really confident feel for what he wants to do and what kind of pitcher he is. He's done very well."
The Phillies got a boost from the start as Pirates starter Charlie Morton showed he's not all the way back from offseason hip surgery. After the game, the Pirates placed him on the disabled list; Morton will head to Florida and pitch in extended Spring Training.
"What you saw was a guy battling without being physically able to do his best," Pirates manager Clint Hurdle said. "His arm feels fine. He's been able to compete, and we're optimistic. But he just didn't look right."
While the Pirates' final roster isn't set, Hurdle announced that Vance Worley would take Morton's spot on the rotation.
Ben Revere singled to lead off the game and stole second. Morton moved Revere to third with a wild pitch as he was in the process of walking Odubel Herrera, and that was when things went sideways. Morton threw a pitch behind Chase Utley and another at Utley's ankles that the second baseman hopped over. Morton steered a pitch over the plate that Utley drilled to center for a single that put the Phillies up 2-0. Then Morton hit Ryan Howard, walked Carlos Ruiz to load the bases, hit Grady Sizemore and walked Cody Ashche before getting out of the inning thanks to a double-play grounder by Buchanan.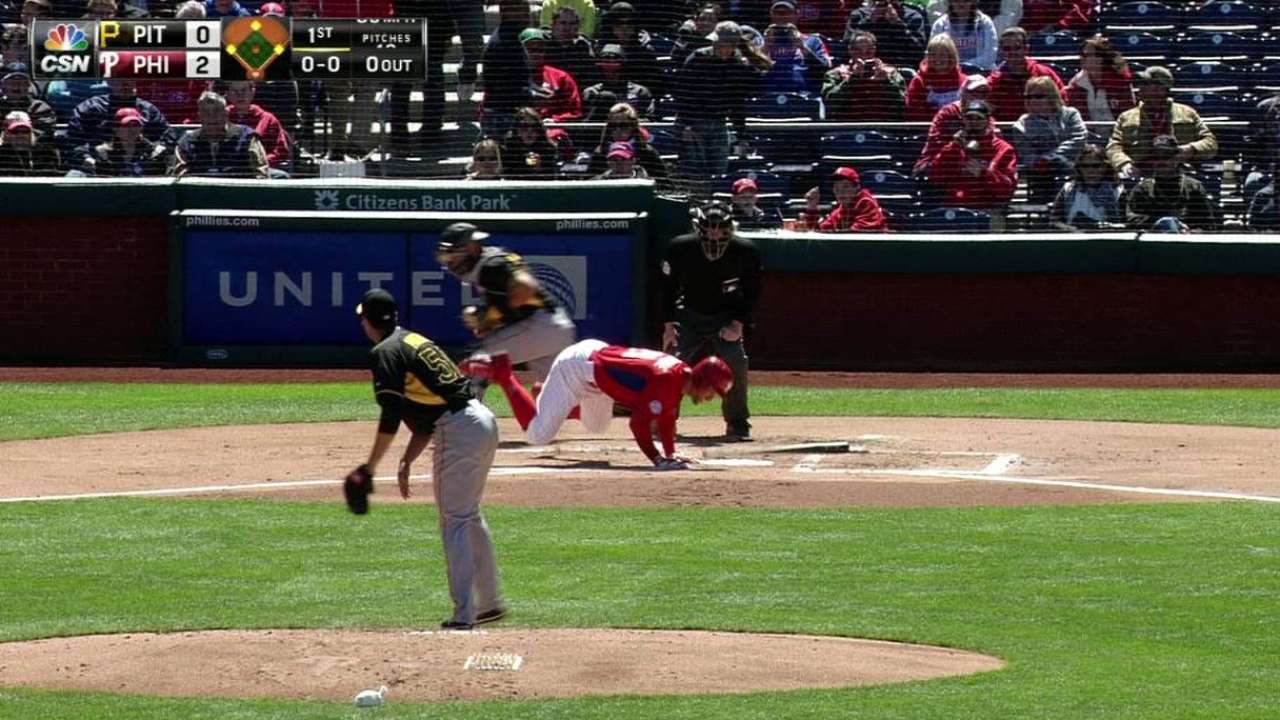 But Morton opened the second by walking Revere and allowing a single to Herrera. Ryan Howard grounded to first, but Pedro Alvarez, trying for the force at second, made a poor throw that Jordy Mercer couldn't handle. Herrera and Howard were safe, and Revere scored on the throwing error. Carlos Ruiz followed with a single that scored Herrera. A walk to Cody Asche finally brought Hurdle from the dugout and ended Morton's day.
Morton allowed four hits, five walks and hit two batters in 1 2/3 innings, throwing just 31 strikes in 70 pitches.
The Pirates got two runs in the sixth on Corey Hart's double off Ken Giles, scoring Andrew Lambo and Keon Broxton. In the seventh, the Pirates added two more runs off Seth Rosin, as Broxton singled to score Josh Bell and Eric Wood.
Up Next: Both teams are off Sunday. The Pirates travel to Cincinnati and will open the season Monday with Francisco Liriano on the mound against the Reds' Johnny Cueto. It's the second straight Opening Day start for Liriano (he also started Opening Day 2009, with the Twins). The Phillies will open at home aghainst Boston, with Cole Hamels on the mound against Clay Buchholz.
Kevin Roberts is a reporter for MLB.com. This story was not subject to the approval of Major League Baseball or its clubs.