Phillips finally gets his chance to play in Montreal
Second baseman drafted by Montreal in 1999 before trade to Cleveland in 2002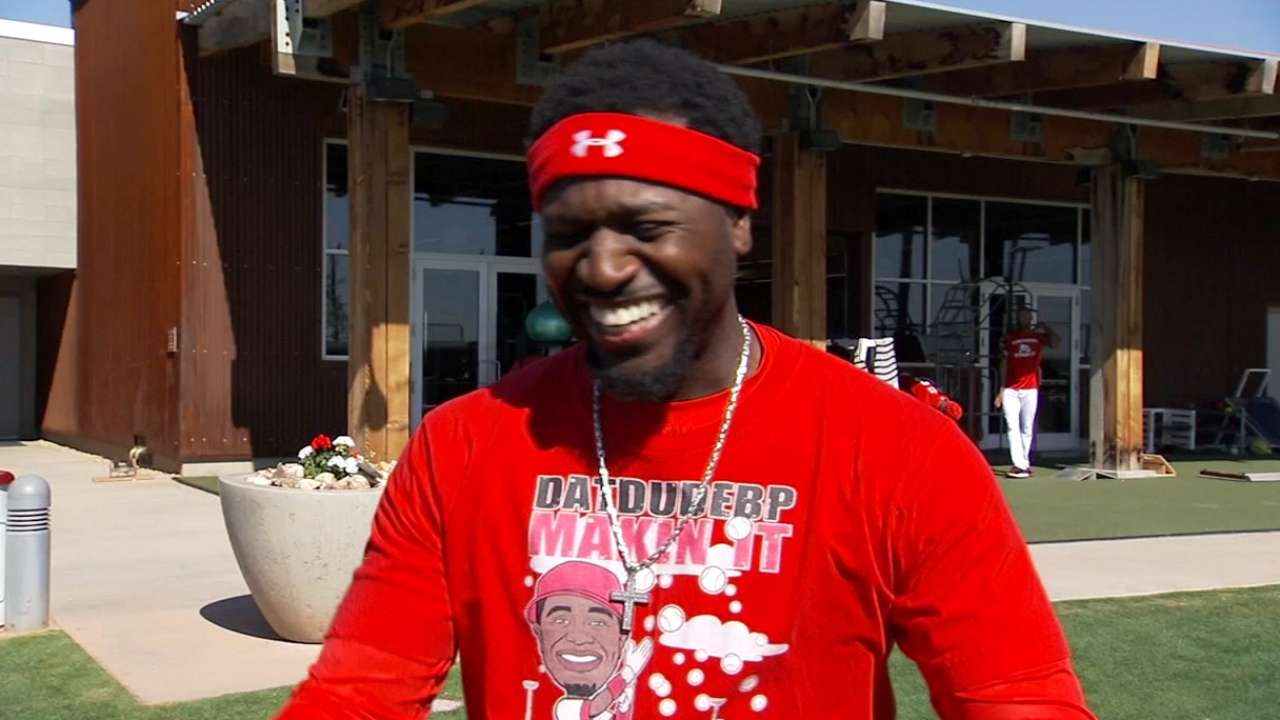 MONTREAL -- More than 12 years after making his Major League Baseball debut, Cincinnati Reds second baseman Brandon Phillips has finally made it to Olympic Stadium.
Selected by the Montreal Expos in the second round of the 1999 First-Year Player Draft, Phillips was one of the ill-fated National League team's most promising prospects as he worked his way up through the organization's Minor League system. With his sights fixed on making it to the Majors in Montreal, Phillips saw his ultimate destination veer to Cleveland on June 27, 2002, when he was dealt to the Indians as part of a blockbuster trade that saw the Expos acquire ace right-hander Bartolo Colon.
Phillips made his debut with Cleveland later that year, and established himself as an All-Star in the Majors after he was traded to Cincinnati at the outset of the 2006 season. On Friday, Phillips took the field in Montreal for the first time in the Reds' 2-0 win over the Toronto Blue Jays.
"I don't think it's weird, I think it's a blessing in disguise to finally play in Olympic Stadium," Phillips said before Saturday's game. "It was always a dream come true to really play here, but I thought I was going to be playing here wearing the Expos colors because going through the Minor Leagues through them it was one of the best things ever."
In addition to Phillips, the Expos' Minor League system helped develop Grady Sizemore and 2008 American League Cy Young winner Cliff Lee, who were also traded to Cleveland along with first baseman Lee Stevens in the Colon deal.
"Just going through the organization, it was just crazy how you could just get traded, but you never know what really happens," Phillips said. "I didn't really know how much of a business baseball was back then, I was just playing the game, just playing the game. All I know is, the Indians got three great prospects and the Expos got one great pitcher. I mean, Colon, he was the real deal."
An enthusiastic crowd of 46,314 came out for the first game of the two-game series Friday night. Blue Jays catcher Russell Martin, who spent part of his childhood in Montreal, got a pair of standing ovations and was cheered throughout the game.
Former Expos Vladimir Guerrero and Orlando Cabrera were greeted with warm ovations when they were introduced during pregame ceremonies that included Martin's father performing "The Star Spangled Banner" and "O Canada" on his saxophone. It is the second year the Blue Jays have hosted a pair of games in Montreal, which lost the Expos after the 2004 season, when the franchise was relocated to Washington, D.C.
"Just being back with the Expos back in the day they always used to say that it was just a hockey city, but I really doubt that," Phillips said. "Just seeing how the crowd really was, I mean, it was awesome last [Friday] night. You have the chill bumps just seeing how the crowd was with Vlady and O.C., and also just showing up. Playing in front of a big crowd like that, it would have been nice for me to play here and play in front of a crowd like that. Even if it was a crowd of 3,000, 6,000 people, you know people come to the game when they want to come to the game and it's all about just winning, but it kind of [stinks]."
Phillips has been charmed by the predominantly French-speaking city and its enthusiastic response to the return of Major League Baseball. A total of 96,350 came out to Olympic Stadium last year for Toronto's two-game series against the New York Mets, including 50,229 for the 2014 series finale. Another big crowd was on hand Saturday.
"I love the city. The city's real nice," Phillips said. "It's a great scenery here, I'm not going to lie to you. This city really surprised me. I feel like that baseball should bring it back to Montreal. All you can really do is think about what could have been and what didn't happen, I mean, I'm not mad about the situation. I'm not mad about it because I'm in the Major Leagues. This will be my 11th year and I'm very happy with the success that I've had, but it would have been nice to at least play one game with the Montreal Expos."
Sean Farrell is a contributor for MLB.com. This story was not subject to the approval of Major League Baseball or its clubs.