Maddon, players excited for new-look Wrigley
Billboard outside ballpark features Cubs' top prospect Bryant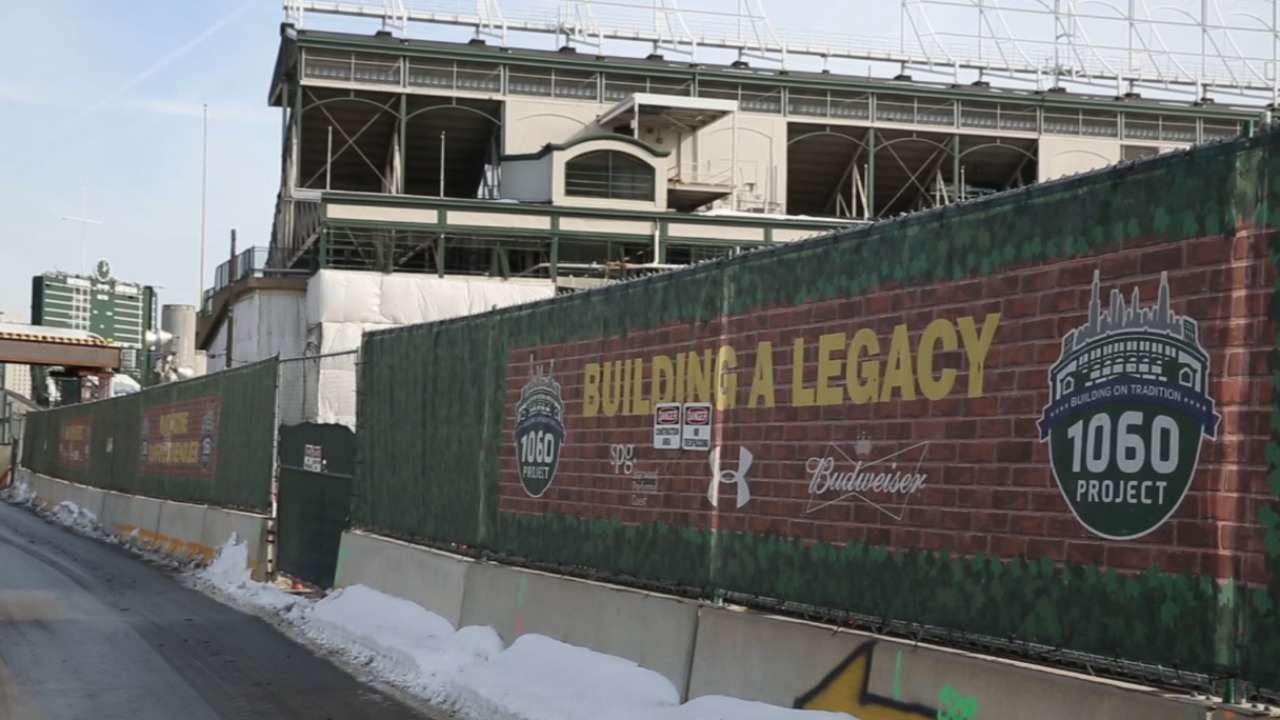 PHOENIX -- The Cubs' players will get their first look at Wrigley Field on Sunday, and many have been following the changes to the ballpark from afar. Manager Joe Maddon has only managed three games there, and that was last year when the Rays played an Interleague series in Chicago.
"The structure is so unique," he said of Wrigley, which celebrated its 100th anniversary last year. "You're walking off the field looking back in, and it's pretty great."
On Thursday night, he was watching the documentary "When It Was A Game," and saw photos of Wrigley without the bleachers. He noticed the sign on one of the left-field buildings advertising "Ricketts" -- which was a restaurant, and had nothing to do with the club's current owners. The sign was believed to be outside the ballpark from the 1930s to 1960.
Back then, there were no bleachers at Wrigley, no lawn chairs on the rooftops, no video scoreboard.
"Somebody had to adjust to that -- there were no bleachers, and they went from no bleachers, to bleachers, to bleacher bums, and now you're going from there to rooftop seating and now no bleachers," he said. "The new norm will take over."
The bleachers are currently under construction as part of the five-year renovation plan, which includes the addition of a new video scoreboard.
"I think [the new scoreboard] will be talked about in the beginning and then it will go away," Maddon said.
What also will be discussed is a new billboard across from the Wrigley marquee at Clark and Addison that features top prospect Kris Bryant. The text on the ad, sponsored by Adidas, says "Worth the Wait." Bryant hit nine home runs and batted .425 in the Cactus League, but was assigned to Minor League camp.
Carrie Muskat is a reporter for MLB.com. She writes a blog, Muskat Ramblings, and you can follow her on Twitter @CarrieMuskat. This story was not subject to the approval of Major League Baseball or its clubs.