Schumaker provides only offense in baseball's return to Montreal
Two-run single in 8th breaks scoreless tie; Marquis tosses five scoreless innings
MONTREAL -- Cincinnati Reds starter Jason Marquis and Toronto Blue Jays catcher Russell Martin each enjoyed a trip back in time at Olympic Stadium.
Marquis combined with four relievers on a four-hit shutout, and Skip Schumaker hit a two-run single in the eighth to lead Cincinnati to a 2-0 win over Toronto on Friday night.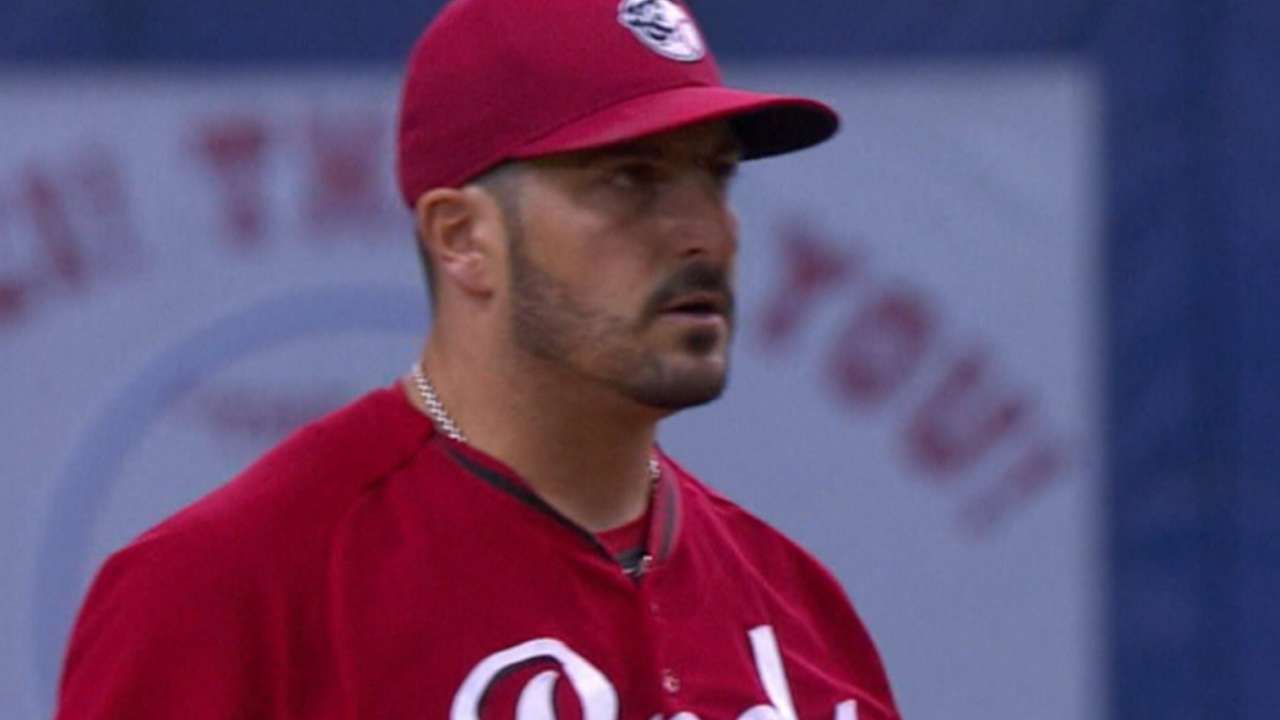 A crowd of 46,314 was on hand for the first of two games between the Reds and Blue Jays at the former home of the Montreal Expos. The city's National League franchise relocated to Washington, D.C. after the 2004 season.
"It was a lot of fun to come out and pitch in front 45-50,000 people," said Marquis, who allowed one hit and struck out three in five scoreless innings. "It brings back good memories playing here in the early 2000s, coming up here with the Braves, and these fans are great. I remember they were great back in the day. It would be nice to see eventually a team get back up here, get a new stadium, and it was always a fun city to come to."
Martin, who spent part of his childhood in Montreal, was cheered throughout the game.
"I was hoping to do something cool, it just turned out that Jason Marquis did something cooler," said Martin, who went hitless in three at-bats.
Marquis went 3-1 in seven spring outings and lowered his ERA to 2.90.
"It was good to get out here and actually have some humidity like we're going to have in Cincinnati so I could see what my pitches are going to do in terms of movement," Marquis said. "It really helped my split. I haven't thrown my split that much in spring training because that dry air doesn't allow you to get the grip you want and it sometimes slips out. So I was excited to throw a little bit more of those in different situations."
Burke Badenhop (1-1) allowed one hit and struck out one while pitching the seventh. Nate Adcock pitched the ninth for his first save.
Blue Jays reliever Aaron Loup (1-1) gave up two runs on two hits in one inning. He struck out two and walked one.
Toronto starter Mark Buehrle allowed three hits in four shutout innings. He had one strikeout and reduced his ERA to 1.93.
"It's good to get out of spring training and play under lights, play a night game," Buehrle said. "It doesn't count, but it means a little bit more. It just kind of gets your engine revved up a little bit and gets you ready for the opening of the season."
Reds pinch-hitter Ray Chang walked with one out in the eighth, and advanced to second on Steve Selsky's infield single.
Both runners advanced on Loup's wild pitch and Schumaker singled to left to drive in both runs.
Toronto's best opportunity came against Badenhop in the seventh. Edwin Encarnacion hit a one-out double down the left-field line. Pinch-runner Jon Berti advanced to third as Josh Donaldson grounded out to Badenhop on a ball topped in front of the plate, but was stranded when Dalton Pompey struck out to end the threat.
"A couple of starters that were really sharp," Reds manager Bryan Price said. "I was really happy with the way Jason threw the ball, a lot of early strikes and a lot of balls in play on the ground, both important parts of his success for sure."
Martin was given a standing ovation when he came to bat in the bottom of the first inning. The 32-year-old veteran, who is entering his 10th season, turned to face the crowd as he tipped his batting helmet before stepping into the batter's box.
"This was a very emotional day in so many ways and so many thoughts go through my mind," Martin said. "Even before the game, I felt like a kid again. I felt like it was the same type of emotions as my first game in the big leagues almost. This is after nine seasons and over 1,000 games, I didn't think that I was ever going to get that feeling again, but I definitely got that feeling again."
He was given another standing ovation when he walked from the mound to the dugout after Dioner Navarro took over behind the plate in the eighth.
"I was overwhelmed," Martin said. "And I know people were talking about it, 'Oh, it's going to be pretty cool, people are going to stand up and cheer for you,' but I definitely wasn't expecting something like this, and I don't think my teammates or anybody was expecting something like this."
Martin's father, Russell Martin Sr., performed "The Star Spangled Banner" and "O Canada" on the saxophone prior to the game, after former Expos Vladimir Guerrero and Orlando Cabrera were introduced to the crowd.
"My dad got me," Martin said. "I was strong for about an anthem and three-quarters, and towards the end he came and got me at the end of the Canadian anthem. Yeah, he got me."
Up next: The Reds will finish this two-game series at Montreal's Olympic Stadium on Saturday at 1:07 p.m. ET, with Anthony DeSclafani getting the start on MLB.TV. It will be the final Spring Training game for both teams before they open the regular season on Monday.
Sean Farrell is a contributor for MLB.com. This story was not subject to the approval of Major League Baseball or its clubs.