MLB.com Columnist
Paul Hagen
Phillies lifers remember Opening Days past
Manuel, once a power threat in Japan, won't soon forget 2009 ceremony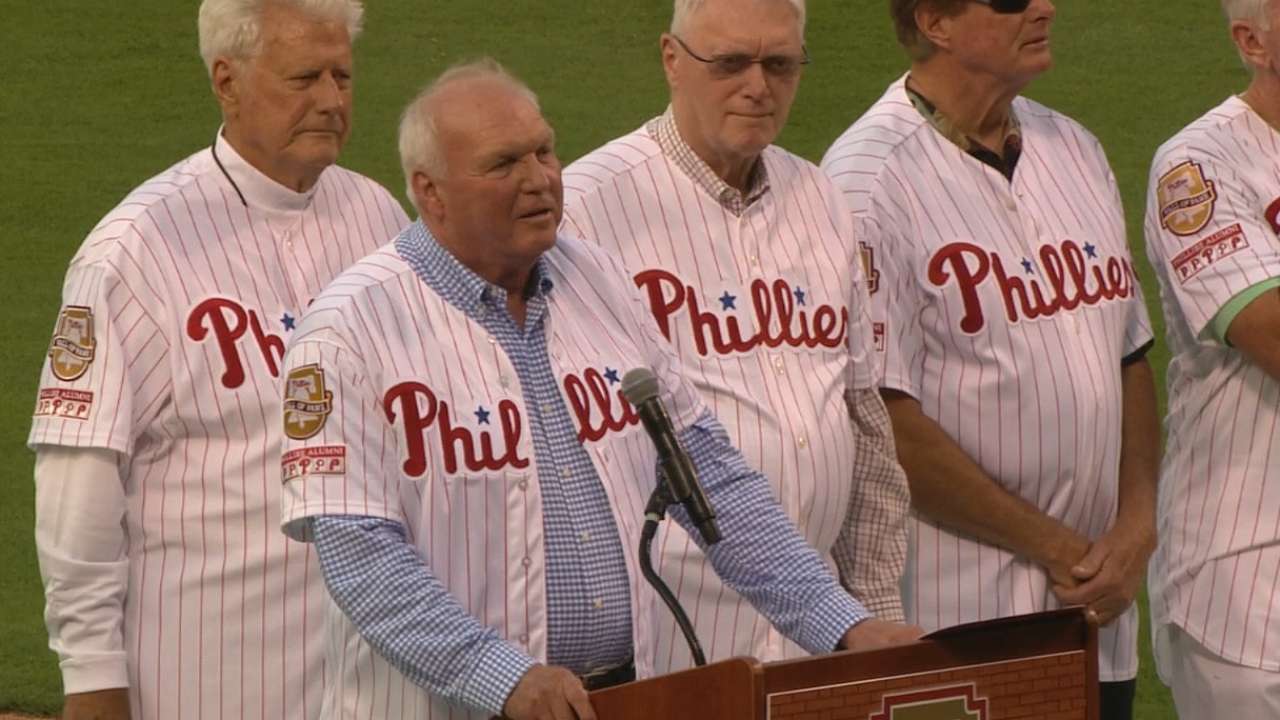 CLEARWATER, Fla. -- Charlie Manuel signed his first professional contract in 1963, and since then, he's had an opportunity to see Opening Day from a variety of angles -- as a player, coach and manager in both the Minor Leagues and the big leagues, and as a scout, consultant and special assistant.
Now a senior advisor, Manuel is one of three former Major League players currently employed by the Phillies with at least 50 years in baseball, along with Dallas Green and Larry Bowa. As the Phillies prepare to embark on the 132nd season in franchise history when they play the Red Sox on Monday at Citizens Bank Park, here are their Opening Day stories:
For Manuel, it all started at Wytheville, Va., the home of the Twins' Class A Appalachian League affiliate. He was 19 years old.
"First time up, I hit a home run that went 318 feet down the left-field line," Manuel remembered. "I swung late on it and it hit right in the corner, cleared it by about six or eight inches, maybe, just inside the pole. A guy named Roger Nelson was pitching. He definitely had the ball by me, but it was short down there and I hit it for a home run."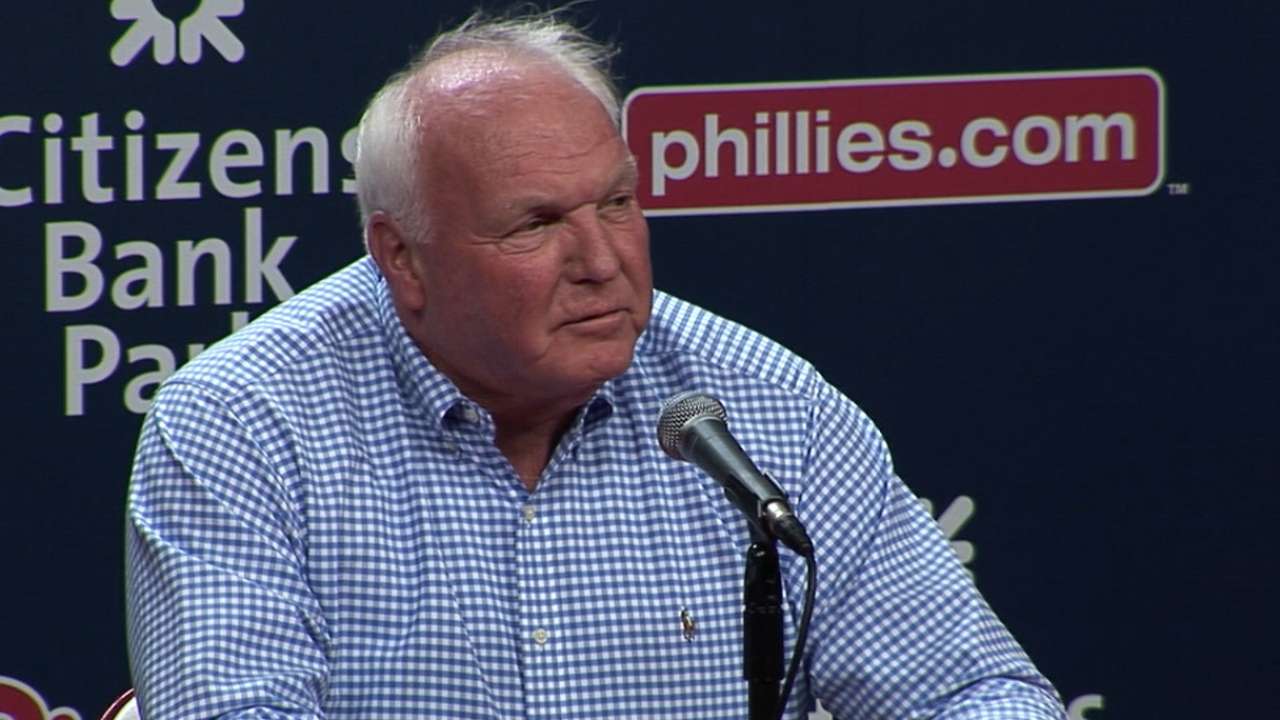 Manuel's first Opening Day in the big leagues came in 1969, for the Twins at Metropolitan Stadium in Bloomington, Minn. Manuel went hitless in his only at-bat as a pinch-hitter. In 1976, he began a six-year career in Japan, where he blossomed as a slugger, hitting 189 homers.
"In Japan, it seemed like every year on Opening Day I hit a home run," Manuel said. "People were out. It was the spring of the year, and they had the orange blossoms blooming and you could smell everything about it, but there was a little chill in the air. Our ballpark was always filled up, like 70,000 people there. There might have been a year or two where I didn't hit a home run on Opening Day, but it seemed like I always did."
Manuel's favorite Opening Day, though, came in 2009, a year after the Phillies won the second World Series in franchise history.
"Special," Manuel said. "That was the best one. Raising the flag. The fans out there. Also, when we were winning the division [five straight seasons] and I'm up on that concourse and I'm raising the flag and the fans are hollering and we've got the carpet out, and you can smell the food -- that's tremendous. But 2009, definitely, best in baseball for me."
Bowa is now the bench coach for Phillies manager Ryne Sandberg. At age 69, he still throws batting practice daily. But when he played his first game for Class A Spartanburg in 1966, Bowa thought his career might be over before it even got started.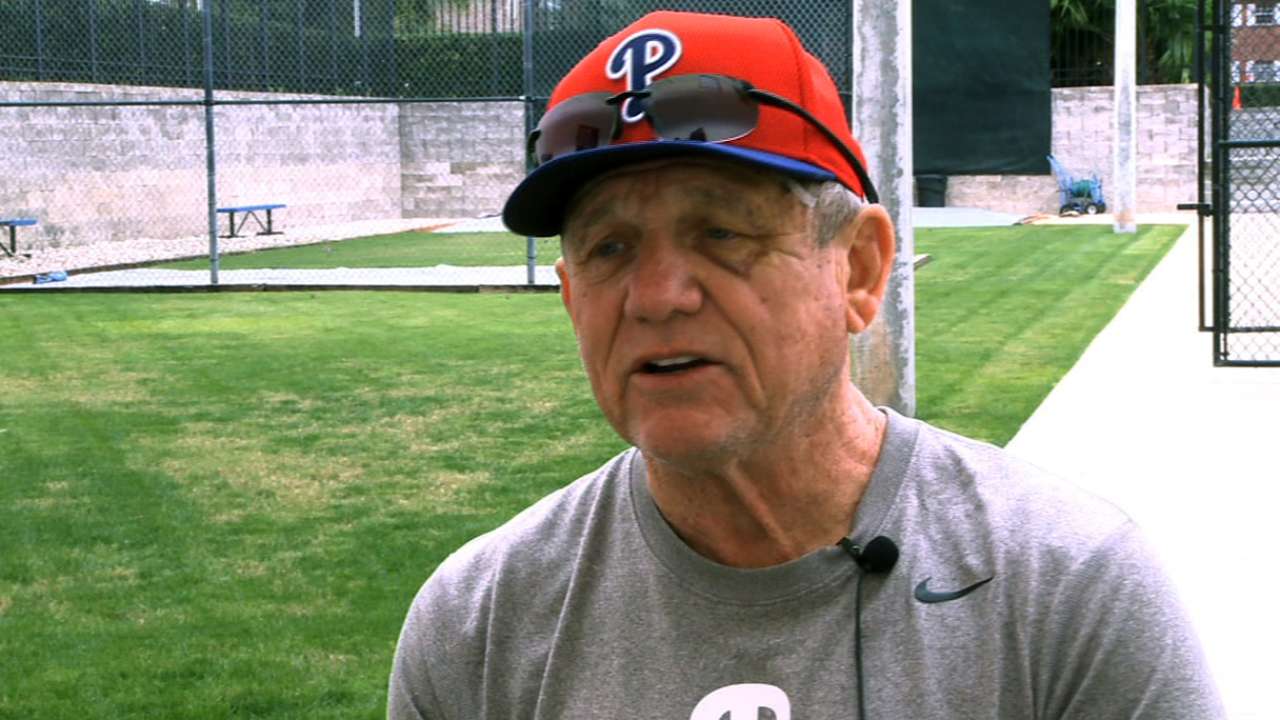 Bowa's mother and father had come all the way to South Carolina from Sacramento to watch him play.
"Bob Wellman was our manager," Bowa related. "I was only a right-handed hitter at that time. Nolan Ryan happened to be pitching that night. I had four punchouts. I remember sitting on the stool, and [Wellman] came over and asked me if I was all right. I said, 'Yeah, but if this is what baseball's about, I might as well go home right now.' Nobody knew who Nolan Ryan was at the time. He said that Nolan Ryan was going to be something special. I said, 'I hope so, because I had no chance.'"
Bowa, obviously, turned it around and ended up with 2,191 big league hits. He has fond memories of that first year despite the heavy wool uniforms in the blistering heat and the endless bus trips.
"I was in heaven," Bowa said. "You never forget your first game. I didn't even know if I was going to make the team."
Entering his 60th year in a career that began as a pitcher with the Reidsville (N.C.) Phillies in 1955, Green is now a senior advisor to Phillies general manager Ruben Amaro Jr. Green joined the team after signing his first pro contract in June '55, so his first traditional Opening Day was at Salt Lake City the following year.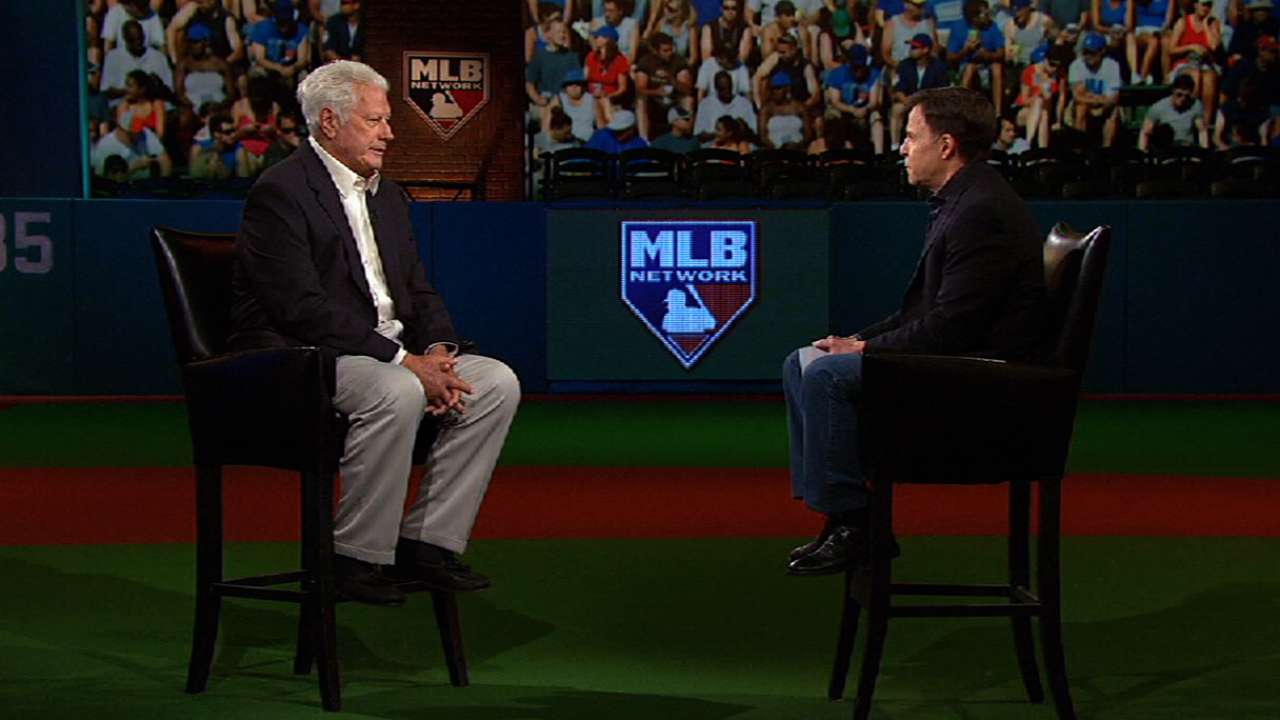 Green's most memorable Opening Day, though, came while he was GM of the Cubs.
"It snowed the night before," Green said. "We were panicked, obviously. I called all the grounds crew staff and the stadium ops staff, and we shoveled snow all morning, trying to get the game in. And we did. God bless them. They worked their butts off, and luckily the sun came out and melted some of the stuff that was lingering and we got the game in. That was just exciting for me. It was really a special day."
It's remarkable that the Phillies employ three former players with such longevity in the game. Even more amazing is that they also have three front-office executives -- president Pat Gillick, chairman emeritus Bill Giles and former public-relations director Larry Shenk -- who also have at last 50 years in baseball.
Paul Hagen is a reporter for MLB.com. This story was not subject to the approval of Major League Baseball or its clubs.