Last call: A few more days in the desert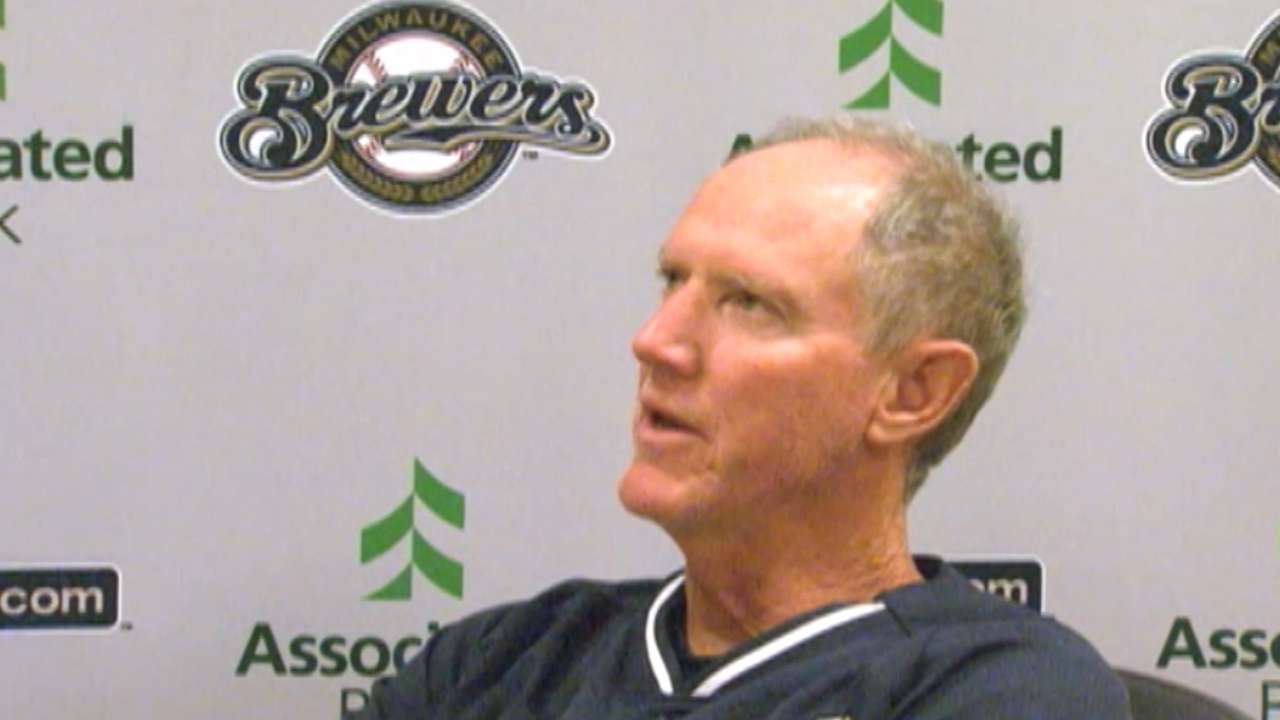 GOODYEAR, Ariz. -- Last Call is a spot for all the notes and anecdotes from Brewers camp that didn't find a home elsewhere on the site. Today: Homesick.
• No offense to the fine folks of Arizona, but Brewers manager Ron Roenicke would have much rather been in Milwaukee on Friday. Roenicke agrees with the private grumbling of some players that the Brewers are losing a touch of their home-field advantage by not playing exhibition games at Miller Park as they've done in past seasons.
"We tried to do it this year, and we couldn't get teams to come up and play us," Roenicke said. "We'll try again next year."
One of those teams was the Indians, who hosted the Brewers on Friday at Goodyear Ballpark and will travel to Maryvale Baseball Park on Saturday for both teams' final Spring Training game. The Indians open the regular season in Houston on Monday, and they did not want to travel all the way north to Milwaukee, then back south two days later.
"It should be an advantage being in our stadium," Roenicke said. "We're going to have some guys go who have never hit there and never fielded a ground ball there. Or just playing night games. If we have to go somewhere else to play a night game, I'm OK with that."
Some players have asked to work out on Easter Sunday at Miller Park, so Roenicke and his coaches will be there to facilitate. The Basic Agreement prevents teams from scheduling formal workouts.
• Francisco Rodriguez worked on his changeup during an inning against the Padres on Thursday, his final scheduled outing of Spring Training.
"He doesn't get a lot of outings in any Spring Training, so I think he feels good going into the season," Roenicke said. "That's why he wanted to work on more changeups yesterday. I think he's ready."
• Friday was a big day for Tyler Thornburg, who pitched on one days' rest for the first time this spring. It was something of a milestone for a right-hander who missed most of last season with an elbow injury. Look for more on Thornburg on Saturday at Brewers.com.
• Left-hander Neal Cotts capped a shaky Spring Training with back-to-back strong outings. He worked a scoreless inning against the Padres on Thursday, then struck out the only Indians batter he faced on Friday. Cotts needed it; he finished the spring with an 11.88 ERA and surrendered 18 hits in 8 1/3 innings.
Roenicke expressed full confidence in the veteran lefty.
"I just need to see him making pitches," Roenicke said. "Our catchers are telling us he's making good pitches. That's what we need."
Adam McCalvy is a reporter for MLB.com. Read his blog, Brew Beat, and follow him on Twitter at @AdamMcCalvy. This story was not subject to the approval of Major League Baseball or its clubs.