Herrmann excited to have made Opening Day roster
Backup catcher's versatility was key to him earning a spot on the team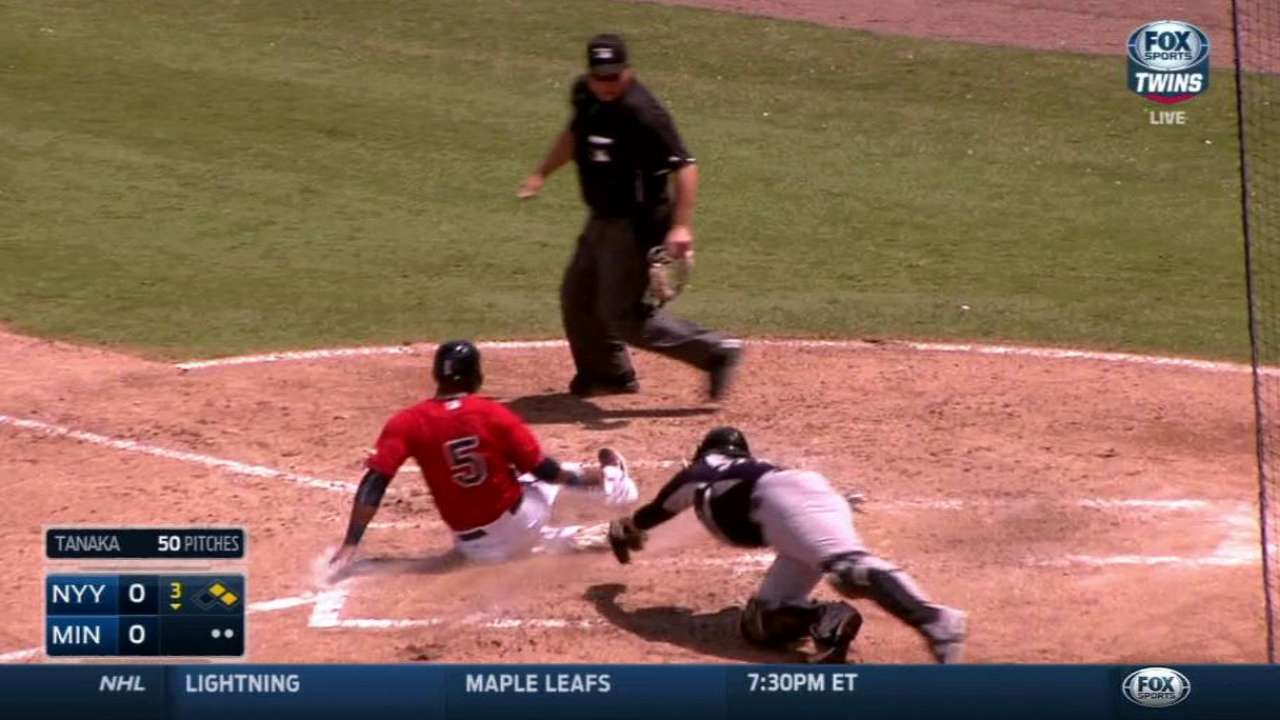 FORT MYERS, Fla. -- There was one roster move still to be determined on Thursday night as the Twins filed into the clubhouse after their game with Boston.
No one had to remind Chris Herrmann.
Locked in a tight competition for the backup catcher's job with fellow hopefuls Josmil Pinto and Eric Fryer, Herrmann, 27, had experienced more than his share of disappointment during the past several years as Opening Day approached.
So when hitting coach Tom Brunansky summoned him into manager Paul Molitor's office moments after the game, it was with guarded optimism that Herrmann lowered himself into one of the three chairs facing the first-year manager's desk.
The verdict?
Herrmann had won the job.
"My heart's still pounding right now. This is something I've never felt ever before," said a visibly-excited Herrmann nearly an hour after learning he had made the first Opening Day roster of his career. "I didn't have a clue. I'm so used to getting sent back down."
"Chris was very elated about the opportunity," confirmed Molitor.
The key determinant?
Versatility.
"With Chris, I do have a little more flexibility," said Molitor of Herrmann, who hit .310 with a home run and five RBI's in 42 Grapefruit League at-bats.
"We all know Kurt Suzuki's going to catch a lot of games, hopefully. Chris gives us a left-handed bat and he can not only catch for us, but he can do a couple of other things if need be."
When asked how much his versatility may have factored into the manager's decision, Herrmann didn't hesitate.
"I think it's huge," said the Twins' backup catcher. "Molly's been sticking me at first base a lot this spring and I feel like I've done a pretty good job. Every team needs somebody who's a versatile player, so it's good that I can play multiple positions just to help out this team."
For Herrmann, who has played parts of the last three seasons in Minnesota but never more than 57 games, Thursday night's news seemed to instantly erase the years of frustration that resulted from being a part-time big leaguer.
"It's been up and down the past few years for me now, and just being able to break with this squad is a tremendous feeling," said Herrmann. "I've been called up several times and those were great feelings, but this one's special because I've been working really hard to get where I am today to be part of this team."
And how's it going to feel to trot out of the dugout in Detroit on Opening Day after having your name announced?
"I'm going to be super excited," beamed Herrmann. "Just putting on my uniform on Opening Day for the Minnesota Twins is something I'm going to cherish for the rest of my life."
Michael Kolligian is a contributor to MLB.com This story was not subject to the approval of Major League Baseball or its clubs.