Martin finally gets chance to play in hometown
Blue Jays catcher lives out dream with two-game exhibition series vs. Reds in Montreal
MONTREAL -- Toronto Blue Jays catcher Russell Martin lived out a childhood dream Friday when he took the field at Olympic Stadium as a member of the home team.
Martin spent a good portion of his childhood in Montreal, where he took in Major League Baseball games with his father as an ardent Expos fan. The 32-year-old Martin made his MLB debut in 2006, with the Los Angeles Dodgers, and never got an opportunity to play with his hometown Expos, who moved to Washington, D.C. the previous year.
"I'm just going to try and treat it like it's a normal game, even though I know that it's not," Martin said at a press conference before Friday's exhibition game against the Reds where he took questions in both English and French. "It's already been pretty special. Just to be in Montreal at this time of year, it feels like I haven't been here at this time of year in 17 years so that's cool enough to begin with. I'm going to have a ton of people at the game, family and friends, but for the most part I'm going to go up to the plate and get ready to hit. I'm going to treat it like it's a normal game."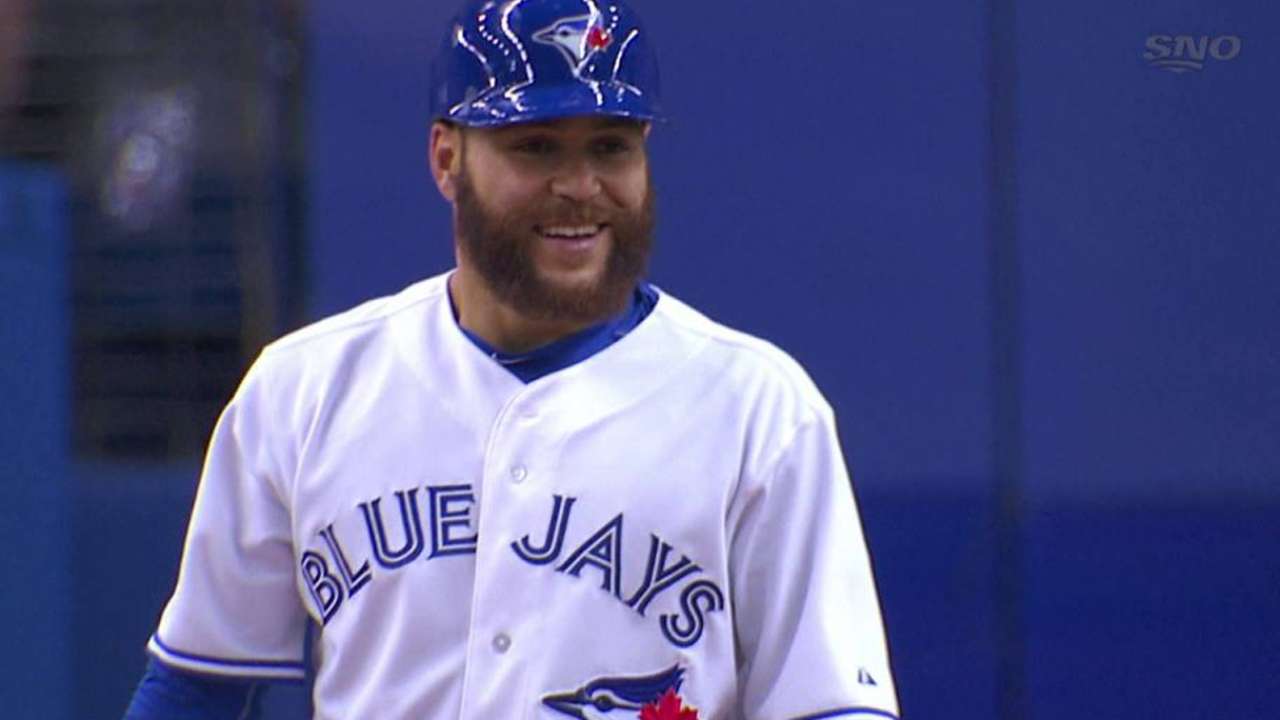 Montreal mayor Denis Coderre tweeted that more than 90,000 fans were expected to be on hand for the two-game series between the Blue Jays and the Cincinnati Reds.
"It just shows that there's still a passion for baseball in the city and people still care about the game," Martin said. "The beautiful thing about baseball is it can create some emotions, whether you're playing on the field or you're a fan, it's something that you can share with friends or it can be a father-and-son moment, just something of that nature. They can become stories that you can pass on from one to another. And personally it was just sharing the moment with my dad.
"He was my coach pretty much until I was 14 years old and we came to see a bunch of games at the Big O [Olympic Stadium], and obviously just traveling here by Metro brought back some memories, just walking down the hallway, seeing where the old team store was and looking where we used to get the tickets and stuff, and then just walking through the building itself. It's kind of surreal. I still remember being 12 years old and being a fan, and here I am wearing a big league uniform, I'm going to play in front of family and friends. It hasn't really sunk in. I think when I got to sleep tonight I'm going to feel pretty good about it."
Martin's father was an active participant at the opener on Friday. Russell Martin Sr. performed "The Star Spangled Banner" and "O Canada" on the saxophone before the game.
"It's going to be awesome," Martin said. "I know he's really looking forward to it and I love my dad, and he's done this before at Dodger Stadium in L.A. and it was a memorable moment, and it's going to be even more memorable tonight with obviously being my hometown. I don't know if I have the words to describe the emotions that will be going through me, but I know it's going to be special."
Sean Farrell is a contributor to MLB.com This story was not subject to the approval of Major League Baseball or its clubs.